Energy Codes and PropTech: The Future of Sustainability
For about as long as the Constitution has been law, building codes – regulations which specify the standards for constructed objects – have helped ensure that new construction in the United States is clean, livable and safe. Then, in response to the 1973 energy crisis, the federal government started developing regulations which focused on building energy efficiency and conservation, and building codes came to include the newly coined energy codes.
Today, a plethora of energy codes exist between federal, state and local regulations, aimed at optimizing building energy efficiency and ultimately lowering greenhouse gas emissions. In order to avoid costly penalties and remain in business, maintaining compliance with these regulations will continue to be a priority for real estate owners and operators going forward, and technology will play a key role in their strategies. 
More Rules, Higher Stakes
The building sector is a major contributor to carbon emissions, and governments have taken notice in response. According to the U.S. Energy Information Administration, residential and commercial buildings account for 41% of total U.S. energy consumption. While federal guidelines for states around minimum efficiency standards are set every three years by the International Energy Conservation Code (IECC), it's been local governments making waves in enacting sweeping new energy codes in recent years, especially New York City's Climate Mobilization Act of 2019, which includes Local Law 97 (LL97) and Local Law 95 (LL95).  
Set to go into effect in 2024, LL97 is sweeping in its scope. Buildings – particularly the ~50,000 structures over 25,000 square feet – account for around 70% of emissions in NYC, and LL97 aims to cut emissions from the largest buildings by 40% by 2030 and 80% by 2050. The law requires that property owners make improvements (such as maintenance for heating systems, adding insulation, and upgrading lighting) to their energy systems to comply with the emissions caps and penalizes owners $268 for every metric ton of CO2 equivalent above the limit. That could result in penalties in the millions per year for the worst polluters and will require owners/operators to file an annual emissions report starting in May 2025.
Also included in the Climate Mobilization Act is LL95, which requires NYC buildings over 25,00 square feet to display energy efficiency grades similar to how restaurants must display public health ratings. To obtain their efficiency ratings, owners and operators must submit benchmarking energy and water consumption data annually, then print and display their physical scorecards. While LL95 is less punitive than LL97, it's another effort to hold property owners and managers accountable for emissions and efficiency performance and could make tenants less likely to rent in buildings with lower grades, which would in turn incentivize low performers to shape up.  
Aside from New York City, other city and state governments are enacting increasingly stringent policies around energy efficiency and conservation, making building energy compliance a nationwide issue. Chicago requires owners and operators to submit certifications of compliance with energy conservation code and solar reflectance. Berkely, CA recently banned natural gas in new buildings, and California's Title 24 will move toward requiring electrification in new buildings according to Jamie Qualk of WSP.
Meanwhile, some owners are getting ahead of the curve: JP Morgan & Chase, New York's largest office tenant, recently announced its new Manhattan headquarters will be entirely electric-powered, making it the largest New York building to go electric. Across the country, owners and operators need to take active steps to better understand their energy usage and reduce their carbon emissions.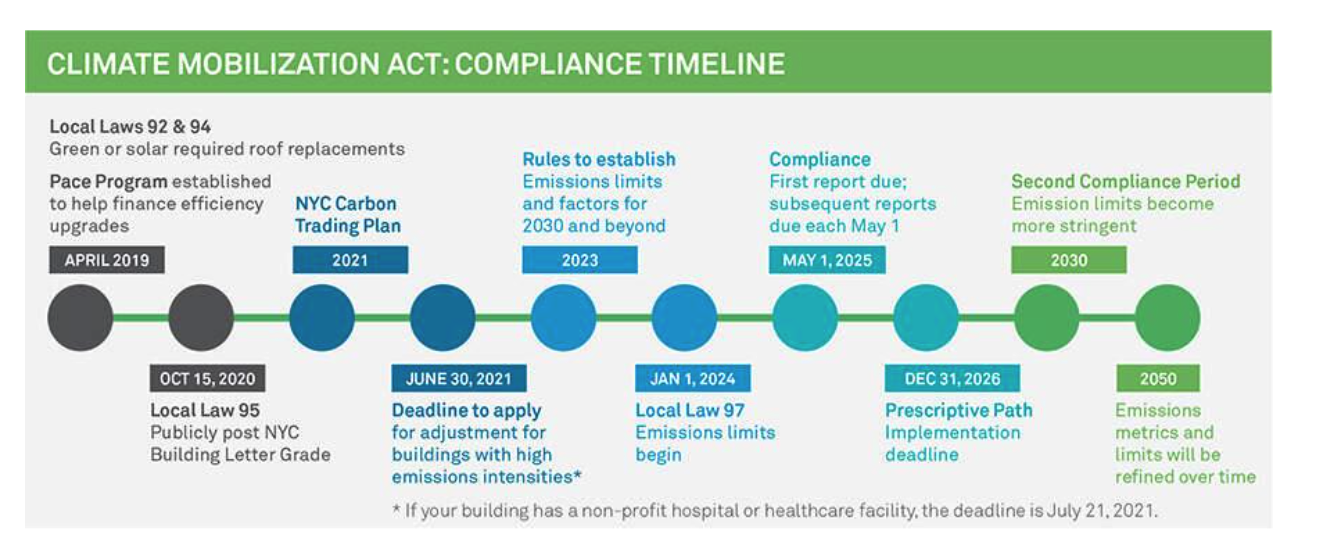 Technology's Role
The massive scale of the real estate industry positions real estate technology to have a sizable impact in the quest to remain compliant while fighting climate change. Technology that accurately assesses and reports building efficiency and emissions data will become an increasingly critical component cost savings, especially when every metric ton of CO2 counts.
Owners can also ensure efficient and efficacious energy delivery by leveraging technology that helps optimize the repurposing of underutilized building assets by eliminating challenges and costs in construction processes. With ever-increasing regulations, owners need to be more open-minded to new solutions, and can leverage technology to remain agile and compliant. 
Recent funding announcements tell us that proptech is helping to lead the charge in building sustainability. French startup Deepki, which provides a SaaS platform that helps real estate owners track their carbon emissions, recently raised a $166M Series C. Rise Buildings, a property experience platform acquired by VTS in March 2021 for $100M, lists leveraging building analytics to gain oversight into building efficiency as a core competency.
And SmartRent, which went public in a $2.2B SPAC merger in August 2021, recently announced a partnership with Elevation Home Energy Solutions to integrate Elevation's energy savings technology into SmartRent's suite of home automation technology, allowing SmartRent customers to reduce energy consumption during peak electricity times and increase energy efficiency. 
As regulations continue to pile on, property owners will be increasingly required to produce sustainability-related data to remain compliant with regulations. We see the trend as moving toward further adoption of robust technology platforms for things like data collection and reporting to help ensure such compliance and ultimately combat climate change.