The sustainability problem is a big one in the fashion industry
The fashion industry is a $2.5 trillion industry and the second-largest polluter in the world. It produces ~10% of global carbon emissions, which is more than international flights and shipping combined, 20% of global wastewater, and creates meaningful biodiversity loss. This shouldn't come as a surprise. We are consuming double the amount of clothes, keeping them for half as long, and then throwing them away (84% of clothes end up in landfill).
Consumers are increasingly demanding change. As a data point, online searches for "sustainable fashion" have more than doubled between 2016 and today. Post covid, engagement in sustainability within the fashion industry has further strengthened, with Gen-Z and millennials leading the charge, and experts believe these trends are here to stay.
McKinsey data strongly support positive shifts in consumer sentiment towards sustainability in the fashion industry, purchasing behavior, and mindset on fashion cycles and circular business models. Sustainability in fashion is now becoming a requirement and not a trend.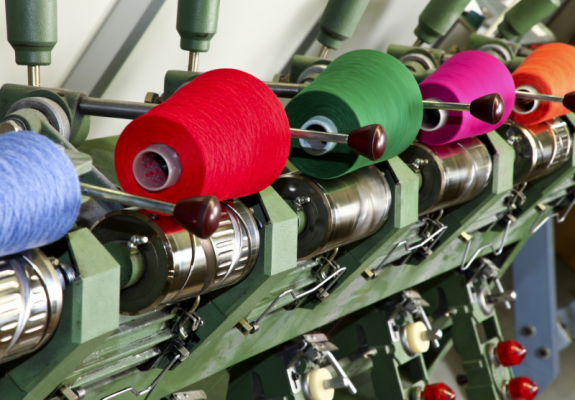 Challenges for Sustainable Fashion
While the intent to purchase sustainable fashion is increasing and businesses are responding by pioneering new technologies and concepts, there is however still a mismatch between what consumers say they want from brands and how they act (aka attitude / behavior gap). A few findings from a study conducted by Zalando:
60% of survey respondents said transparency is important to them, yet only 20% actively seek out information as part of the purchasing process


58% believe they should understand the product, including the materials, but 38% regularly check the label for information


60% of consumers say repair, second-hand and sustainable disposal are important to them, but only 23% repair their own clothes and 25% regularly buy second-hand


Sustainability in fashion is now becoming a requirement, and not a trend.
Sustainability Challenges Breed Fashion Innovation
Companies are up for the challenge though and responding to consumer demands. There's been a great deal of innovation in the space, both B2B2C and B2C: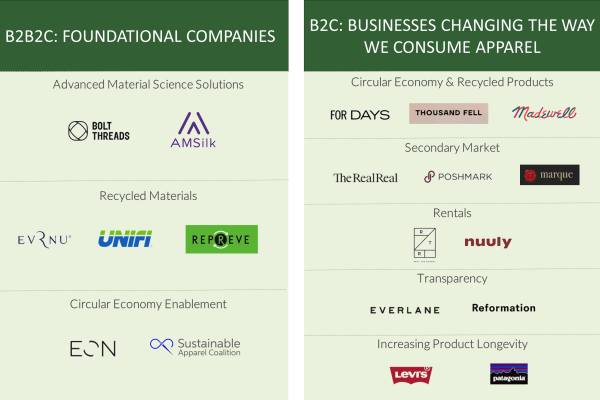 What do we look for as growth investors?
We believe there are ample opportunities to invest in the sustainable fashion space. After all, it's a massive $6 billion industry that's expected to grow to $10 billion by 2025 and $15 billion by 2030, quickly taking share from the overall $2.5 trillion fashion industry.
B2B2C Companies
Many start-ups in this space are young and are only now beginning to commercialize and develop meaningful traction with brands. Many brands have taken risks in investing in materials not yet sold in mass market. However, winners in the space will have the ability to scale material and have proprietary IP over their technologies.
Further, when evaluating a company in this space, what we find most helpful is having calls with current and prospective customers and brands looking to implement new material into their products.
Three things that matter most to brands and their willingness to adopt the new material are (1) quality and durability of material, (2) price of material, and (3) limited to no retrofitting of their existing equipment. As we search for investments within this space, we are looking for these winning factors.
B2C Companies
As we evaluate B2C businesses with business models that are transforming the ways consumers purchase, we look for companies that are able to bridge the attitude / behavior gap. We focus on companies that are not only catering to consumer demands but also making it as easy and fun for adoption, which translates to brand loyalty.
The Future: Early Innings of Fashion Innovation
While we are still in the early innings of revolutionizing the historically antiquated fashion industry, we are making tremendous progress and the innovation within the space is impressive. Who would have thought we would be wearing biodegradable clothes made out of recycled ocean-bound plastic bottles or spider silk?
Blending together advanced material science and sustainable consumer purchasing behavior will continue propelling this industry forward and we want to partner with founders who are making a material impact in the sustainable fashion space.
COMMENTS & DISCUSSION BELOW: