Adtech's Boom and Bust
A common dialogue during Volition calls goes as follows: "One of our key focus areas is Adtech…", to which the typical response is: "sorry to hear that". It is no surprise that since the boom and bust of the 2013 bubble, investor interest in the space has shifted away given its volatility and lack of sex appeal.
By 2017, global funding for Adtech start-ups hit a record low of 343 deals, a 17% drop year-over-year. Not only did investors pull away from the industry, but the rise of Google and Facebook's dominance in the sector kept many away. But recent optimism around the public markets and growth across video, mobile, and e-commerce has brought innovation and renewed interest back into the market.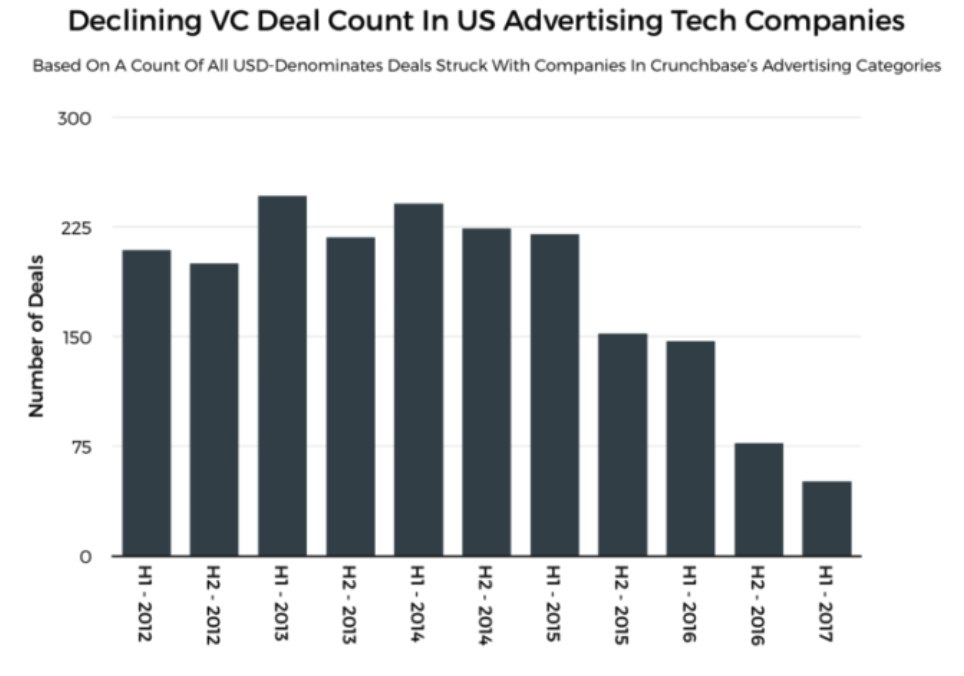 What Went Wrong
The heyday of adtech can be characterized by a flood of funding, rocky IPOs, and heavy consolidation. After the dust settled, many firms shied away after not seeing the returns they were once hoping for. When you look at the fine details, companies struggled with deteriorating margins and failed to reach profitability.
Most companies in the space claimed to be software platforms when, in actuality, they were managed services for optimizing ad campaigns. The poster child of this group was Rocket Fuel, a managed service veiled as a tech platform that was acquired by Sizmek for a heavily discounted price after falling 95% from its record trading highs.
Google and Facebook's Dominance

The list of Rocket Fuel like examples goes on and the sector weathered a 7-year long hiatus after its boom. Additional factors came into play that kept investors silent during this period. First, adtech is a complex industry with novel business models. Lack of specialized knowledge of adtech businesses limited the appeal for many investors.
The other major concern dealt with Google and Facebook's newfound dominance in the space. By 2016, Google and Facebook's walled gardens owned most of the supply chain and they accounted for 75% of all online ad spend. Since adtech is a sector that historically relied on open-exchanges, most investors struggled to see the upside scenario for startups looking to compete against the dominant walled gardens. 
A Recent Resurgence
Despite a rocky history, the Adtech industry has recently seen a positive shift with an increasing number of IPOs and M&A activity. Regulatory changes have loosened Google and Facebook's chokehold on the industry, and the rise of mobile and e-commerce has brought newfound innovation to the space.
As long-time investors in Adtech, even during its quiet period, we have always held the contrarian view given we have taken time to understand the business complexities in the sector and its history.
We are excited by this new growth phase in this traditionally "out-of-favor" space and continue to look for innovative startups that are refuting any historical investor doubt.