Personalization has been a popular concept for decades, but after more than a year of living through a global pandemic, product personalization is skyrocketing to new heights. The pandemic prompted consumers to rightfully prioritize their needs and preferences like never before, habitually questioning every learned behavior, habit, and practice they had known prior. The result? The consumer is going to do it their way, when and how they want.
The far-reaching impetus to "be true to you" in this very moment is layered on top of significant realities. Generationally, millennials are becoming parents, and Gen Z is gaining purchasing power. Economically, a downturn is in the recent past with optimism toward the future. Globally, industries are solving for sustainability, access to education, and social good.

Our culture as a whole is re-imagining everyday life. With that, the path to personalization is full of opportunities for brands — startups and big businesses alike — to expand product offerings, drive revenue, and exceed expectations. Looking at the apparel industry as an example, a 2020 study from Deloitte estimates customized apparel could make up 10 to 30 percent of the clothing market by 2030. The possibilities for personalization are endless.
Generationally, millennials are becoming parents and Gen Z is gaining purchasing power. Economically, a downturn is in the recent past with optimism toward the future.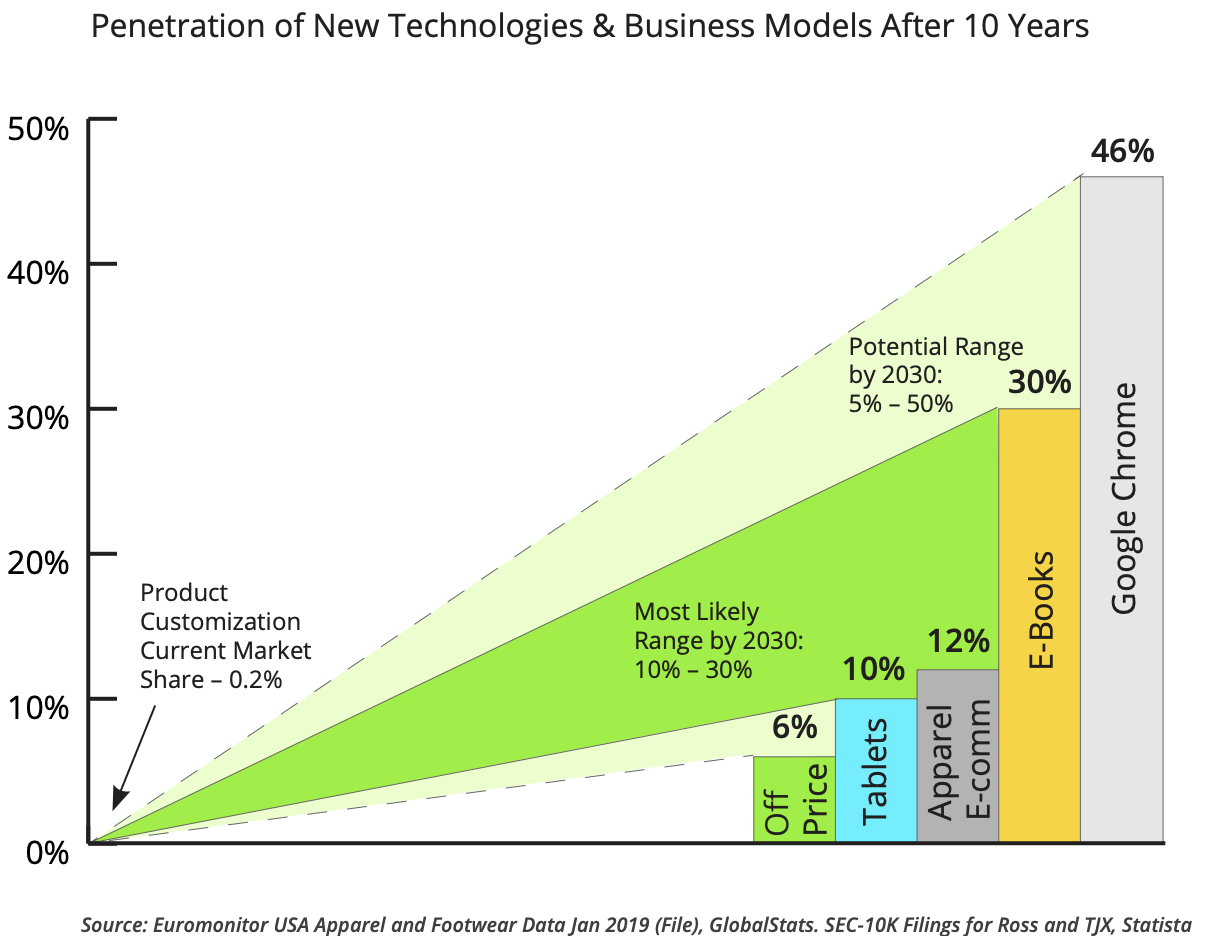 So let's begin by examining the past and present to understand how and why the personalization trend has transcended time, in preparation to leverage those learnings across verticals in the future.
We've long known consumers' interests were piqued through the notion of making something their own. Things Remembered offered custom decor to the masses beginning in the 1960s. Burger King introduced its "Have It Your Way" slogan in the 1970s. The arrival of cassette tapes and VHS led to early-days playlists and home videos. 
Fast-forward to the dawn of the Information Age that brought a bevy of options to people who needed a way to efficiently manage a paradox of choice amidst a digital deluge. Basic personalization emerged through efficient product filters. Technology advanced and cookies enabled a next level of user personalization through algorithms, search results, targeted advertising and customized site experiences. Consumers began connecting with brands in new ways.
YouGov conducted a study about mass personalization for Deloitte, identifying a positive correlation between consumers' increased interest in paying for personalization and desire to be actively involved in the process. Around that same time, we saw that notion prove true at Rent the Runway. 
Technological advancements provided our team with greater insights into customers' style and size preferences. These learnings allowed us to customize each user's experience and product recommendations on our site, enabling a more efficient way of selecting from thousands of styles.  We leveraged those online learnings to enable a better omnichannel experience, bringing personalization into our retail locations.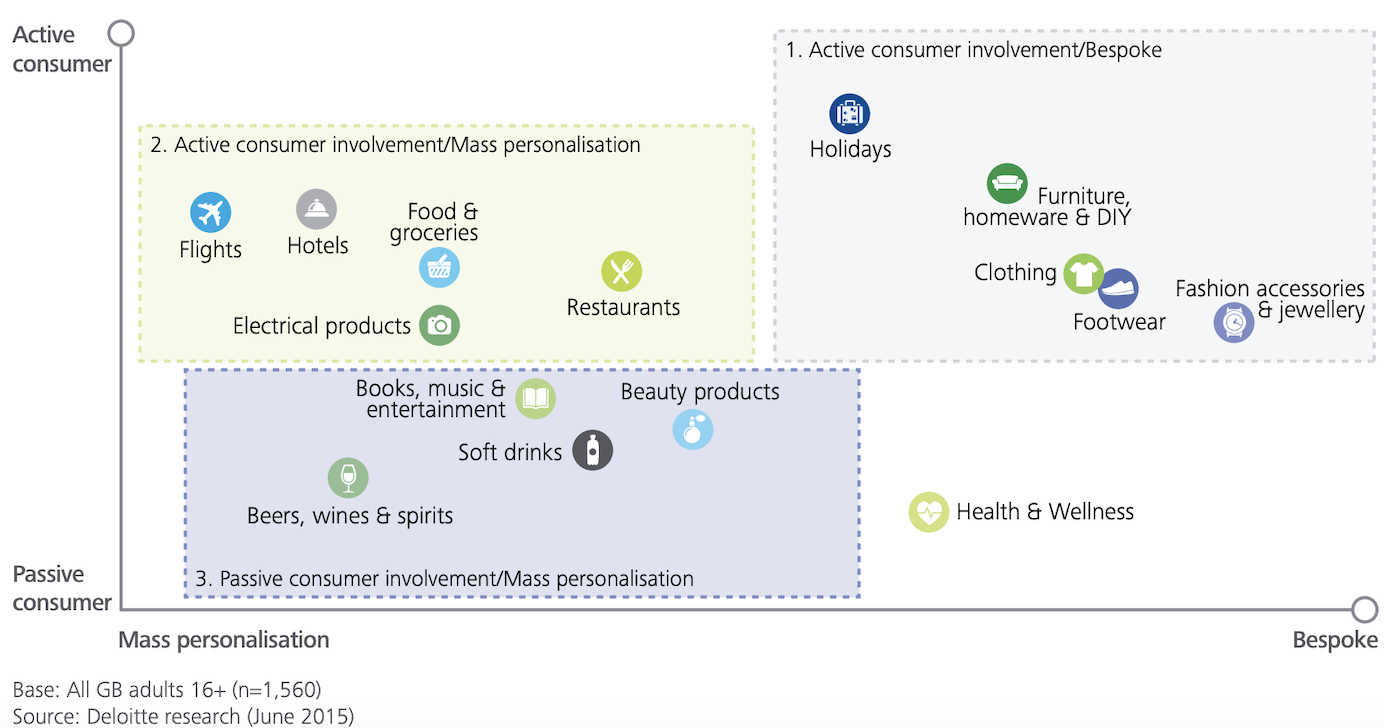 By encouraging customers to use their digital log-in when arriving at the store, we quickly gave store associates a sense of customers' preferences. By scheduling appointments in advance, we could pre-select the right sizes and styles of warehouse inventory and have it waiting in the customers' fitting rooms. These personalized efforts laddered up to optimal service for customers. We increased brand loyalty as a result of affording them with the luxury of time and convenience on top of an outfit that felt like them.

According to the YouGov survey, 1 in 5 consumers who expressed interest in personalized products or services are willing to pay a 20 percent premium.  This, combined with the indirect ways personalization can boost customer's experiences, highlights the outstanding growth opportunity for companies prioritizing personalization and a cautionary tale for businesses that don't personalize products: you can risk revenue loss and an engaged customer all at once.
[…] medical testing has ushered in new consumer comfort with diagnostic testing for a broader set of health considerations offering a greater extent of true one to one personalization 
Most recently, we've seen the personalization trend deepen through the normalization of telemedicine. Innovators amidst a once-in-a-lifetime environment met consumers who had an increased reliance on in-home COVID-19 testing. Consumers saw a safe process that returned results with ease and accuracy, and they're still seeking out such digital customization through companies like Everlywell and Pixel by Labcorp. 
This recent wave of medical testing has ushered in new consumer comfort with diagnostic testing for a broader set of health considerations offering a greater extent of true one-to-one personalization customized to the specific makeup of an individual consumer.
Levels tracks metabolic health, enabling customers to learn more about how their body responds to physical activity and diet through a combination of wearable and software. Vessel Health gives you a daily read on your vitamin levels through an at-home urine test and pairs you with the right all-in-one vitamin based on those individual results. Oura Ring offers continuous tracking of heart rate, body temperature, sleep cycles, and more.

These tools have turned us into executive athletes with the potential to optimize our individual performance. One-to-one personalization will continue to permeate various verticals as industries offer consumers better and more efficient experiences while increasing accuracy and reducing the work a consumer has to do to scale learning curves.
The next phase of personalization
Let's think across purchase categories, using beauty and apparel as examples, to envision how the bright future of technology will catapult us into personalization's next phase:
Beauty – The beauty industry is expected to be a $438 billion market by 2026, according to market forecasting. This implied growth means endless opportunities for new brands to emerge, but challenges for brands to cut through the clutter and distinguish themselves. 
Digital photo technology used by businesses such as Dermatica and Musely for customized prescription skincare can be paired with consumer data and expert makeup artists for optimal beauty rituals. Elevate that with style preference quizzes and the ability to follow particularly relevant influencers in a beauty category — a la SuperGreat — and find yourself in an experience that simulates a makeup trial at an in-store beauty counter.
Apparel – I joined CNBC's "Closing Bell" a few weeks ago to talk about post-COVID shopping trends, and we discussed strong expectations from the National Retail Federation (NRF), forecasting growth at 6.5 percent this year. The key to this growth lies in omnichannel. With companies leveraging data to meet the customer where they are, they can more creatively combine digital and physical experiences. 
The digital acceleration we've seen amidst the pandemic proves this is a must for businesses. A decade ago, consumers were far less trusting of the efficacy of matching, machine learning, and body-scanning technologies, but comfort with increased and new-age methods paved the way for one-to-one style recommendations. Stitch Fix and now The Yes have leaned into data-driven approaches to style, continuously improving algorithms that increase the potential for the right one-to-one site and product experience. 
The best answer for personalization in categories like makeup and fashion, which entail elements of art and science, will come from pairing this data with real examples of consumer inspiration. Once site algorithms guide you to the ideal outfit on Rent the Runway, photo reviews and stories of real customers inspire consumers and build the conviction to rent. 
This was built on our finding that, in the apparel category, the consumer seeks inspiration and an answer to the question: "Even if it fits, will it look good on me?" That is best answered by a combination of data, technology, and consumer inspiration. We have seen at Rent the Runway how this data can then be leveraged further upstream in the supply chain to drive the very styles that are designed and produced in the first place. 
Taking this one step further, Fashion Nova leveraged Instagram data and inspiration as the fuel for rapid design and product creation to continuously evolve products to suit the latest trends. Beyond that, a company like Printify enables just-in-time design and production on a one-off basis, giving and one-to-one personalization a new meaning.
I think back to the days of teenage magazine quizzes, pairing me with everything from my future soulmate and perfect blue jeans to a winning prom dress and the right nail color for my mood. 
We have long had expert-defined Q+A to match consumers with what's best for them, but technology has amplified this experience: what we have today is more powerful. What we build tomorrow will be even better. We can harness insights from across millions of user sessions, conversion rates, repeat rates, and customer satisfaction and pair them with subjective, creative style preferences of the influencers consumers follow.
If millennials and Gen Z have come to expect this level of personalization for products and services today with everything from footwear to food delivery, can you imagine the demands from Generation Alpha in one to two decades? These anecdotal underpinnings — combined with healthy market indicators across categories — suggest that the time to build for the next phase of personalization is now. 
COMMENTS & DISCUSSION BELOW: