SOLVING THE PUZZLE: THE LOW-CODE / NO-CODE REVOLUTION AS A POTENTIAL MEANS TO SOLVING THE PERSONALIZATION CHALLENGE

In today's hyper competitive digital selling environment, there may be no more pressing challenge GTM teams face than that of achieving personalization at scale. The rising pertinence of personalization is logical: more than ever before, prospective buyers (both B2B and B2C) are inundated by marketing outreach across a wide range of channels – email, SMS, phone, direct mail etc. Moreover, often such outreach is entirely generic and irrelevant to the targeted individual. As a result, response and engagement rates decline.
The importance of tackling personalization at scale deserves to be highlighted. According to research from Microsoft, 73% of B2B buyers seek a more B2C-like marketing experience; however, just 12% of marketers are "very" or "extremely" satisfied with the level of personalization in their own marketing efforts.¹
The significance of these statistics becomes even greater when one realizes that shrinking the delta between buyers' preferences and sellers' capacity to meet them could greatly enhance marketing effectiveness: McKinsey found that personalization increases marketing spend efficiency by as much as 30%.² Indeed, marketers are focusing extensively on the topic with one study finding 51% categorized enhancing personalization as their top priority.³
Given the abundance of demand for solutions which catalyze greater personalization, there is an obvious opportunity for next-generation software providers to fill the void. In particular, we believe that low-code/no-code vendors are well-positioned to do so as the technology has the potential to empower non-technical sales or marketing professionals in building personalized content more efficiently and in a scalable manner.
In some cases, these no-code/low-code solutions may be enabling the streamlined production of website landing pages designed to market towards an audience segment; in other cases, they may be streamlining the creation of sales presentations or email campaigns catered towards specific individuals or organizations. Here are some examples of startups taking such an approach: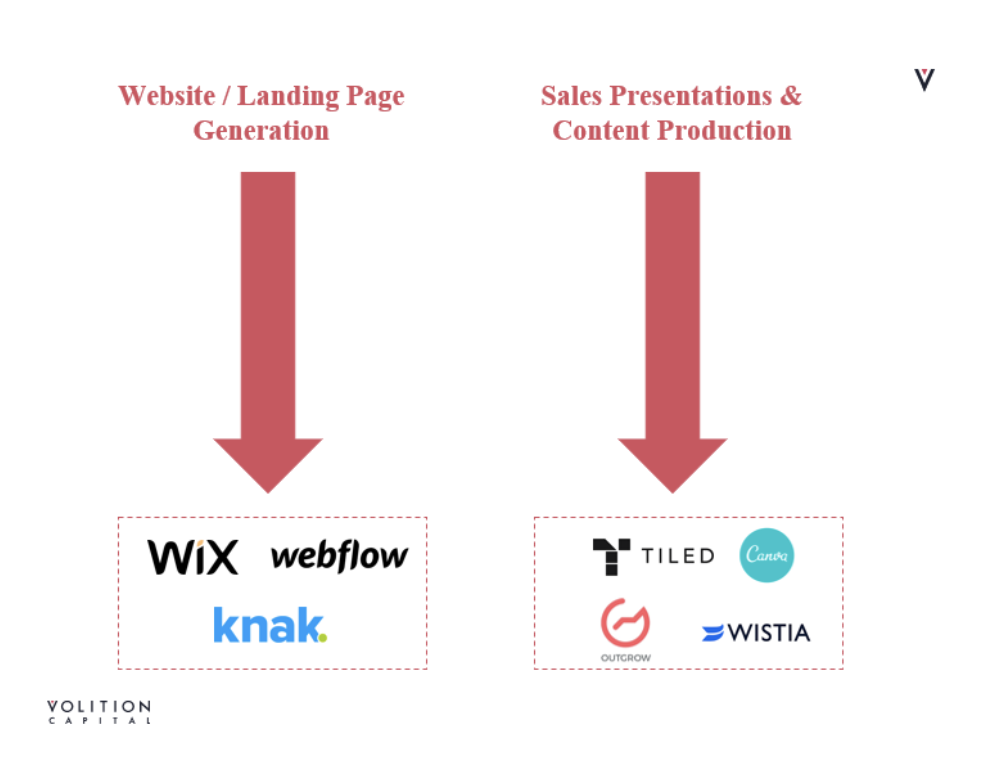 From our recent experience working with Creatio – a Volition portfolio company – we are well-tuned to the ways low-code/no-code software can serve as a means for end users to customize CRM to their desired workflow.
However, it is our belief that the low code revolution will by no means remain limited to back-office functionalities and that it has the capacity to aid sales and marketers in generating customized content which can be used for a variety of customer-facing use cases. In fact, it may just be the answer that GTM organizations are desperately seeking when it comes to personalization.