"Ripe for disruption" is an often-used phrase in technology and investing. A leading indicator of an industry's ripeness is if it is on the precipice of a major shift from manual, labor-intensive processes to streamlining those processes via digitization. While plenty of industries are ripe one way or another, building and selling a well-timed solution is often the difference between a good outcome and a runaway success. 
When it comes to real estate, we see the ripeness as excellent. Not only is real estate worth $277 trillion – making it the world's largest asset class – but verticals like fintech, for instance, received six times more VC funding than real estate technology (or "proptech") between 2013 and 2017 according to Ryan Freedman of Alpaca VC. And while proptech's funding and scale have picked up in recent years, it is still in the early innings of penetrating the massive market opportunity that real estate offers. This leaves the door open for technology companies to deliver exceptional solutions to the real estate industry and drive great outcomes both for the tech companies themselves and the customers they serve. Since the real estate landscapes is so large, this post will focus on three segments of proptech we see as especially exciting. 
while proptech's funding and scale have picked up in recent years, it is still in the early innings of penetrating the massive market opportunity that real estate offers.
Construction is the lifeblood of real estate, but it is both antiquated (think clipboards, paper blueprints and Excel) and fragmented. This fragmentation exists both in construction itself (with lenders, developers and contractors all working across different asset types like residential homes and industrial properties) as well as in construction tech, with more than half of those tech companies only addressing one or two use cases according to a 2018 McKinsey study. This means that collaboration and communication is critical to avoid the high cost of mistakes and rework, which FMI Research has estimated to be $17 billion annually to the US construction industry from poor communication alone. As a result, solutions that improve communication between architects and builders, for instance, can streamline building processes, save money and improve outcomes for professionals and customers.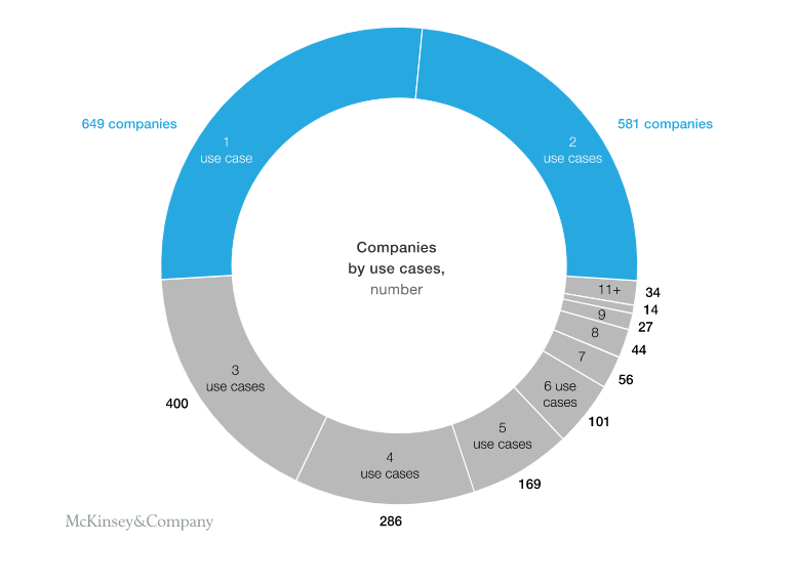 The construction tech landscape remains highly fragmented, with most companies addressing a small number of specific, narrow use cases rather than offering more integrated solutions. Source: McKinsey & Company.
Manual data collection and entry remain also remain commonplace on construction sites. The mental image of a contractor managing plans and workflows with paper and pencil screams inefficiency compared to technology-first solutions which can reduce labor and minimize errors. Technology companies like Procore which address these challenges across the construction lifecycle are well-positioned to benefit from greater industry adoption of screens instead of paper.
Construction workers are skilled in their crafts, but those crafts have historically not involved much technology: According to JB Knowledge, the majority of construction firms spend less than 2% of sales on IT. A commitment to a technology-first approach will be a pivot from the old days, but has huge potential to cut costs, boost productivity and increase worker safety. 
The Internet of Things – which refers to physical objects utilizing the internet to communicate data about their condition – holds massive potential for buildings. Historically, building systems like lighting, HVAC and fire protection work independently by reading inputs from sensors and controlling outputs via dampers, fans, locks, etc. without connection to an external network. Those systems generate a treasure trove of data which, if utilized via the internet, unlocks insights that can enhance critical decision-making by building owners and facility managers.
A few generic examples of this value proposition in action include: (1) IoT sensors on lighting equipment giving indicators of when and where the next mechanical problem is likely to arise, thus enhancing control over the maintenance process and safety; (2) sensors on HVAC blower motors using weather data to help a facility manager reduce costs on a hot day and (3) occupancy sensors on lighting fixtures in an office giving a company decisionmaker a granular understanding of space usage and a clear picture of how to reconfigure that space to minimize lease costs. 
MarketsandMarkets estimates that the global smart building market size will grow from $66 billion in 2020 to $109 billion in 2025. Proptech companies in the smart buildings/IoT space stand poised to benefit from the increasingly urgent need for building owners and managers to capture building data to make better decisions. The greenfield opportunity of underutilized data across millions of buildings in the US alone holds massive implications.
The traditional homebuying process involves a hodgepodge of segments – including listings, agents, mortgage applications, movers and contractors – as well as little technological adoption, with in-person showings and reams of paper to sign as common practice. The coronavirus pandemic, however, may have helped to accelerate the shift to a more digitized homebuying landscape: After a tough spring, US home sales rebounded to new cycle highs over the summer, likely due at least in part to the streamlined processes that things like virtual showings and appraisals offer.
There exists strong evidence that consumers do indeed desire a more digitized homebuying experience. A 2019 McKinsey survey of British and American homebuyers found that around half of the respondents were receptive to digital platform solutions, and an additional 25 percent would be receptive under the right conditions. Digital ecosystems that more efficiently connect buyers and professionals have the potential to enhance a difficult process for what is often a large financial and emotional investment for customers. 
While large, fragmented markets that have been historically underserved by technology are everywhere, that does not mean they're easy to find. Real estate's ripeness for disruption presents an exciting opportunity for technology to enhance a massive industry. Volition's proptech investment history includes category leaders like RealPage and ButterflyMX, and we continue to focus on partnering with entrepreneurs who are driving innovation in the space.  
COMMENTS & DISCUSSION BELOW: