This piece is authored by Jim Ferry, Principal at Volition Capital. Jim has been with the Volition team since 2014  and is responsible for evaluating and executing new investment opportunities on the Internet & Consumer team. Jim's primary areas of focus include consolidation platforms, the movement of physical things, ad tech, marketplaces, and other internet transactional businesses.
In the early to mid-2010's, there were numerous highly successful digitally native D2C brands created. Whether it was Warby Parker, Dollar Shave Club, or Away, these companies were able to effectively take advantage of undersaturated digital advertising markets and find dedicated consumers at low customer acquisitions costs (CAC). 
However, over the next decade, this playbook would slowly become more difficult to execute as social advertising became a more saturated marketplace and mainstream practice, driving up CAC.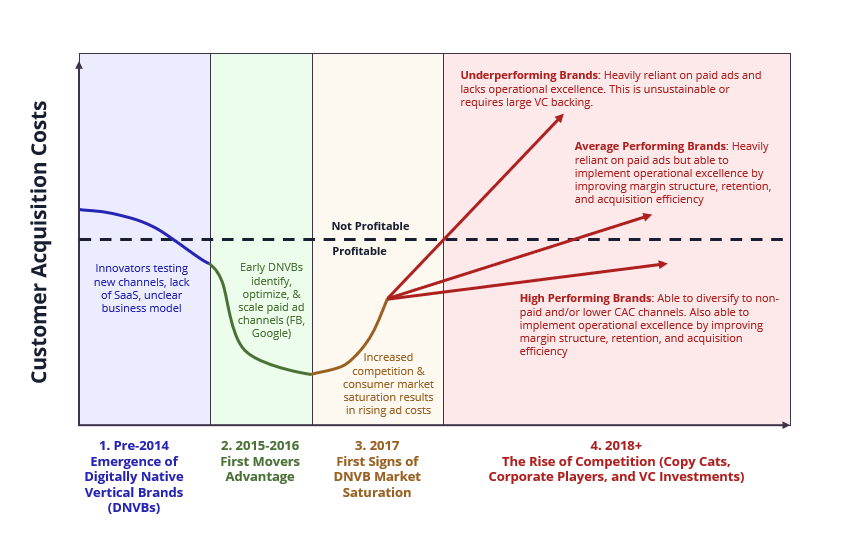 Digital Ad Market Changes
There are two key reasons why D2C brands are no longer able to acquire customers at effective CACs on social channels:
1. Efficient Markets
Simply put, over the past several years, digital advertising has become an efficient marketplace — something that is good for the platforms, but bad news for brands. In the early days of D2C there were very few advertisers on the platforms compared to the number of MAUs. However, over the years, there has been a sharp increase in the number of advertisers on the platform and therefore the dollars spent as well. This has led to a significant change in the supply and demand dynamics.  
For example, the amount of advertising dollars spent on Facebook in North America has increased exponentially while the number of new MAUs has increased at a linear pace. With significantly more dollars being deployed to a similar amount of MAUs, the cost to spend on the platform has increased greatly and will likely continue to climb given increased privacy laws.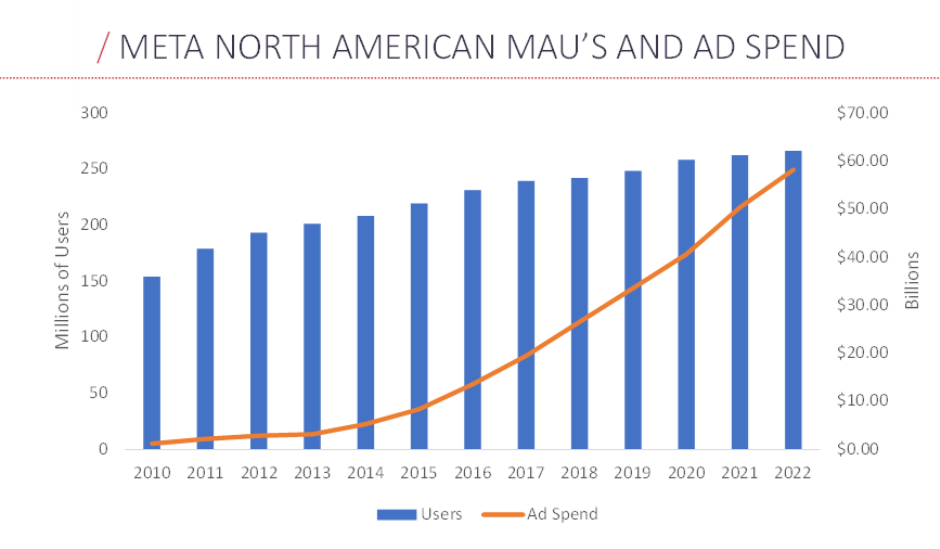 2. Privacy Changes
In April 2021, Apple made significant changes to their iOS privacy laws, giving more control to users regarding whether they want to be tracked by apps/advertisers or not. These changes led to a decrease in advertisers' ability to understand and target their consumers– therefore requiring more spend to find the right consumer and an increase in CAC. Outside of Apple, there have been other privacy regulations such as GDPR, CCPA, COPPA, that all have created headwinds on advertisers' ability to effectively target the right consumers. As Google Chrome looks to remove cookies in 2024, this will further exacerbate the targeting issues, driving up CAC even more. 
Social Media is the New SEO
Although social media advertising has become more expensive, having a large, dedicated social following is almost invaluable – especially when it comes to connecting with younger generations.
Prabhakar Raghavan, SVP at Google, shared that "something like 40% of young people, when they're looking for a place for lunch, they don't go to Google Maps or Search. They go to TikTok or Instagram." A powerful statistic, especially being amplified by a competitor.
This dynamic has led to a monumental shift in consumer behavior:
97% of GenZ consumers say they now use social media as their top source of shopping inspiration
64% of Internet users find out about new brands and products from social
42% users research products they are interested in on social
It is clear that the advantage is now with those that can leverage social audiences– specifically, when they vertically integrate by owning a brand or having equity ownership. This incentivizes influencers to use their social followings as a zero-dollar CAC channel and  has flipped the traditional consumer startup model on its head: instead of creating a product and finding an audience of customers, startups are now founded with a highly engaged audience and then find a product to sell.
One of the best examples of someone that has seen great success leveraging their following is Ryan Reynolds. Reynolds has leveraged his 50M+ followers to grow several successful businesses including Aviation Gin (Acquired by Diageo for $610M), Wrexham FC, and most recently, Mint Mobile (sold to T-Mobile for $1.35B).
Other celebrities that have effectively leveraged their followings include Kim Kardashian (Skims), Dwayne "The Rock" Johnson (Teremana), George Clooney (Casamigos), The Fat Jewish (White Girl Rosé), and Mr. Beast (Mr. Beast Burger).
It is important to note that it is not just celebrities that can create businesses/products for their followers. Whether it is Barstool Sports, Overtime, Jerry Media, or our portfolio company Doing Things, social accounts with passionate, engaged followers can cost effectively create consumer businesses by serving their audience.  
Creating an Omni-Channel Strategy
Although celebrities and culturally relevant accounts have the ability to leverage their followers to create successful brands, at some point they will tap out growth from their existing audience reach. When this happens, these companies will need to test alternative customer acquisition strategies. The benefit of leveraging an engaged follower base to launch a company is the ability to create an established brand with influencer backing that may find it easier to enter wholesale and brick and mortar channels. This can accelerate growth but comes with its own set of challenges.  
An interesting example of this can be seen with Jet Atkin's brand OUAI. Jen Atkin is one of the most famous hair stylists who has past experience working with the likes of Reese Witherspoon, Kim Kardashian, Jennifer Lopez, Sofia Vergara and more. Atkin leveraged her Instagram following to launch a hair care line by women for women. OUAI has seen great success originally launching as a D2C, online brand, before launching in all 410 Sephora brick and mortar stores. 
"I had to really sit and think about brick and mortar versus digital, and I've come to learn there's an audience for both. My sisters who live in Oklahoma and Utah love to get in the car and go to a Sephora and try samples and smell things; my friends in NYC and LA want to do subscription service and just have it sent," Atkins commented on the omni-channel distribution strategy.
The process of expanding to brick and mortar has several unique challenges. Some of the decisions that can make this transition difficult include: ensuring the proper processes are implemented, re-thinking marketing spend and channels, and additional human capital needed to manage growth.
We here at Volition believe consumer brands need to be omni-channel to serve all customer shopping behaviors. We pride ourselves on effectively helping companies handle the complexities of an omni-channel approach for distribution and marketing, and ultimately assisting them in achieving their dreams. While wholesale channels may be an interesting growth lever, these influencer-led brands should also test other advertising mediums such as paid search, CTV, direct mail, etc.  
At Volition, we have successfully helped several companies answer these questions. With Chewy specifically, we helped the D2C pet brand grow from 3 marketing channels to a multi-pronged approach successfully pressing the right buttons at the right times on their way to a $3.35 billion exit. 
The trend of influential social media accounts growing strong consumer companies is only getting started. Recently, Mr. Beast has launched a $100M fund with TCG and Kim Kardashian founded a private equity firm called Skyy Partners to leverage their audience. There will undoubtedly be more funds to follow.
For those companies that are unable to work with the greatest celebrities (like most), the successful ones will find ways to cultivate a dedicated and passionate community, borrowing some of the key components of the influencer strategy.  
If you would like to discuss how Volition could be an asset to you and your team managing these trends and creating a dedicated following, feel free to reach out as I would love to chat.
Talk soon,  
Jim
Want to stay up to date on everything Volition? Make sure to subscribe to our newsletter using the button below!