Food waste is exacerbating climate change 
Food waste is a $250B+ global issue and solving it is crucial for mitigating climate change. This problem is only accelerating as food waste in landfills has tripled since the 1960s.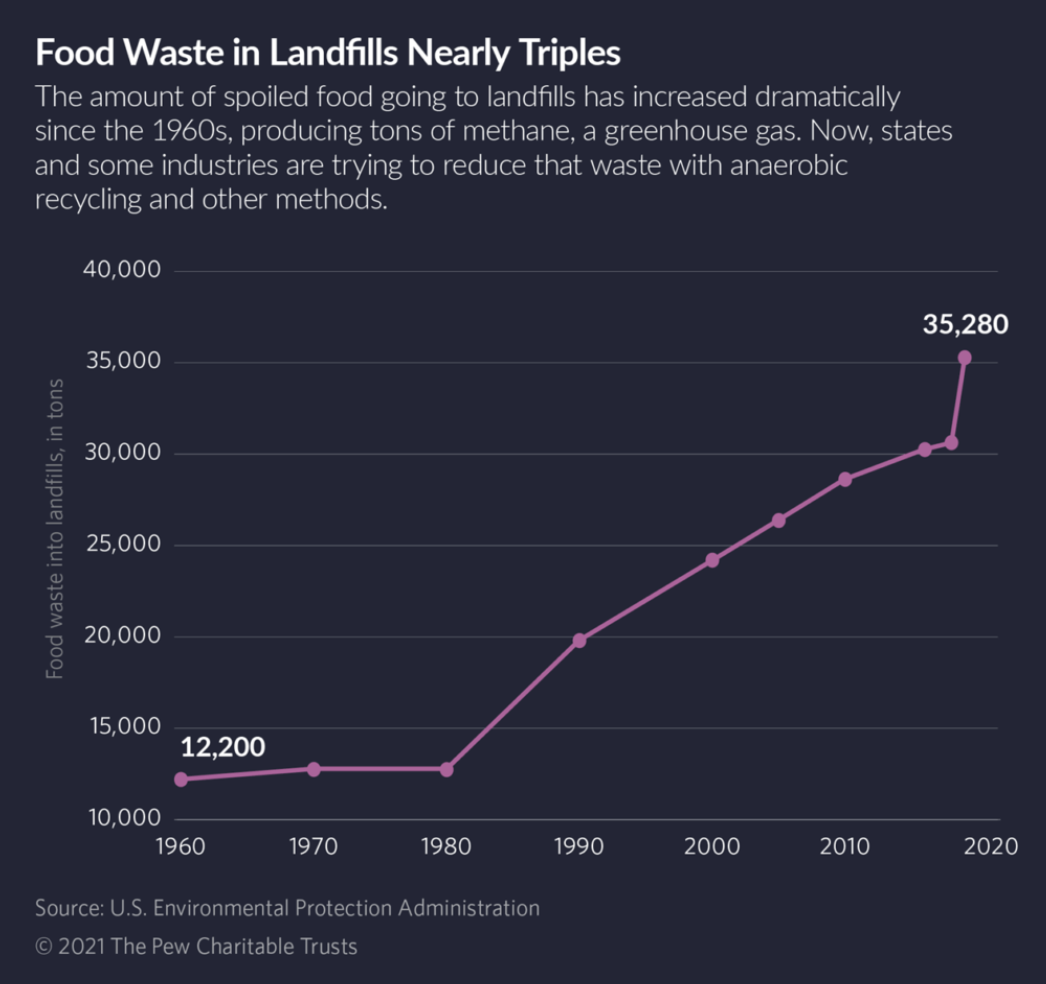 Currently, around 30% of all food produced goes uneaten, left discarded at some point along the supply chain, or thrown away by consumers. Worldwide, the amount of food in landfills in the US has tripled in the last 60 years. 
Its environmental damage is significant, from the water wasted in agriculture to the methane released during decomposition, a greenhouse gas multiples more damaging than carbon. If we treated the emissions from food waste as a country, it would be the third biggest emitter globally, accounting for 8% of the total global emissions.
The entire supply chain produces food waste
Food waste can be traced throughout the entire supply chain – from harvesting to packaging to restaurant kitchens. As consumers, governments, and suppliers alike begin taking action, such as the EU setting with legally binding targets to halve food waste by 2030 and California aiming by 2025 to reduce food waste sent to landfills by 75%, a unique market opportunity has arisen for new solutions that will drive down the food system's waste and emissions. 
In this transition, food producers are increasingly rethinking their processes to prevent waste, while retail and consumer initiatives are largely focused on recovery and recycling.

There's no easy fix to the food waste crisis
But while innovative solutions to food waste abound, so do challenges. Conflicting definitions about what constitutes food waste mean that measurement is often problematic. 
Meanwhile, the private sector can be reluctant to implement policies that will reduce food waste when benefits will arrive at another part of the supply chain. This is compounded by the high upfront and continuous costs for solutions and lack of infrastructure for the transportation, logistics, and storage that would minimize food loss. 
Investing in food waste solutions
The ubiquity of food waste and its damaging impact on the climate means there is huge potential for companies that target the problem. The three categories we look to invest in are food prevention, food rescue, and recycling. 
As investors, we are particularly excited about momentum drumming up around food waste prevention, where implementing technology will allow players to refine product distribution and maximize utilization, which is easier than trying to deal with waste later on. Not to be ignored is the exciting new entrants offering unique recycling, upcycling, and composting solutions, which is still largely in its early stages but spurring impactful changes in consumer behavior. 
Volition looks to partner with founders who have proven product market fit with a differentiated offering that is ready to tackle the food waste problem at scale. 
If you're a founder in this space, would love to chat. Contact us here.