IRVINE, CA | February 17, 2021 07:50 AM Eastern Standard Time
SUPER73®, an American electric vehicle brand, based out of Orange County, California, announced today the close of a $20-million investment from Volition Capital, a Boston-based growth equity firm.
Founded in 2016 by LeGrand Crewse, Michael Cannavo, and Aaron P. Wong, SUPER73® produces two-wheeled electric vehicles with a mission to fuse motorcycle heritage and youth culture. It has quickly grown into one of the most recognizable electric vehicle brands in the world, with a loyal and passionate customer base, which includes many A-list celebrities and professional athletes.
"We have always known that there was something special at SUPER73. It wasn't just about creating a fun electric bike, it was about building a gateway to unlimited adventure and cultivating a true community. Volition Capital not only saw that same vision but believed in it. Together, we now have a real opportunity to take SUPER73 to the next level and help redefine the electric vehicle industry." – Legrand Crewse, CEO of SUPER73.
After an impressive launch on Kickstarter, SUPER73 saw fast-paced growth, not only because its handsome, minimalistic e-bikes looked like nothing else at the time, but also because the company bucked the norms of the traditional electric bicycle industry. SUPER73 refused to become one of the many stale e-bike companies that exist solely to produce mass-market vehicles, and instead became a content-driven lifestyle brand that inspires adventure and creates community.
The company's desire to be different is key to its success. In 2017, SUPER73 went viral after redesigning its first-generation e-bike to resemble a pair of Star Wars speeder bikes. These were ridden in costume through downtown Manhattan; the video has subsequently been viewed more than 10 million times on YouTube. SUPER73 continued to produce noteworthy hits including an appearance at New York Fashion Week, an international art exhibition with contemporary artist Tom Sachs, and a custom-built, 24-karat gold e-bike for Post Malone.
As the company continued to produce remarkable viral content, its popularity snowballed, and soon SUPER73 attracted the attention of big-name celebrities, athletes, and performers including Jack Black, Will Smith, and Madonna. What's more, the brand earned their support without paid promotion or endorsement. Many more celebrity riders followed (see full list here).
Today, there are tens of thousands of SUPER73 riders and enthusiasts across more than 20 countries. The brand's moto-inspired culture has created a new generation of "bikers," who not only self-organize into regional "SuperSquad®" rider clubs but have also embraced the custom modification subculture. All over the world, fans of SUPER73 share their custom creations on social media and have helped to grow the "SuperSquad" community faster than ever. Today, SUPER73 has more than 430,000 followers across its content channels.
The brand continues to push the boundaries of innovation by frequently producing high-profile collaborations with unique partners including legendary French soccer club Paris Saint-Germain, Japanese streetwear brand NEIGHBORHOOD, and famed motorcycle designer Roland Sands. Mold-breaking projects like these have gained SUPER73 coverage in major publications such as Time Magazine, ESPN, Rolling Stone, GQ, Car & Driver, Men's Journal, Motor Trend, Hypebeast, and many more.
It's been less than five years since SUPER73 came to life, but the company employs more than 75 people on two continents; in 2020 SUPER73 opened its first European headquarters in Amsterdam. And with the demand for SUPER73 e-bikes in Europe already outpacing the remarkable demand for its products in the U.S., there is no doubt this young company will see even more success with the support of Volition Capital and its $20-million growth investment.
"Super73 has all the ingredients to become a great consumer brand – fanatical customers, insatiable demand for its products, and a distinctive design philosophy," said Larry Cheng, Managing Partner, Volition Capital. "It is one of the fastest-growing companies we've ever invested in, and are poised to build a great new American brand as it leads the e-bike market for years to come."
EDITOR'S NOTE
Please enjoy and share the video presented by Joel McHale, which captures the fun, adventurous spirit of SUPER73.
The video can be viewed and shared here: vimeo.com/507214778/5c3c68ed68
Before we get to what we saw in the company, let's start with our fundamental belief in the growth of the electric vehicle market for all modes of transportation – automobiles, trucks, bikes, and other modes of micromobillity.  Even though these are largely single transaction businesses, multi-billion dollar companies have and will continue to be built across these categories as the demand for electric vehicles becomes commonplace.
Within the e-bike market itself, we see tremendous secular growth ahead for many years. In the US last year, there were about 35 traditional bikes sold for every e-bike sold. When you look at markets like Europe and Asia, you will find countries where that ratio is much closer to or even 1:1. 
We see an army of customers who are bringing on other customers in droves – friends, family members, and even strangers on the street asking them about their e-bike are joining the Super73 community.
The US is behind the adoption curve but is catching up quickly due to the value and virality of the product as well as greater awareness, better biking infrastructure, and increasing incentives.

So, who will win the e-bike market?  There will be multiple winners, but we love what we are seeing from Super73's existing customers. What we heard from customers and partners of Super73 was in many respects unprecedented. We see an army of customers who are bringing on other customers in droves – friends, family members, and even strangers on the street asking them about their e-bike are joining the Super73 community.
Far and away, the #1 sales channel for Super73 is their own customer base which to us is the very best sign of customer passion and loyalty. A majority of Super73 customers didn't even look at other competitive products when they bought their Super73 – they weren't looking to buy an e-bike, they were looking to buy a Super73. That is the very definition of brand strength. We see best-in-category social engagement within the global Super73 community as raving fans share their experiences with each other. And to our great surprise, we see a huge percentage of customers who have cited that Super73 is one of the top 3 most influential brands in their lives – alongside brands like Apple, Nike, and Tesla. These collective attributes are largely unheard of for an emerging consumer brand especially in the context of a new product category.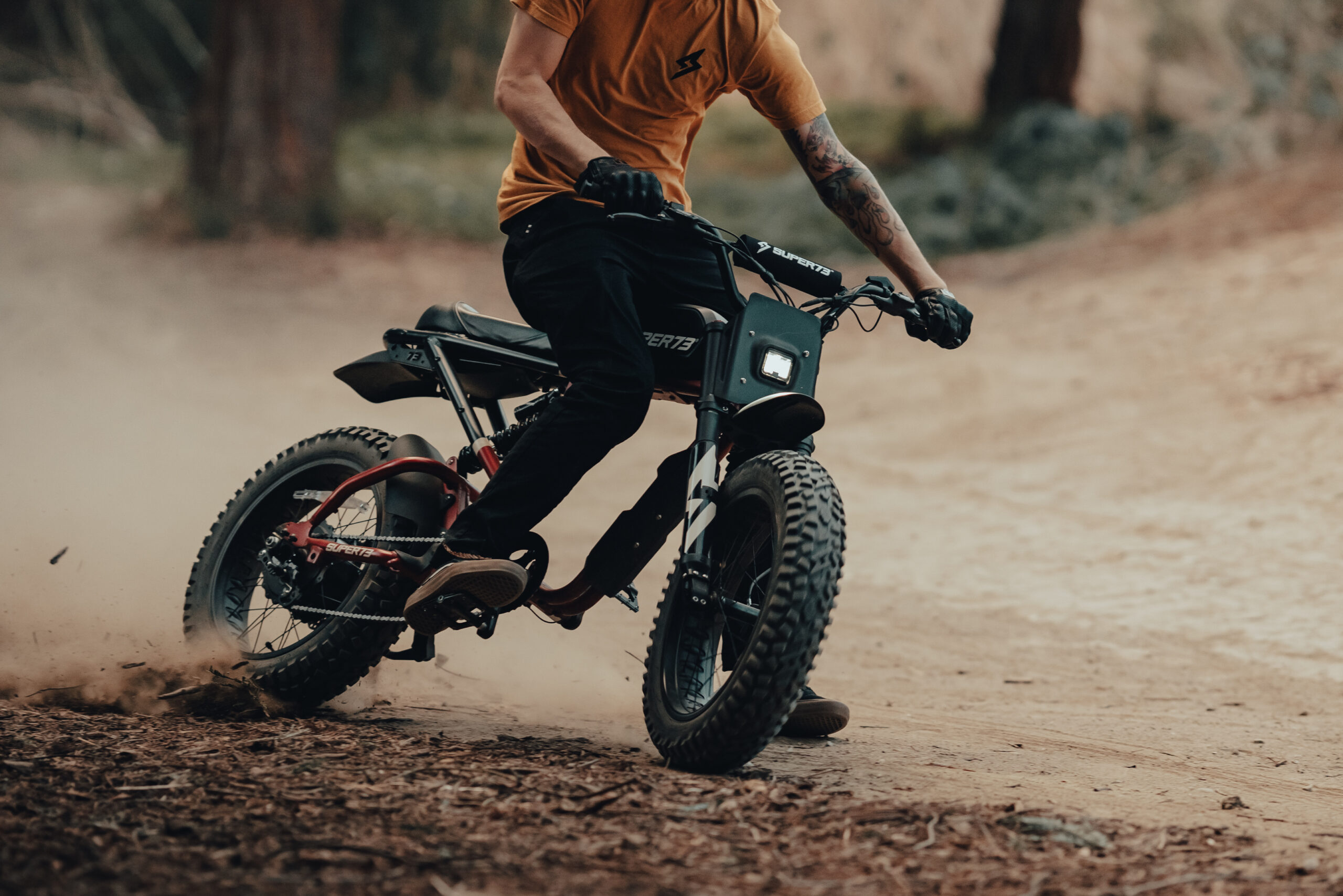 Super73 has its own style, its own aesthetic, its own philosophy – and it is all about bringing distinctive American design and superior quality to the e-bike market that sorely lacks it.
We also see a long line of retail partners in the US and globally wanting to carry Super73 products, while existing retail partners are saying that Super73 is the #1 selling brand in their stores across all product categories. We see substantial inbound demand from other global brands wanting to collaborate – which has led to joint designs with brands ranging from Yves Saint Laurent to the legendary French soccer club, Paris St. Germain, to Mattel Hot Wheels and many others. We have seen hundreds of unpaid celebrities, athletes, and influencers buying and endorsing Super73's e-bikes as gifts for themselves and friends. The level of inbound demand from retail partners, brand collaborators and influencers is far beyond what we've ever seen.
The only reason a brand gets a following anywhere close to Super73's is that they are doing something authentic that really resonates. Super73 has its own style, its own aesthetic, its own philosophy – and it is all about bringing distinctive American design and superior quality to the e-bike market that sorely lacks it. We are so impressed with the founders of Super73 – LeGrand Crewse, Michael Cannavo, and Aaron Wong – and all that they have and will accomplish. We couldn't be more excited to be partners with them on what is bound to be an amazing and fun ride ahead. 
COMMENTS & DISCUSSION BELOW: