Every era of technology innovation has been marked by platforms that ascend to market dominance by leveraging the network effects of a robust partner ecosystem. These partners, in turn, have been able to scale rapidly by taking advantage of the ubiquity and infrastructure of their enabling platforms.
In the desktop era, the proliferation of Windows-powered personal computers sparked a generation of businesses that continue to dominate their end markets. In the mobile age, iOS and Android have enabled the rise of applications that millions now rely on for communication, transportation and entertainment ­– helping to build hundreds of billions of dollars in equity value in the process.
More recently, in enterprise SaaS, the dominance of Salesforce and its strategy to open its platform to third-party developers has led to a vibrant ecosystem of enterprise applications. Among these is GRAX, in which we recently invested, which has achieved rapid scale by outsourcing their infrastructure layer to the world's biggest cloud application vendor. Finally, in the consumer sector, Amazon's march to leadership in mass-market online retail and its fostering of a third-party marketplace have led to the emergence of a new generation of consumer brands, such as Arteza, that leverage the platform to acquire customers and fulfill their orders more quickly and cheaply than ever before.
Although these platforms have charted unique courses to market dominance, their strategies have shared ingredients that are core to enabling an active partner ecosystem:
Reach a critical mass of users
Set up an open platform that makes it easy for partners to build on top of it
Enable partners to acquire and service the platform's end-users
Align economics with partners to incentivize innovation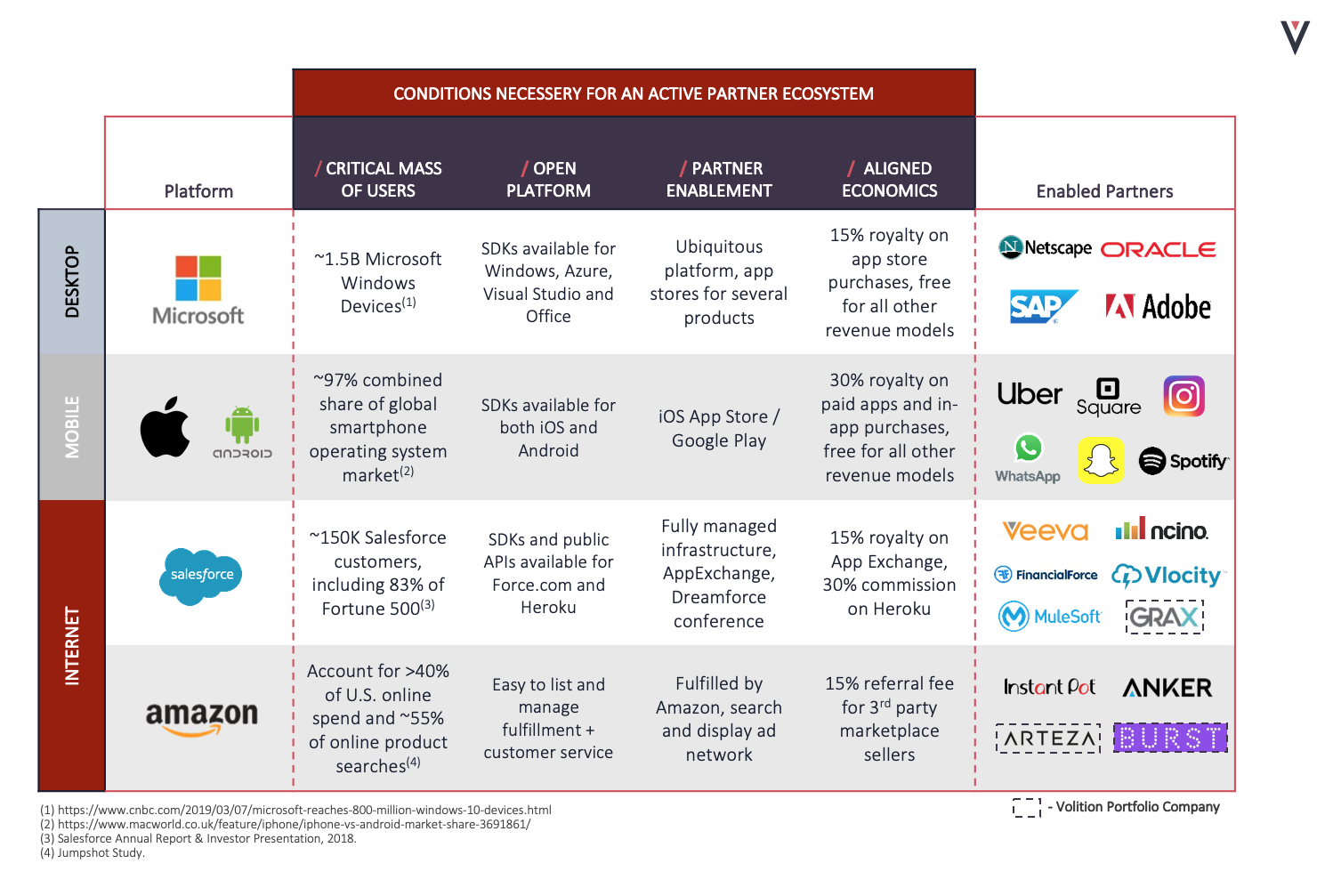 While we at Volition continue to mine these existing platforms for pockets of opportunity, we're also keeping our eyes downfield for the next enabling platform and the partner ecosystem it can help to propel. Today, we're particularly excited about three platforms that are quickly creating the conditions necessary for an active partner ecosystem:
Shopify, in omnichannel retail, which is rapidly establishing itself as the go-to commerce enablement platform with a vibrant, growing third-party developer ecosystem that's helping it harden its early lead in the space.
Zendesk, in customer support call center software, whose open architecture has helped it attract an incredibly strong partner community that is letting it offer best-of-breed functionality on top of its underlying platform.
ServiceNow, in IT service management, which is approaching a Salesforce-level of enterprise penetration and is now opening its application to partners so that they can automate business processes around IT ticketing and workflows, and leverage the core ServiceNow engine in other functional enterprise areas.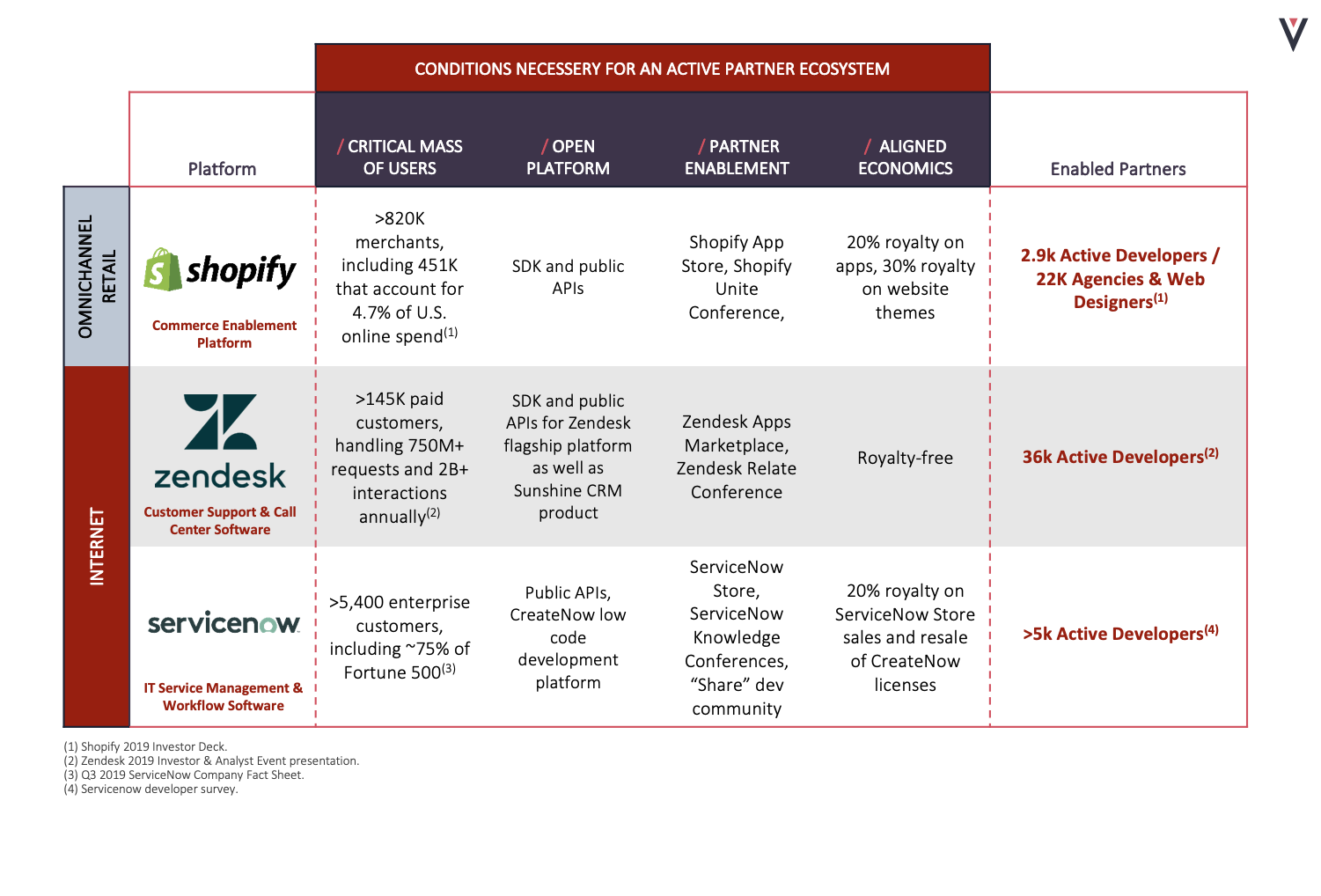 It's still early days in these new ecosystems, but we at Volition believe they each have the potential to spawn several highly valuable businesses over the next few years. We're excited to meet the first-mover entrepreneurs that are innovating on top of Shopify, Zendesk, and ServiceNow as we prepare to back the next generation of platform-enabled winners.
Contact the Author
Photo by Christina @ wocintechchat.com on Unsplash