The Year of Consent in Advertising
The cookie — the small piece of computer code that lets advertisers track user behavior online — is about to become obsolete. First announced in 2020, then postponed until 2023, the move is a welcomed change from privacy advocates pushing for policy changes from the browser leader.
The shift has been looming as cookies are one of the final pieces to the third-party Jenga puzzle, and the need for solutions has been escalated by existing changes to other third-party tracking methods. As any marketer can recall, Apple's iOS 14.5 changes had a profound impact on iOS-based targeting and Google's changes for Android will follow suit.
These shifts may seem to spell ad Armageddon for marketers, but adtech solutions are now being ushered in to prepare for the future of first party-only data solutions.

Apple blazing the privacy trail on mobile
While special attention has been paid to browser privacy over the last few years, Apple's IDFA changes shook up the fast-growing $200B+ mobile ad industry. The release of Apple's iOS 14.5 update, which introduced the App Tracking Transparency feature, was highly disruptive. Users were now given a choice to share their IDFA with developers and marketers, and therefore, be tracked.
With an unsurprisingly 80% opt-out rate for consumers, the mobile ad market shifted their focus to Google and increased Android ad spend by 21%. The move shook up the ad industry, including Meta, which expects a $10 billion loss to its ad revenue this year. But, as of February 2022, Google announced that it will soon bring a set of seemingly Apple-esque tracking restrictions to Android, creating a scary sense of déjà vu for mobile advertisers.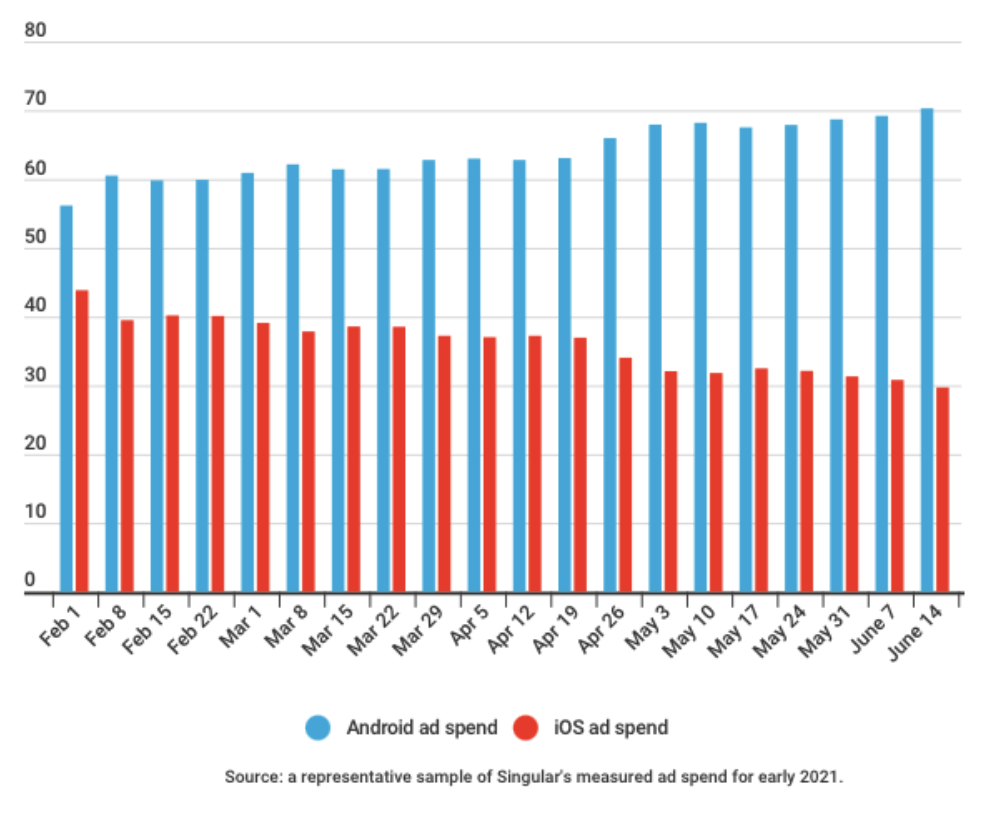 Google's not-so-similar approach
Like Apple's IDFA, Google's Advertising ID (GAID) is used for user-level tracking across Android. Contrary though to Apple's opt-in approach, Google's new plan will remove the use of GAID completely in favor of a privacy-protecting alternative through Google's Privacy Sandbox Initiative. The idea is to develop a new advertising approach that does not rely on device-level identifiers and limits covert tracking from advertisers completely. 
What is important to understand is that these changes will not eliminate advertising all together. In fact, Google's new policy will arguably be more friendly to developers and marketers given their ad business is the backbone (~80%) of the $256 billion-dollar machine.
While the exact changes remain unclear, Google highlighted a few Privacy Sandbox proposals that they are bringing to Android. This includes Topics, a tool that will determine several topics of interest based on a user's history. This feature, also being rolled out for Chrome, will enable ad generation spanning topics of interest and deliver personalized ads without the need for data collection.
This change, along with other proposals, will be part of a multi-year rollout after rigorous beta testing, another stark difference from Apple's arguably aggressive IDFA change.
Cookies – the final privacy piece to crumble
Google's Privacy Sandbox Initiative, which is for both mobile and browser privacy, will be gradual and likely finalized by 2023. Both mobile and online advertising will need to adjust to the new solutions as cookies and GAID are finally removed. Advertising methods that have fallen out of fashion are now enjoying a comeback, as highlighted in our previous post. 
From contextual targeting to first-party data collection via user volunteering, the Adtech industry will need to adjust to new compliant methodologies that have previously taken the backburner during the era of cookies. Adtech companies that have positioned themselves into these seams will be able to capitalize on this shift and lead the industry in the new era of privacy-first solutions.