Volition Capital has a selective investment approach that sees us partner with just a handful of companies each year. Last week, we announced the latest of these investments — a $35 million fundraising round for apartment video intercom system, ButterflyMX. We led the round in conjunction with Egis Capital Partners, RiverPark Ventures, and Stifel Financial Corp. ButterflyMX (BMX) is a provider of smart home technology, primarily for multifamily residential, and building owners and managers. Their flagship product is an internet-connected, next-generation video intercom system that allows for mobile device entry, guest access, and security compliance.
ButterflyMX was founded in 2014 by Cyrus Claffey, who recognized that the property access solutions that were available at the time were restrictive, cumbersome, and expensive. Smart home technology offers an attractive way to differentiate from other multifamily buildings in an increasingly competitive environment to acquire and retain tenants. ButterflyMX's intercom is the first piece of smart home technology that tenants see, even before entering the building, as it is visible from the street level. This offers an attractive and relatively inexpensive solution to make a building more marketable for property managers while increasing tenant satisfaction with other building amenities such as a package room solution, elevator controls, and other ancillary products.
The following are just three of the many factors that inspired our investment in ButterflyMX to support its expansion of smart home technology:
Clear value proposition to both occupants and property managers.
During COVID-19, contactless entry solutions have never been more relevant, especially in more densely populated cities. BMX allows building managers to offer tenants peace of mind while reducing the overhead costs of doormen or concierge employees while removing costly traditional wiring systems that are hard to maintain. The new ancillary products will further solve property management company (PMC) pain points such as package room access to facilitate delivery and reduce theft, and key exchange boxes allow occupants to manage guest access at the unit level for services such as dog walking and self-guided tours, which all make a property more marketable to prospects and tenants.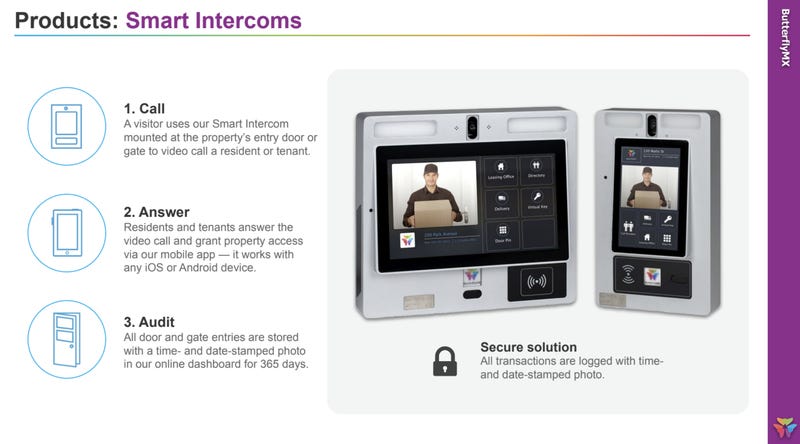 Attractive customer retention and opportunity for continued penetration of existing customer portfolios and other expansion.
BMX is used by 4,500+ buildings, 450,000+ units, and have 6,000+ individual 5-star reviews. But its real strength is in its remarkably high building retention rate, which borders on 100%. In addition, the company has proven a land-and-expand sales strategy by signing MSAs with PMCs and developers that continue to penetrate their existing portfolios and spec BMX into new builds.
Additionally, BMX is gaining significant traction outside of multifamily in co-ops/condos and commercial office properties. Management has really begun to capitalize on these segments in terms of sales specialization and they are making rapid progress. The existing PMCs and developers are also bringing the company into international markets, which represents a largely untapped market opportunity. The smart intercom allows BMX to add new complementary products including a package room solution, elevator controls, a key exchange, and keypads as upsell opportunities, simultaneously acting as a new sales tactic to further penetrate retrofits.
Strong revenue growth and capital efficient sales process with an experienced leadership team.
Founded in 2014, the ButterflyMX team has raised only $9.5 million to date, yet they have used that to grow rapidly in a capital efficient manner. Revenue growth can be attributed to a high velocity and efficient sales processes. Sales reps enable potential clients to reach a buying decision through just a ~45-minute demo sales call given the comparatively low price point. 
The leadership team is strong and diverse, with a visionary product strategy and deep connections in the real estate market. BMX is led by Aaron Rudenstine, a product, and customer-focused CEO, who previously co-founded and led CityMaps prior to its acquisition by TripAdvisor in 2016.
Welcome, ButterflyMX
Taken together, ButterflyMX is a well-run and experienced company with high customer retention, opportunities for expansion, and the ability to solve important challenges that have never been more relevant. Just as tenants are welcomed to their homes by ButterflyMX's smart technology, we want to welcome our friends at ButterflyMX into the Volition Capital family!
Read more about our investment on ButterflyMX's portfolio page!
Sign up for our mailing list to get Volition Viewpoints in your inbox:
[hubspot type=form portal=7228887 id=7c89f4bd-066c-4200-bdd2-9f25db71380c]