By Jim Ferry
The first patient in Wuhan City, China, reported symptoms similar to a coronavirus infection on December 8th. Nearly one month later on January 7th, the disease was identified as a new type of coronavirus, named COVID-19. By January 13th, the first case was identified outside of China in Thailand and on January 20th, the first US case was confirmed. As of April 26th, COVID-19 had become a global pandemic with just under 3 million confirmed cases and 205 thousand deaths across 210 countries and territories around the world1. A critical factor to the unprecedented spread of the disease is the airline industry.
A Shrinking World
Since 2010 the annual global number of airline passengers increased by 68% to reach 4.5 million passengers in 20192. This increase is driven by a strong economy and flights becoming more affordable with the average US domestic flight cost decreasing by 10% when adjusted for inflation over the same time period3. However, the number of flights only increased by 34% over the same time period2. The result is squeezing more passengers on planes by adding more seats and decreasing legroom. Infected passengers traveling by air in these close quarters helped lead to the rapid spread of COVID-19 across the world.
The US as the New Epicenter
At least 316 million people in 45 states are being urged to stay at home due to COVID-19. This represents ~95% of the US population, while the Center for Disease Control (CDC) has urged all Americans to avoid nonessential travel4. Despite these guidelines, the US continues to have ~30 thousand new confirmed cases each day and is approaching ~1 million total confirmed cases5. However, air travel makes it nearly impossible to maintain the six foot social distancing guidelines put forth by the CDC given the close proximity of seating. This has resulted in a 95% reduction in travelers passing through TSA per day and a 55% reduction in total US flights that takeoff6. 
In response, US airlines have taken drastic measures. Delta was the first US airline to respond to the pandemic by cancelling all flights to China in early February and is now trimming its domestic flying capacity by 10-15%. American Airlines has reduced international flights by 75%. United is cutting its flights by up to 90% for the month of April. Almost all airlines are waiving change or cancellation fees, which is projected to materially decrease total airline passenger revenue globally in 2020 by 38%.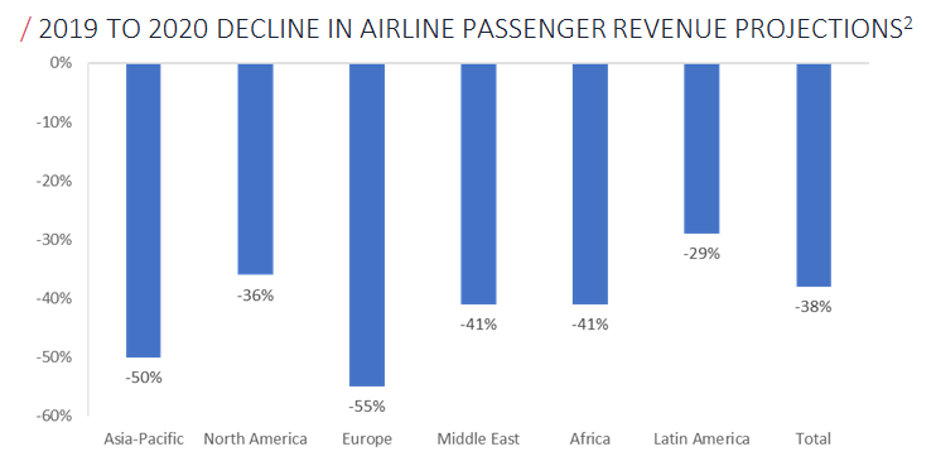 Decreasing Air Travel Effects on the Overall Travel and Tourism Industry 
This trend is materially affecting the entire travel industry including lodging, transportation, and tours & activities. The US hotel industry projects a record low ~43% occupancy rate in 2020, which is a stark decline from 66% occupancy in 20197,8. 43% of tour and activity operators believe their business will close if demand does not begin to return after three months9. Unfortunately for the travel industry, ~40% of respondents to Volition's Consumer Sentiment Study expect to air travel less compared to pre-quarantine levels once the quarantine is over. 
Capitalizing on a New Travel Industry
Despite a projected decrease in air travel, 74% of Americans prioritize experiences over physical products and will be searching for safe experiences and travel options. This will lead to a new travel industry with more localized travel that can be reached by car, as well as "staycations" where consumers spend on accommodations and experiences near their hometown. This may require travel companies to change their marketing strategy such as cutting international advertising spend. Tour operators have already altered their products by offering virtual experiences or products that appeal to locals. Vacation rentals will need to establish strict cleaning protocols that hotels are currently adopting to ensure consumer safety to use in their marketing strategies. Airbnb is rolling out new cleaning protocols in May where hosts can either receive an enhanced cleaning certification or opt into a 72 hour booking buffer between guests. 
For the 60% of respondents that plan on air traveling the same amount or more once the quarantine is over, the way in which they air travel will undoubtedly be different. There will most likely be some sort of passenger health test prior to boarding such as temperature testing. Dubai-based airlines Emirates has taken more extreme measures by carrying out COVID-19 blood tests on passengers prior to boarding. Some airline carriers, including American AIrlines, are reassigning seats to customers so they can maintain social distancing and avoid middle seats. Other prototypes of seating designs have been created that include face shields or alternate seating directions to ensure isolation of passengers seated next to each other. 
All of this creates an opportunity for the travel tech industry and operators that can capitalize on these changing trends. Loyalty programs in particular will become even more important to build consumer allegiance to certain brands. Point-based loyalty programs have become status quo and many times do not offer a strong return to the consumer. More service level perks are needed to ensure consumer loyalty beyond a one time purchase. For instance, airlines such as Delta offer priority boarding and overhead capacity space for a flat annual fee. Many times it is not the mode of transportation or lodging, but the experiences that make a trip. Offering unique booking experiences as part of a loyalty program can provide differentiation. With 36% of respondents decreasing their discretionary spending once the quarantine is over, offering discounts or promotional bundles that include activities may also help to attract consumers. 
While the travel industry has been one of the hardest-hit verticals during the pandemic, better days are ahead when the economy reopens, and consumers gain comfort being in public places again. Until then, the current slow down should allow operators in the industry to make the necessary adjustments and system upgrades to adapt to this changing landscape brought on by COVID-19. 
Sources:
Economic World Forum
IATA
Bureau of Transportation Statistics 
The New York Times
Worldometer
OAG and TSA
CBRE
STR Global
Arival
Sign up for our mailing list to get Volition Viewpoints in your inbox:
[hubspot type=form portal=7228887 id=7c89f4bd-066c-4200-bdd2-9f25db71380c]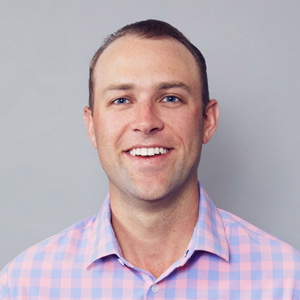 Jim joined the team at Volition in 2014 and is responsible for evaluating and executing new investment opportunities in transactional Internet applications and assisting with current portfolio operations.
Connect with Jim:
tel.  +1 617 830 2112
Jim@VolitionCapital.com 
LinkedIn