by Tomy Han
Work From Home (WFH) — never has an acronym, or reality, been pushed so quickly into the daily lexicon and lives of millions of people. In the early days of lockdown, companies large and small were tasked with the herculean effort of shifting and supporting their entire organization to remote work.
According to a recent MIT survey, a little over half of all Americans who were employed pre-COVID-19 are now working remotely. This is up from 15% before COVID-19. An even smaller percentage (5%) were working from home full time, according to a 2018 U.S. Census Bureau survey. While some companies are now beginning to consider when to return to the office, many others are beginning to see the benefits of permanent WFH policies such as massive cost savings in office leases and other overhead.
With so many Americans working remotely, B2B software sales exploded at the end of Q1 2020, driven by increased storage, data protection, and security demands. However, B2B software companies themselves were greatly impacted by the organizational shift brought on by COVID-19. Volition Capital's State of the B2B Software Market Study surveyed CEOs, founders, and other leaders of B2B technology businesses to get a better sense of these organizational changes and their potential long term impact on the industry. 
B2B software companies are increasing headcount:
Impressively, while many other industries have been forced to make sweeping cuts to personnel in the form of layoffs or furloughs, almost 60% of B2B software companies plan to increase their headcount in 2020, with 10% of those planning to make significant increases. 
When broken down by functional area, the highest percentage of respondents planned to increase headcount in Sales & Marketing (54%) and Research & Development (53%), indicating that a majority of B2B software companies are viewing the pandemic as an opportunity to invest in their products and growth.
As Pete Lamson, CEO of JazzHR, told us during a Volition Webinar, "this is a good time to build pipelines or activities like engineering, product design, or customer support which can yield dividends as we start to emerge from this situation."
B2B software companies are investing in R&D:
For most respondents, there was no change to their overall IT budget or individual departmental budgets. While 25% planned to increase the budget in Sales & Marketing, this department also saw the greatest percentage of budget reductions (41%). As S&M is often the first thing to go during a downturn, this makes sense, but many seem eager to expand S&M spend on things like headcount over the later stages of 2020. 
Research & Development again was an area of significant investment, with 31% increasing the R&D budget. While Cybersecurity did not see the highest percentage of companies increasing its budget, it did see the lowest percentage of budget reductions at just under 7% of respondents, highlighting its necessity in protecting the shift to WFH. 
A remote-friendly culture: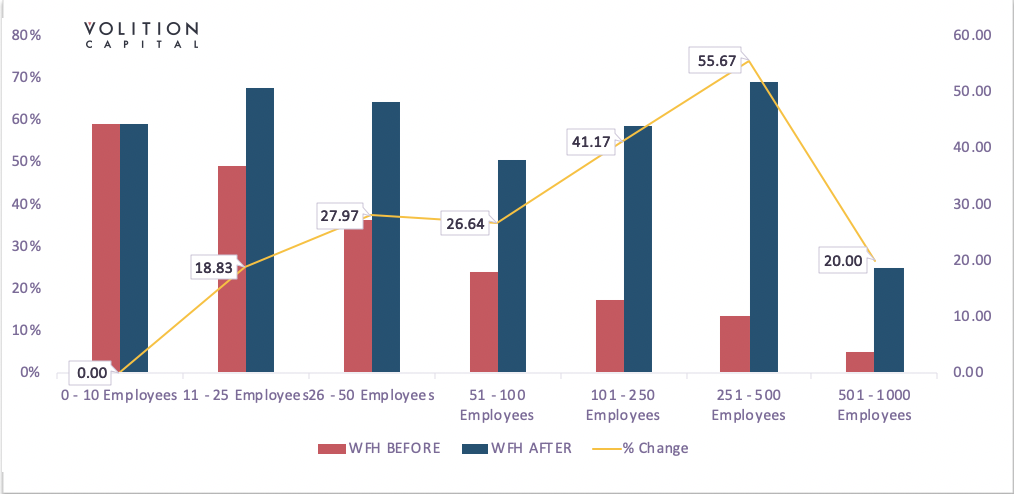 As the MIT survey suggests, Americans are embracing remote work in unprecedented numbers. However, remote work is not evenly distributed between industries or geographies, and this plays out in our survey results. Prior to COVID-19, B2B software companies had an average of 36% of their employees working remotely, over double the national average. 
So why were B2B software companies embracing remote work in such high numbers? In many ways, their digital offerings are optimized for the digital world in a way few other industries are.
Joe Gaska, CEO of Grax, told us during the same Volition Webinar, "we began transitioning to a WFH culture back in 2014. This was driven by the desire to optimize retention and employee satisfaction. When we began investigating, we found that our employees were wasting 2 hours on average in their commute, increasing stress, and wasting time. After we went to a remote-only policy, we found that employees were able to reinvest 50% of this time into work and 50% into their personal lives, increasing productivity and happiness."
Transitioning to remote-first operations: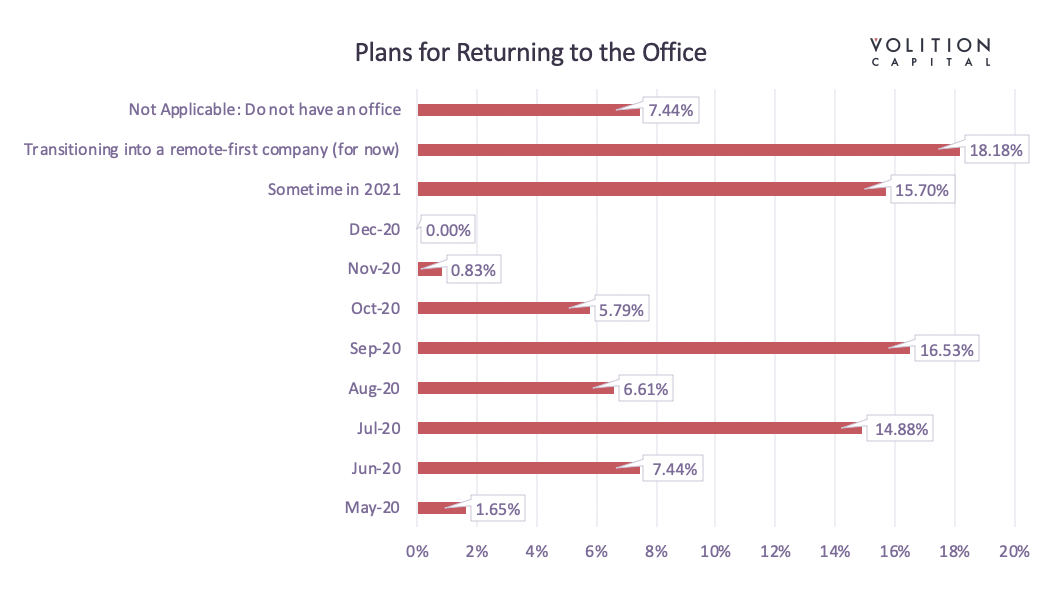 When you factor in this boost in productivity with the savings on building maintenance, long-term remote work begins to look very attractive. Further, the shift has been remarkably easy; much more so than many might have expected. Less than 7% of respondents ranked "adapting processes to the remote-first environment" as their biggest challenge during COVID-19 while just over 45% ranked this as their smallest challenge. 
According to Pete Lamson at JazzHR, "though I love our office environment — the energy, the camaraderie, etc. — an interesting development during WFH has been that I'm actually getting a more complete picture of our operations. We are very much a results-oriented company, but we've used the disruption of this situation to shift our priorities towards building the work and processes that can drive future results."
This is why almost 26% of respondents are in the process of transitioning to or already are a remote-first organization. Even as 52% of companies plan to return to the office by September 2020, this will likely only be a partial return. In fact, our respondents estimated an average of 61% of their employees will still be working remotely in 2021.
Organizationally, where is B2B software headed?
Digitally native B2B software companies are making WFH work for them. Bucking national trends, they plan to maintain or continue adding to their headcount, to expand their budgets in key areas, and to embrace remote work over the long haul. The savings of transitioning to a remote-first model will allow many of these companies to reinvest in their products, sales, and marketing to fuel growth in the future. Though the broader economic outlook is not bright, almost 70% of B2B software companies view their prospects over the next 12 months optimistically. The organizational changes brought about by COVID-19 might be one reason why. 
See Read the full study here:
Sign up for our mailing list to get Volition Viewpoints in your inbox:
[hubspot type=form portal=7228887 id=7c89f4bd-066c-4200-bdd2-9f25db71380c]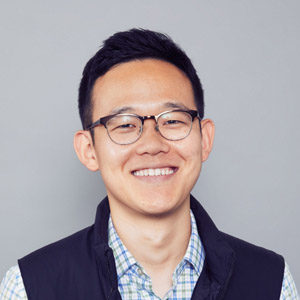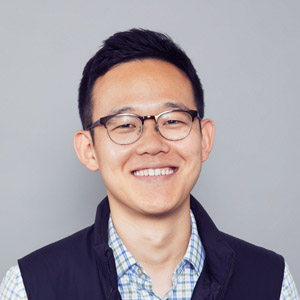 Analyst
Tomy joined Volition Capital in 2012 as part of the first Analyst class. He focuses on software and internet investments in compliance, security, supply chain, and vertical applications.
Connect with Tomy:
1-617-830-2307
than@volitioncapital.com
LinkedIn