digital Healthcare Disruption
Not long ago, experts predicted that delivery of digital healthcare services via the internet would be limited to a narrow band of low-priority activities. Yet, recent years have seen a number of successful, specialized digital models emerge – replacing traditional delivery methods, reducing costs and delivering significant value to patients.
In Volition's view, these new healthcare models – and the entrepreneurs who create them – will transition rapidly from disruptors to dominators in the coming decades. And vertical integration will be key.
Some drivers of this change dominate today's media. Consumers' personal budgets are buckling under the strain of ever-rising healthcare costs. Those in company plans have seen employers' contribution rates lag inflation, so that employees now pay 43% of healthcare costs, compared to 39% in 2001.(1)
An American family of four in an employer-sponsored PPO plan now pays $28,386 a year in health care costs, nearly 29 percent more than in 2013.(2) Despite paying more, consumers can feel disconnected from their service providers: It takes an average of 24 days to get an appointment with a primary care physician, which helps to explain why patients only refill their written prescriptions about 15-20% of the time. (3)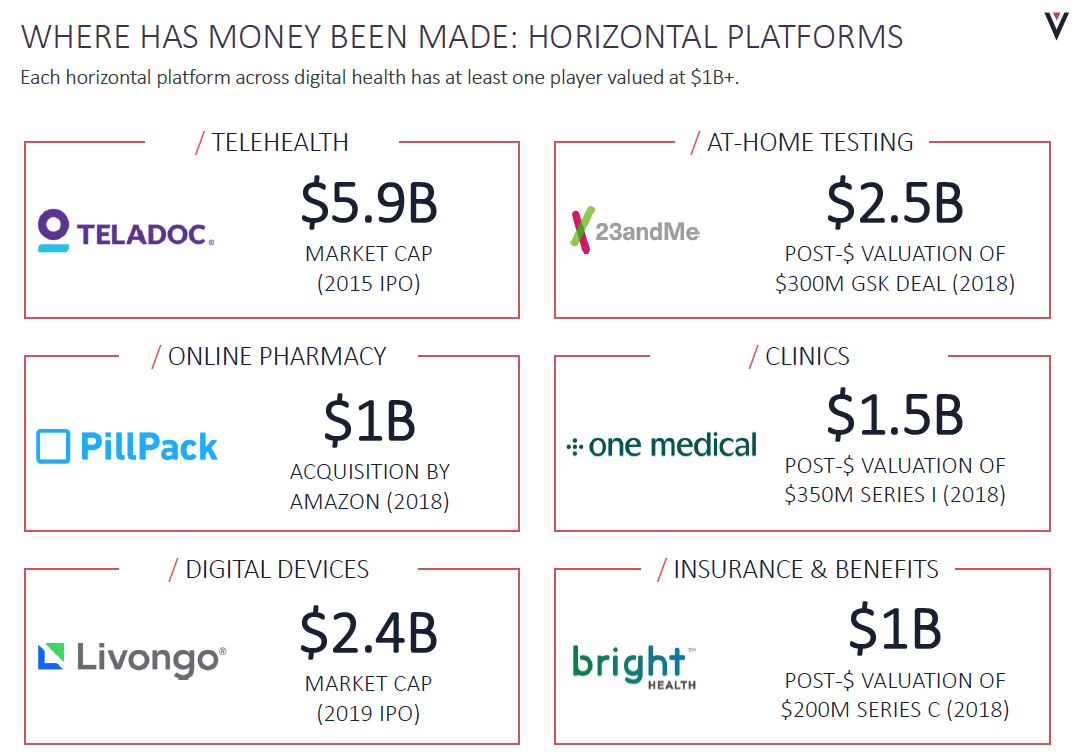 Digital Health Model A Secular Shift
Consumers who have embraced ad-supported health information sites like WebMD for decades now are warming to emerging DTC healthcare options. The companies that so far have achieved the greatest traction in this space are focused horizontally, providing digital health services that are condition agnostic.
Such performance is remarkable, but we believe an even greater opportunity lies ahead on the vertical plane – serving consumers who have specific health goals or challenges by delivering content that is personalized and relevant, and building communities of consumers who share similar health objectives. 
The fact that roughly half of consumers report interest in telemedicine for managing chronic diseases(4) offers a glimpse into the enormous market potential for vertically oriented, condition-specific digital services in a nation where 84% of healthcare dollars are spent on chronic disease care.
Digital health models that are particularly well suited to this market opportunity are those that vertically integrate services such as at-home testing technology, video chat communication with a medical professional, online pharmacies and meaningful access to content and communities of people with similar health issues.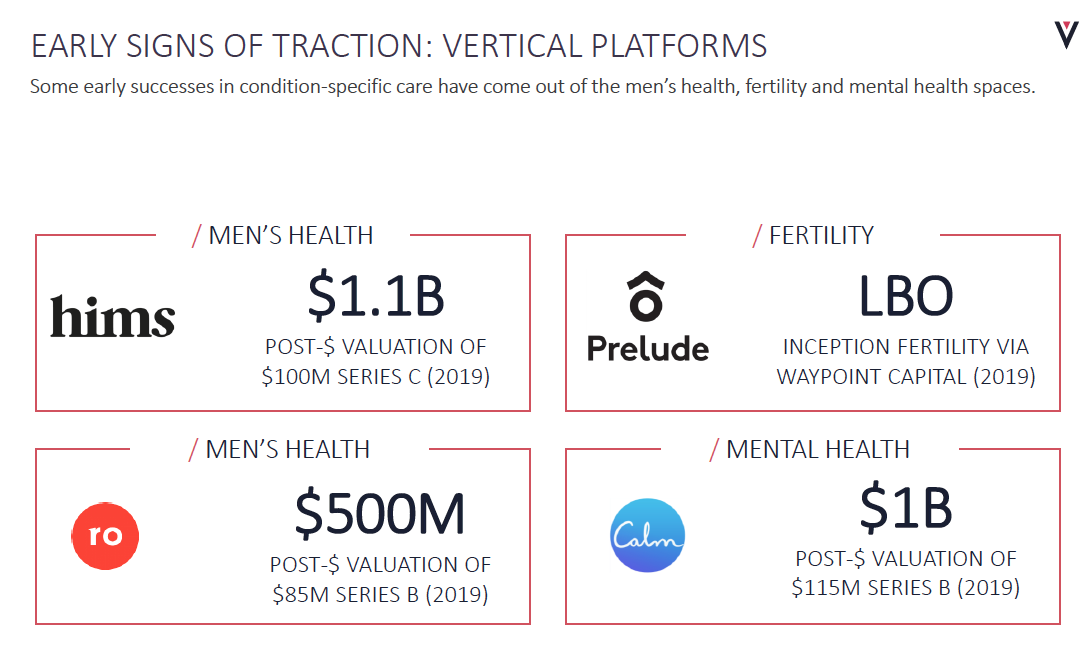 An example of a vertical platform is Prelude Fertility, which provides fertility services to women, and which was acquired by Inception Fertility in March 2019. Currently, in addition to operating physical clinics, Prelude provides a mail-order fertility pharmacy and mobile app for content delivery and clinic engagement. 
It, too, is seeking partnerships with insurance and benefit plans to deepen its consumer relationships. Prelude has good company amongst other vertical early-movers, including Hims and Ro (men's health) and Calm (mental health).
What's next for digital Healthcare?
We believe that the confluence of consumerism, technology and innovation will continue to drive greater adoption of digital healthcare services in the coming years. If we look back at total retail sales over the most recent 10-year period, we can see how consumer behavior shifted dramatically toward online purchasing, after certain barriers (privacy, security, tech mastery, and others) were cleared.(5)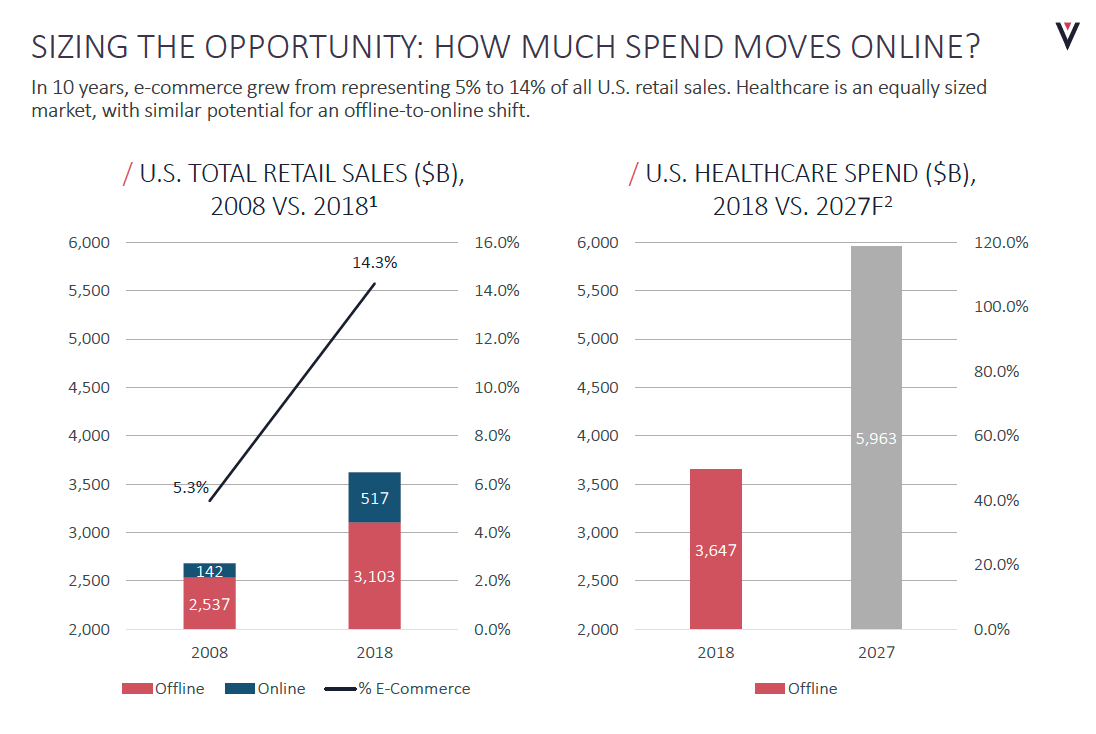 On the healthcare front, we believe a similar shift will occur in the next decade, as more people realize the benefits delivered by digital services, such as convenience, cost savings and a sense of "being understood," in the case of vertically oriented providers. With healthcare spend projected to rise 120% between now and 2027, digital healthcare providers are poised to garner a larger share of a much larger health care pie.
Volition Capital's Internet & Consumer team has successfully scaled a variety of businesses that differentiate via deep vertical focus. As early investors in Chewy.com, our thesis was built on our conviction that one-size-fits-all e-commerce marketplaces, such as Amazon, weren't specialized enough to meet the needs of a pet parent. 
We helped Chewy win by delivering best-in-class service that resonated with a passionate community, and we've continued to implement successful vertical strategies across our broader consumer portfolio. We're excited to bring a similar philosophy to the digital health landscape, and fuel the growth of outstanding, verticalized companies.
Kaiser/HRET Employer-Sponsored Health Benefits Survey
2019 Milliman Medical Index
IMS Health
4.Deloitte
Internet Retailer
Morning Consult