The Flaws of On-Demand Delivery Marketplaces  
About 10 years ago, interest for on-demand delivery in categories like restaurant, alcohol and grocery began to pick up. The marketplace model, which connected consumers directly to existing merchants, was adopted by some of the early disruptors in the space. This model was variable cost centric which limited the downside risk associated with fixed costs if demand were to fall.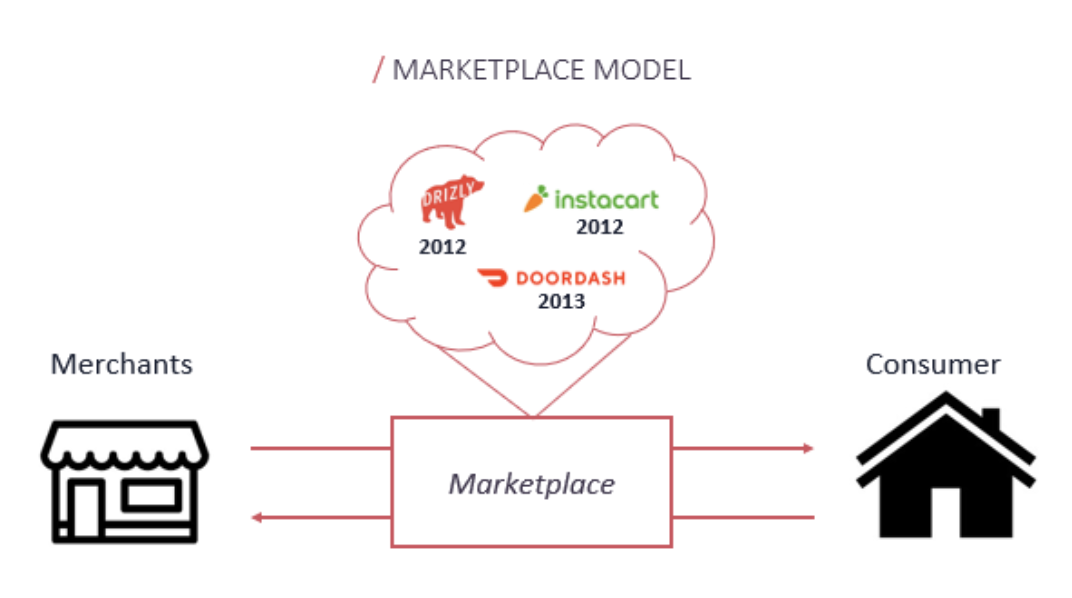 Marketplaces like Drizly, Instacart and DoorDash have scaled quickly by leveraging this model and each have played a critical role in driving market adoption for on-demand delivery.
In January 2022, ~51% of U.S. consumers ordered from a meal delivery service, up from ~46% a year ago.¹ Although COVID certainly played a role in driving demand, companies like Instacart and DoorDash were growing rapidly prior to the pandemic as well, showing the longer-term growth trajectory of the category.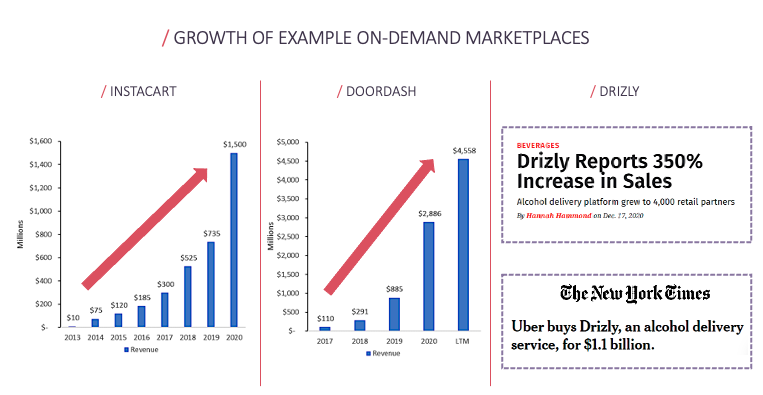 Despite the growth of these marketplaces, the model is under optimized in several ways. The three critical flaws of this model in the on-demand delivery space are listed below.
Nominal margin dollars per order

Marketplaces capture only a small % of overall dollars earned in the transaction, leaving money on the table. For example, it's estimated that on a $40 order, UberEATS gives $33 to the restaurant which leaves just $7 for UberEATS to cover expenses like paying drivers and acquiring customers.² One of the only ways for marketplaces to improve profitability is to increase delivery fees which has resulted in high fees for the consumer.

Not fully optimized for efficiency

Marketplaces are often connecting consumers, drivers and merchants on a 1:1 basis, limiting the opportunity to batch orders which is critical to improving delivery unit economics. Quickly fulfilling on-demand delivery orders can also be an issue as traditional merchants aren't built for this purpose.
Lack of ownership of full customer experience

Marketplaces have high dependence on third parties which can lead to avoidable mishaps. Errors can frustrate customers and it's common for hear complaints around inconsistent quality and delays. Despite receiving the blame, marketplaces aren't usually directly responsible.
The marketplace model for on-demand delivery was established over a decade ago and there's certainly room for improvement. As consumers increasingly seek on-demand delivery options they will only expect a higher level of service.
The most encouraging model to solve some of these challenges is the dark store concept which I've highlighted here.