When people think about entertainment, they think about Hollywood. The red carpet, the flashing lights, the glitz and the glam — all have become synonymous with a multi-billion dollar industry that has become a significant global export. Pre-pandemic global box office revenue had, indeed, surged to almost $43 billion in 2019, but movies have a cousin in the entertainment family that is actually far and away more significant: gaming. 
Most people would be shocked that global box office revenue is not even one-third of global gaming revenue, which soared to $152 billion in 2019. Last year, 48% of all consumer spend on gaming came from the U.S. and China, with the U.S. narrowly overtaking China for the first time ever. The global gaming market is larger than the global box office and music revenues combined.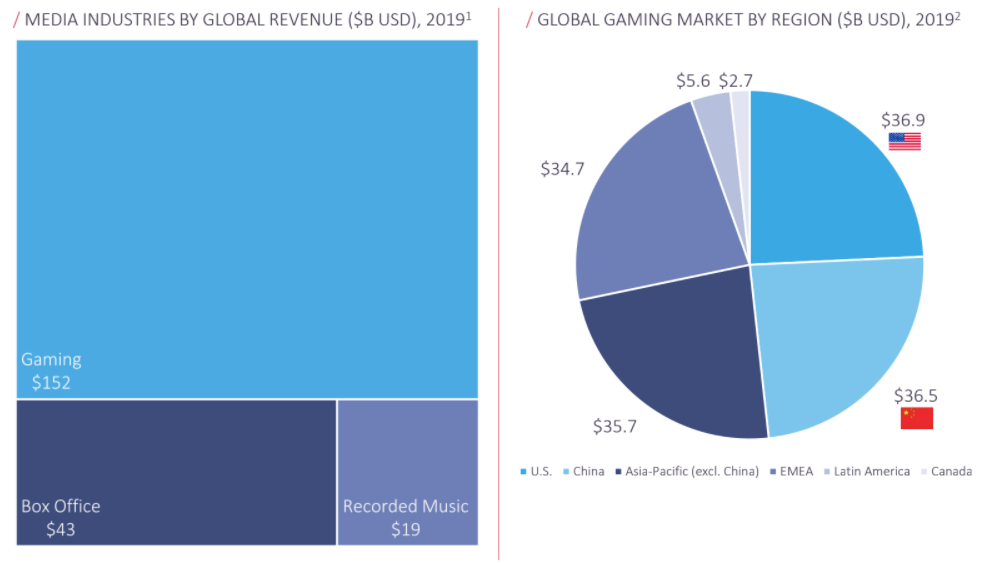 Gaming remains a contrarian space, due to a pervasive and outdated belief that the industry is "hit-driven." VCs have traditionally avoided investing in game studios, and this bias has also translated into avoidance of the entire gaming ecosystem. However, over the past decade, new models have emerged that have made game developers more attractive from an acquisition standpoint. Money is also being made in gaming platform businesses; moreover, the line between "game" and "platform" is blurring. The broader gaming industry is spawning major exits such as the recent IPO of Unity Software, whose market cap jumped to nearly $20 billion after it began trading at $75 a share, over 40% of its projected price.
Here's an overview of this evolution and areas of opportunity that we see developing in this industry:
A Brief History of Gaming
Multiplayer games can take three forms:
Local multiplayer:

These games have shared or split screens where players can play the same game in the same space on the same console. It's normally capped at 2-4 players, and is the classic form of games like Mario Kart.

Online multiplayer:

These games are more individualized, where everyone has their own screen or console. The players are not in physical proximity and play together online. They allow 4-8 players in the same immediate game environment such as League of Legends.

Massive multiplayer online (MMO):

This is similar to multiplayer online except larger in scale. Everyone still has their own screen / console, but it allows 100+ players to interact in massive online worlds such as World of Warcraft. 
The top-10 best selling games of the early 2000s skewed towards local multiplayer games that relied heavily on unique console experiences. Online multiplayer and live game experiences were emerging, but still nascent. These games skewed heavily towards party games such as Guitar Hero, Rock Band, Wii Play, and Mario Kart Wii that worked well in an in-person group setting, creating natural opportunities for social gameplay.
By contrast, the most-played games of 2020 have abandoned local multiplayer altogether, largely in favor of MMO. Many adopting a free-to-play model, these games can attract as many concurrent players as the top games of the prior decade sold in total copies. Virtually all top games of today have a core multiplayer gameplay mode, live game elements that update dynamically, and in-game purchases that drive monetization.
Although social gameplay has moved from the shared couch to online environments, many top titles facilitate extremely social gameplay and community through play styles such as online team-based play, 100+ player battle royales, sandbox gaming communities, and in-game social spaces. The extremely social nature of gameplay has given rise to an explosion of consumer-facing platforms that facilitate today's shared gaming experience.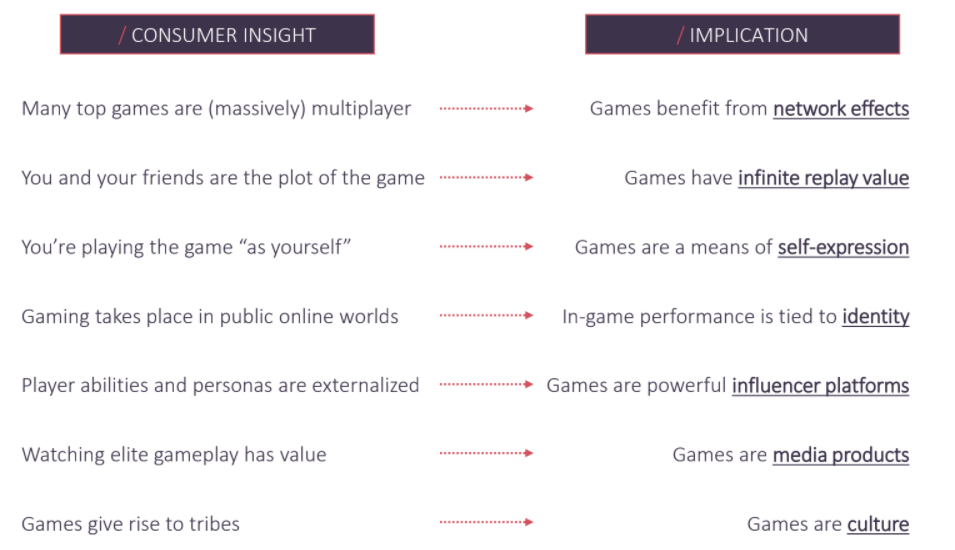 Although social gameplay has moved from the shared couch to online environments, many top titles facilitate extremely social gameplay and community through play styles such as online team-based play, 100+ player battle royales, sandbox gaming communities, and in-game social spaces. The extremely social nature of gameplay has given rise to an explosion of consumer-facing platforms that facilitate today's shared gaming experience.
While the inherently social nature of gameplay has remained unchanged, virtually all other aspects of gaming, including monetization, distribution, monetization models, distribution platforms, expansion content, game evolutions, and marketing channels have transformed.
How Free-to-Play Games Make Money
The top-10 free-to-play games in 2019 all generated more annual revenue than the highest pay-to-play game, FIFA 19. Fortnite, the top free-to-play game, generated an estimated 2.3x more revenue than FIFA 19.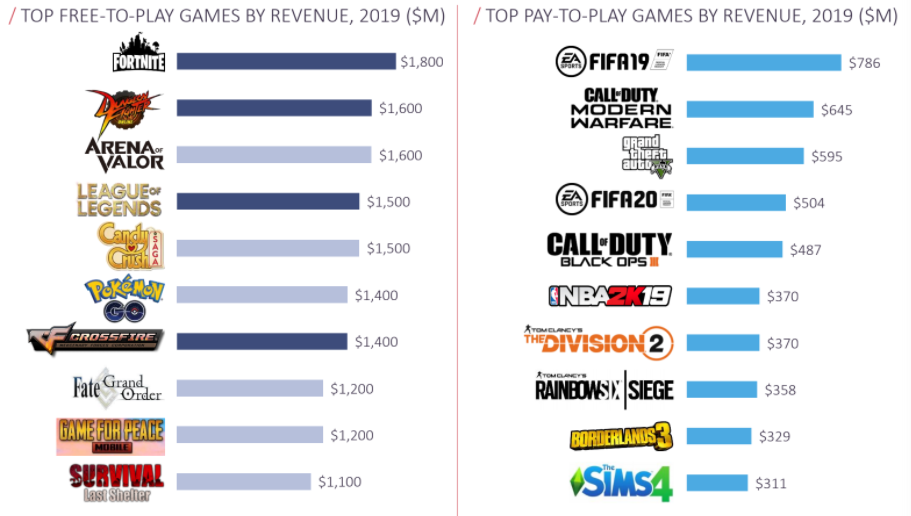 Most free-to-play games monetize through two mechanisms: 
Digital content:

Players have the option to purchase digital assets in-game, including personalized characters, outfits, weapons, "emotes" and more. These purchases generally offer purely cosmetic vlaue. The games create a well-established hierarchy of rareness and value that allow players to express personality, skill, or wealth through unique items.

Battle passes:

Battle passes unlock a premium tier of content, and this limited-edition content is earned through skilled gameplay. More desirable content is unlocked through better play, conferring status to certain items. Battle passes create a sunk cost fallacy, driving players to play more to justify the battle pass cost.
A majority of live games monetize through battle passes that follow a content cycle: a new game season is released with well-publicized game updates and associated digital content. Players spend the duration of the season earning experience points (XP) to unlock season-specific rewards. 
These seasons make games more durable and consolidate the player base. They allow developers to introduce newness to a franchise without fragmenting the player base. A single successful game can also be monetized in perpetuity versus supporting ongoing development of new games. For the Call of Duty franchise, for example, units sold peaked at 31 million with 2010's Call of Duty: Black Ops, but the number of players on Call of Duty: Warzone, the latest  free-to-play installment in the series, had reached 60 million by May, 2020. 
The majority of digital game revenue is now for live services, and companies such as EA recognize nearly half of their revenue bases from player recurring investment (PRI), including in-game items, downloadable content, and battle passes.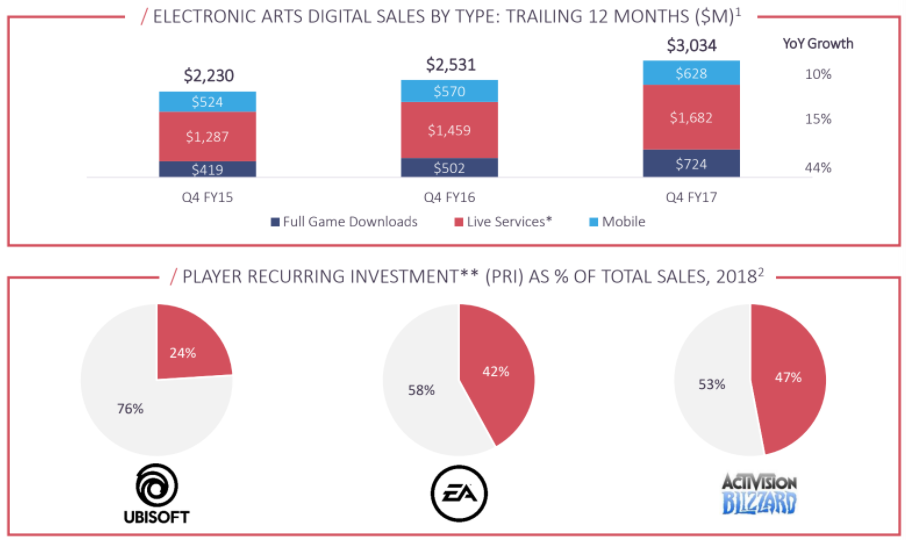 Gaming-as-a-Service: Attracting New Investors
The move to recurring revenue models in gaming creates a massive margin opportunity for game publishers and developers, driven by reduced COGs, R&D, and marketing spend. As shown previously, EA and ATVI both recognized nearly half of total revenue from PRI revenue streams in 2018, and a higher PRI percentage of total sales has a direct impact on the EBIT margin of gaming companies, as illustrated by publicly traded stocks.

The shift in gaming from primarily transactional to recurring investment business models has aligned the incentives of game developers and publishers and investors to drive recurring revenue experiences across all platforms.
Though World of Warcraft is the only major game title that monetizes via a pureplay subscription model, most consumer gaming platforms have some type of subscription business model and battle passes function similarly. Here are a few examples of subscription models across different gaming segments: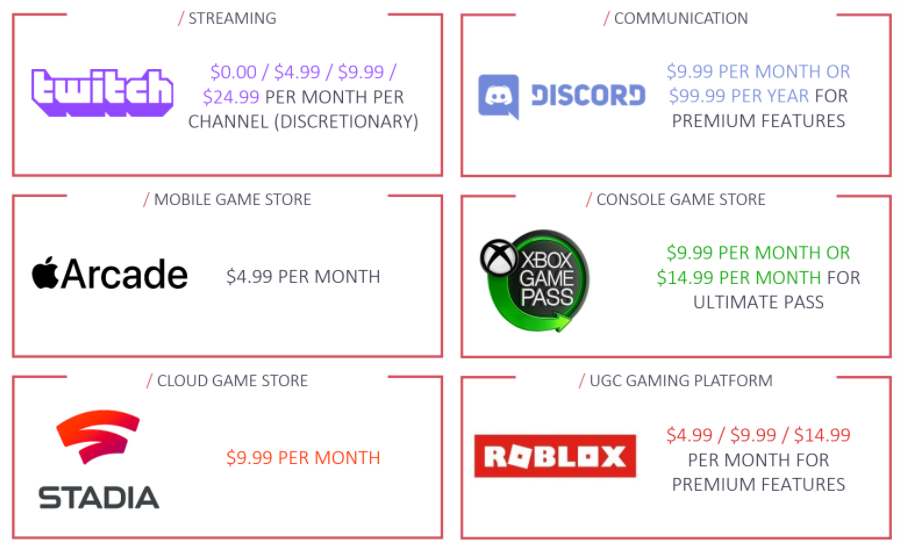 Cloud Gaming and Investing in the Future
Over the last ten years, we've seen a transition from local multiplayer to MMO and live gaming that has monetized through free-to-play models with in-game purchases on content and battle passes. The next ten years will likely see cloud gaming emerge as the next big inflection point. 
This means that the actual game is stored, executed, and rendered on a remote server, rather than a local console, and video results of that processing is streamed directly to a user's device via broadband internet. This has the benefits of zero wait time for downloading, no expensive gaming hardware, multiple platform support, seamless updates, and a safer, more secure game. 
Today, everyone is trying to go full-stack in gaming. Major acquirers have shown a clear appetite to own not just game development studios, but also the distribution platforms that allow them to have direct relationships with their players. We believe that there are opportunities in game-agnostic consumer platforms with subscription business models and massive upside potential, particularly in categories with no established winner.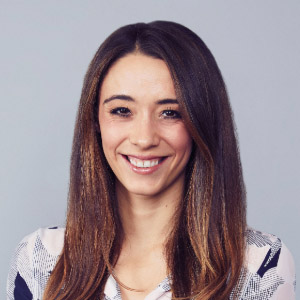 Senior Associate
Claude joined Volition Capital in 2019 to further strengthen the digital expertise on our Consumer and Internet investing team. She's focused on investments in direct-to-consumer products, tech-enabled services, and marketplaces, with sector interests in beauty and wellness, age tech, and healthcare.
Connect with Claude:
1-617-830-2303
Claude@volitioncapital.com