How green buildings are key to sustainability targets: The growing retrofitting movement 
Buildings consume a tremendous amount of energy and account for 40% of the world's total emissions. Green retrofitting – adding new technologies to existing building stock – can help create decarbonized and more sustainable properties. Retrofitting can be as simple as installing shading systems or as complex as a complete renovation. 
It will allow companies to be prepared for potentially volatile weather conditions in the future and save on operational costs and boost profits now. And as sustainability initiatives escalate globally, there are various external, corporate, and property level drivers. 
Our team believes it will make retrofitting real estate portfolios and tracking energy consumption essential to retaining tenants, increasing cashing flow, and avoiding penalties.
Retrofitting drives down emissions… while increasing cash flow
As countries chase net-zero targets, demand for retrofitting is expected to grow in the coming years. Political drivers include the EU's Green Deal, requiring 97% of buildings to undergo significant adjustments to meet energy targets. 
Retrofitting is also recognized as a key critical in the US's goal of reducing emissions by 55% by 2030. Growing calls for action on climate change from consumers means that retrofitted buildings or those with green certifications are highly desirable. At the same time, these properties also have the added benefit of being weather-resilient, longer-lasting, and more conducive to residents' environmental health.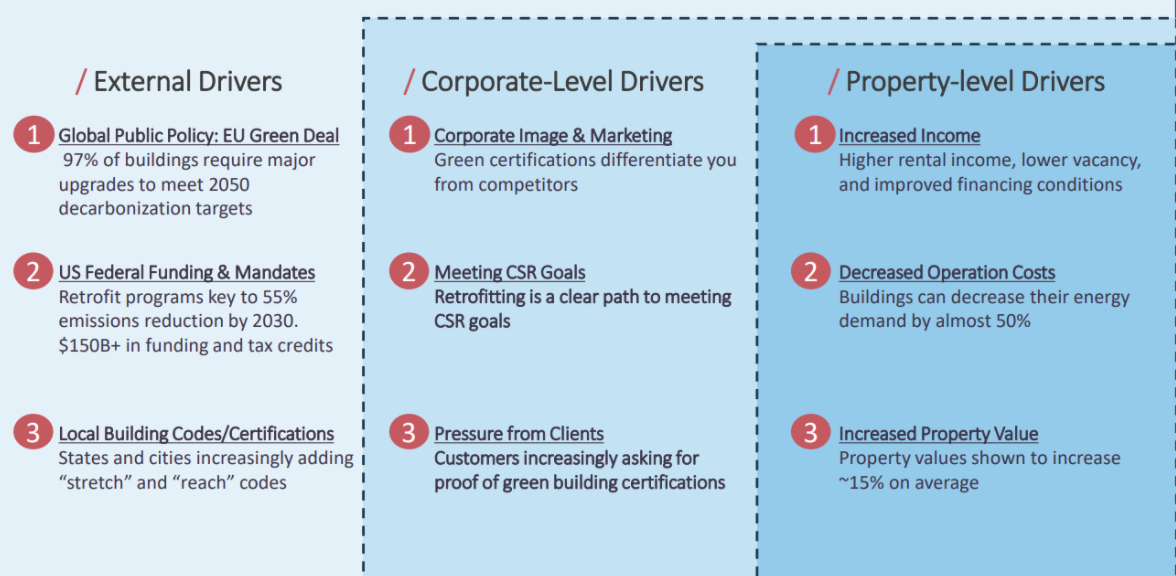 With these things considered, by retrofitting their real estate portfolio, companies can both future-proof their assets and boost their profitability. More sustainable properties means reduced operational costs through decreased energy demand and more efficient appliances, and due to growing demand the value of a sustainably retrofitted property increases between 10% and 20%. 
The below study, with a strong focus on LEED and ENERGY STAR certificates, shows how commercial real estate properties experienced increased cash flow parameters and sales prices through their retrofitting investments. 

RESILIENCE, SUSTAINABILITY, AND PROFIT FOR COMPANIES – LET'S SCALE IT
As investors, we believe there is a special market opportunity here with various macro tailwinds guaranteeing an explosion in demand. We are actively looking for companies to integrate into our portfolio who are responding to this need with scalable models that foster long-term relationships, and seeing exciting trends emerge among various core and ancillary services. 
Players helping to assess and organize retrofitting needs will be especially important, but we are also excited about companies helping to finance upfront capex, track changes in energy consumption long-term and measure ROI, and prove a well-rounded energy partner who takes it back to the basics in facilitating more sustainable cultures and environments.
Learn more here about how Volition Capital partners with founders who are making a material impact in solving climate change.