by  Austin Goltz
The Amazon Channel
As a consumer product company, establishing an online presence is more of a necessity than an option. E-commerce sales continue to increase as a % of total retail sales, totaling 9% as of 2017 and projected to reach 13.7% by 2021. [see Exhibit 1]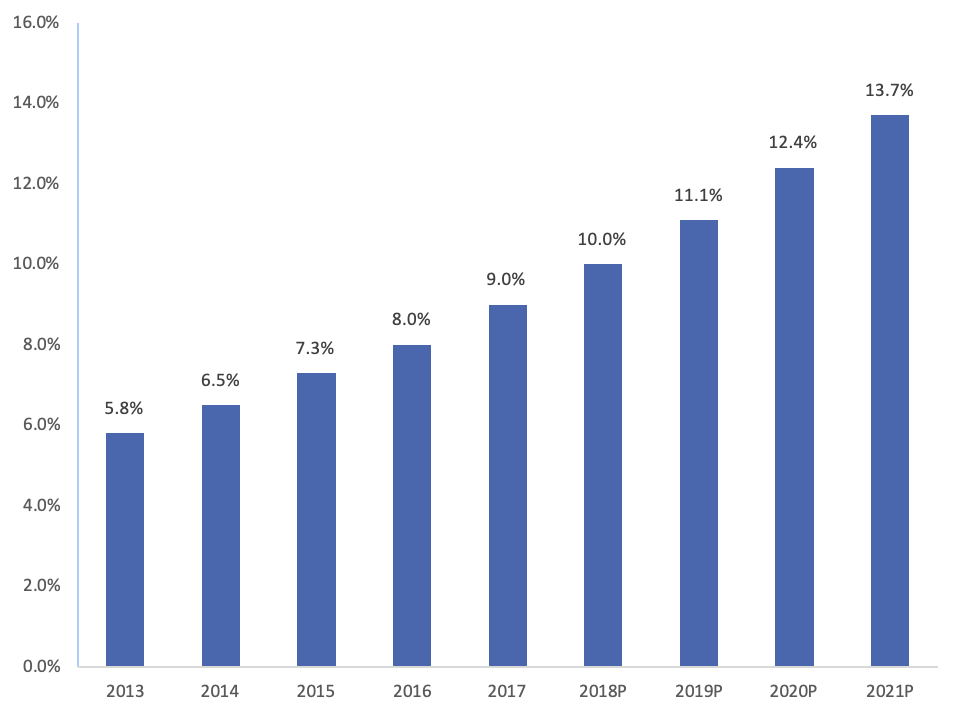 Amazon plays a big part in this trend. In December 2018, over 206 million unique visitors scrolled through Amazon's website looking for products to purchase. That's ~60% more unique visitors than the next in line, Walmart.com. Amazon's also the largest e-commerce business in the world, accounting for ~49% of total e-commerce sales in the U.S. in 2018. [See Exhibit 2]. Last but not least, Amazon is the largest third-party logistics (3PL) provider on the globe through its Fulfillment By Amazon (FBA) program which generated ~$43B in revenue in 2018.
As a result, Amazon is hard to overlook as a sales channel, especially as a U.S. consumer product company. It has truly become a one-stop-shop for those looking to sell and fulfill products online.
While consumer product companies increasingly pursue ecommerce strategies, it's critical to consider how Amazon factors into the overarching plan. However, before diving in, brands need to understand the benefits as well as the risks of leveraging the Amazon channel.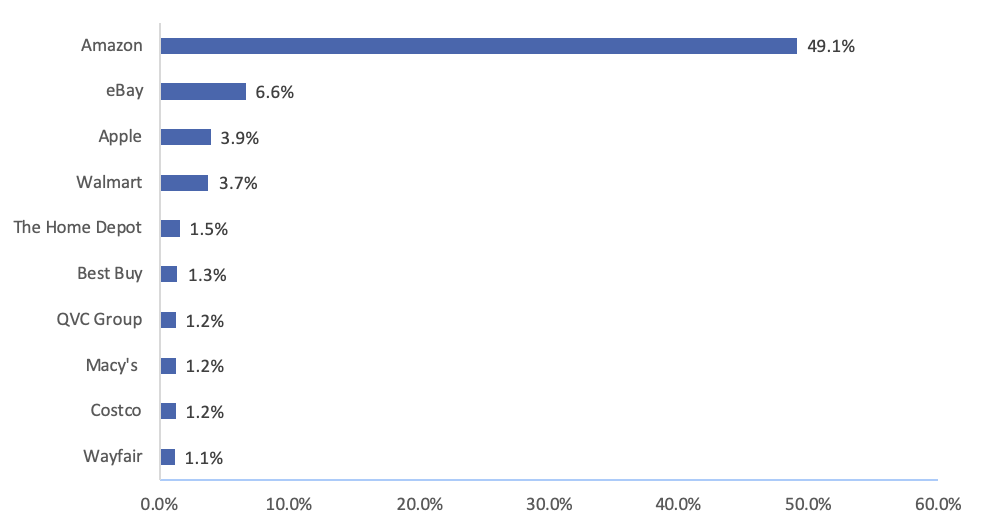 The Risks of Selling on Amazon
Unlike some investors, we see the benefits of selling on Amazon and we don't shy away from businesses that are leveraging the ecommerce giant. However, companies should resist the temptation of using Amazon as a silver bullet in the long-term because there are key risks that can increase with time.
Risks such as:
Losing the ownership of your customer relationships
Providing Amazon with your valuable customer data
Placing your products into a highly competitive selling environment
It's also important to remember that Amazon has the reigns. It has the right to pull a business off the platform or remove a buy box if they don't abide by certain rules. And, while some rules are obvious (don't sell counterfeit or prohibited items) others are less straightforward. Some rules can especially stump inexperienced sellers, such as cancelling too many orders, soliciting positive reviews or leading buyers to other websites (your own direct to consumer site for example).
Why Amazon Isn't an Enemy
Although these risks do exist, companies shouldn't take that as a sign to stay away from the platform. In fact, for many, having an account can be a necessity for brand protection. By selling on Amazon, a company can apply to Amazon's Brand Registry, "allowing companies to proactively remove suspected infringing or inaccurate content. The more information provided, the better Brand Registry can help protect and improve a brand experience."
Instead of neglecting Amazon, companies should simply ensure they are taking the necessary steps required to help mitigate risks. Aside from ensuring you are abiding by the terms and conditions of the platform, one way to do this is investing in your direct channel to diversify.
Invest to Drive Direct Sales for Long Term Growth
Although Amazon isn't going anywhere, and it will continue to be an important piece of the puzzle, consumer product companies that want to achieve long-term success will have to invest in a direct sales channel.
Direct sales come with increased customer engagement and improved customer relationships. Typically, this dynamic drives stronger LTV and a better customer experience. It also allows brands to diversify their go-to-market strategy and own a proprietary channel. Several platforms in today's ecommerce ecosystem are working to make scaling a direct to consumer offering easier than ever.
One company that's done an exceptional job is Shopify. There are more than 3 times the number of merchants in 2018 using Shopify than in 2015 [See Exhibit 3: Shopify Annual Reports]. Through investing in a direct channel, merchants can remain diversified.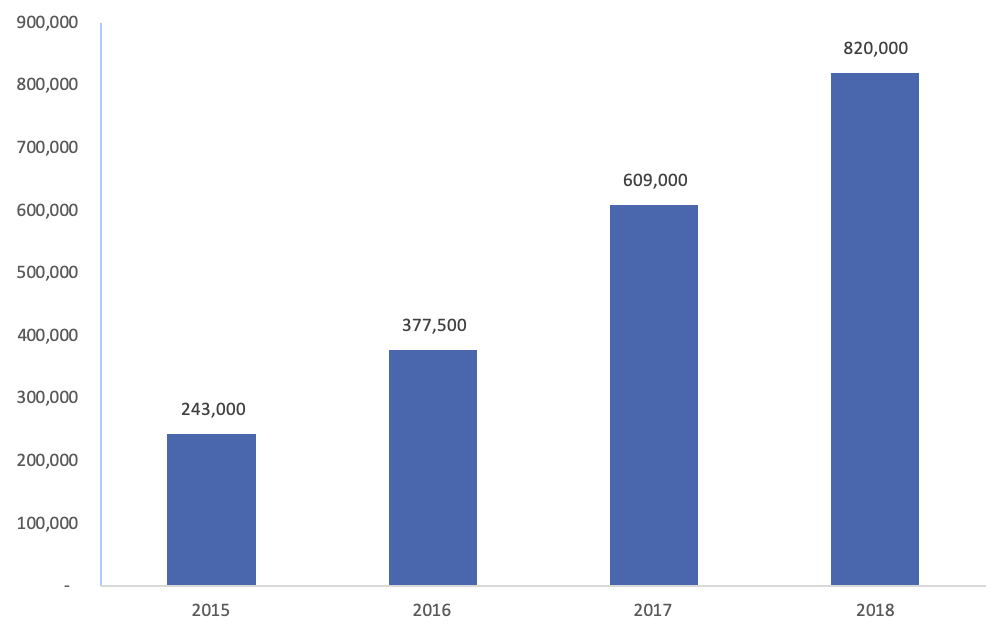 When building out a direct to consumer offering or improving upon your existing operation, a website is not enough. In order to truly deliver on consumer expectations in 2019 and beyond, companies must invest the time in creating a compelling reason for consumers to make a conscious decision to purchase directly on your site. We've worked with a few of our own portfolio companies to think strategically about ways to drive customers to their website while also selling on Amazon.
Although every business is different, there are a few ways to accomplish this.
build a compelling rewards program
limit the breadth of the product selection on Amazon
create a far superior purchasing experience on your site through a more curated merchandising strategy
With Amazon investing heavily into faster shipping options, consumers also expect faster delivery speeds. Dropoff, a 24-hour same-day delivery service, conducted its third annual survey on shopping and delivery expectations and found that 43% of consumers expect companies to have "much faster" delivery times in 2018, a 23% increase year over year [See Exhibit 4].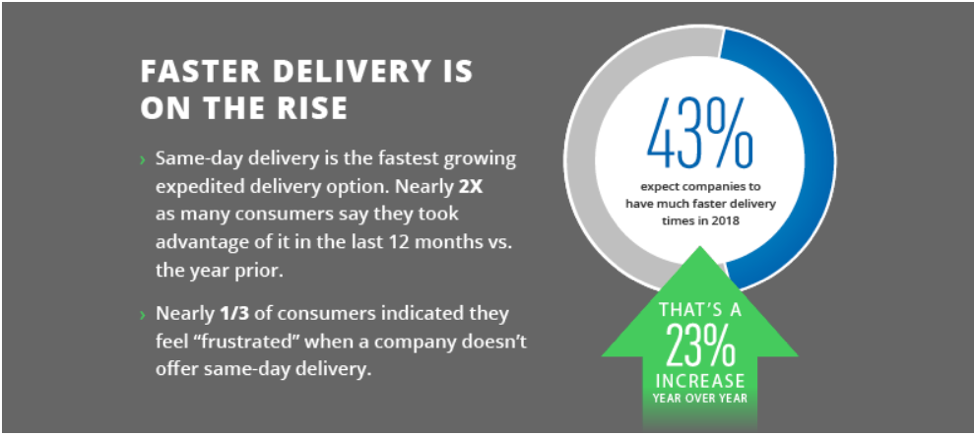 The truth is that every consumer product company doesn't have billions of dollars to invest in building out its warehousing and transportation network to enable same day shipping like Amazon. So how can you provide faster shipping without large upfront fixed costs?
One option is to consider flexible on-demand warehousing options. These models come with low fixed costs and can provide an alternative to FBA. Several startups are offering this type of solution to merchants. These models essentially allow retailers to rent storage space for their inventory from a network of warehouses and fulfillment services around the U.S.
Amazon is an incredibly powerful go-to-market tool and consumer product companies should consider leveraging the platform. In the same breath, brands cannot lose sight of making the right proactive investments in their direct channel.
Interested in learning more about Volition Capital's perspectives on e-commerce?
Check out the video Q&A.
Contact the Author:
+1 617 830 2111 
austin@volitioncapital.com 
LinkedIn 
Photo Credit: Bryan Angelo on Unsplash