All companies are becoming tech companies. As we've noted in our blog post on Business-led IT, this even applies to pizza chains. Domino's is one case study in how historically non-tech businesses are prioritizing digitization to improve customer experiences and drive efficiencies. 
As companies strive to become technology first, they need a large array of software applications, leading to significant demand for in-house software development. This applies to tech and traditionally non-tech businesses alike. According to Burning Glass, JP Morgan hired over 4,000 software developers in 2019. Even so, the shortage of software developer talent is limiting capabilities.
Enter low code.
Defining Low Code
The term low code is used to describe a wide array of applications, but low code solutions are fundamentally platforms that enable non-technical users to build and configure enterprise-grade applications or make technical users more efficient by automating much of the app-building process.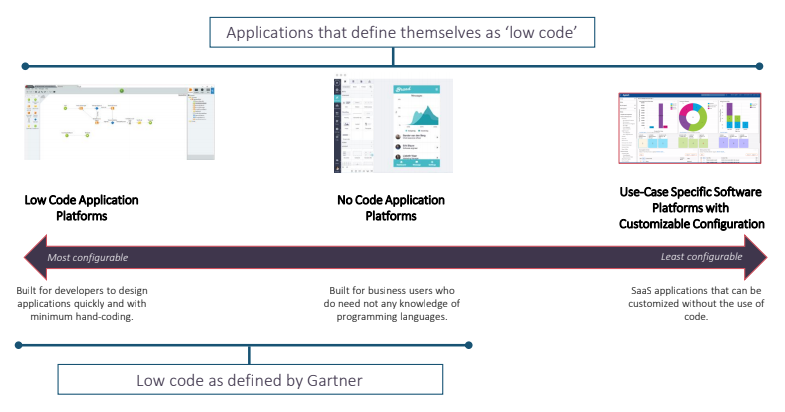 Low and no code are terms that are often thrown around, but the main difference between them is their target user. No code solutions are less configurable but designed for business users with no coding skills. Low code solutions, on the other hand, are highly configurable platforms that automate much of the coding process but still require custom software development and are, thus, made for developers.
The Low Code Market
Low code platforms are exciting because they solve two of the largest impediments to digital transformation organizations face: 
The inability to develop applications as quickly as the business needs

The lack of technical knowledge or skills

Low code's ability to address these challenges is what makes research analysts so bullish on the future growth in the space. Forrester says spending in the low-code market will top $21 billion by 2022 and Gartner predicts low-code will represent 65% of all app development by 2024. 
Here at Volition, we have found early low code winners are succeeding by focusing on specific functional or vertical use cases. By honing in on concrete solutions, these vendors have been able to deliver fast time-to-value for customers and more quickly achieve product-market fit.
Components and Use Cases of Low Code Platforms 
Low code enables users to design software with a visual workflow, reducing technical complexities. These platforms leverage DevOps principles by allowing engineers to build apps in small increments that are continuously integrated, monitored, tested and deployed.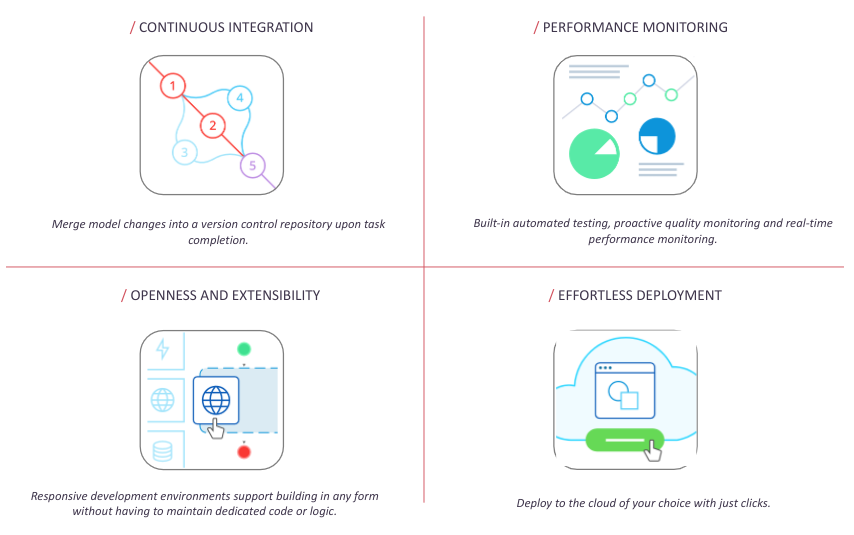 A common example of a low code use case is platforms that help developers more easily build aesthetically pleasing user interfaces (UI). In this example, the platform allows developers to still code the backend but quickly spin up a visually appealing UI from predetermined building blocks using a simple drag and drop interface. By allowing developers to focus less on technical complexities, low code platforms empower enterprises to build applications in hours or days that would otherwise take weeks or months. 
Tracing the Future
While we have seen an explosion in DevOps solutions over the past decade, we believe the next decade will see huge winners crowned in the low code space. Increasing demand for customized software coupled with a shortage of developers creates space for low code platforms to rapidly gain traction.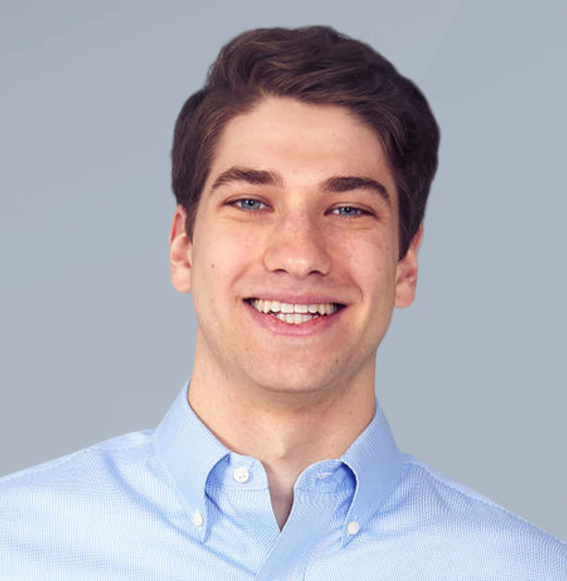 Analyst
Jake joined Volition in 2020 and is responsible for sourcing and providing due diligence on new investment opportunities within growth-stage software and tech-enabled service businesses.
Connect with Jake:
1-617-830-2112
Jacob@volitioncapital.com
LinkedIn