In honor of Earth Day, Volition Capital decided to break down recent trends and opportunities in for investing in sustainability and a green future. Over the last ten years, the topic of sustainability has moved further into the global collective conscience. Perspectives continue to shift on major issues like climate change. In 2013, just 62% of Americans believed climate change was even happening. In 2019, 84% said they believe climate change is a real problem. (1)
This groundswell of awareness and beliefs have accelerated growth in several industries, from recycling to solar to plant-based products. Perhaps most impressively of all, electric vehicles have quadrupled their market share since 2013. (2) As these industries mature, Volition Capital sees countless opportunities for new businesses to innovate in these fields. The following are the important trends and sectors that will underpin our sustainability investment focus moving forward.
Governments, Corporations, and People Are Acting for a green future
While sustainability remains a politicized issue in some countries, most world governments have at least committed to making strides to reduce carbon emissions and cut down on waste. In April 2016, on Earth Day, 175 world leaders signed the Paris Agreement with each country making its own pledge to combat climate change. This was the largest number of countries to ever sign an international agreement on a single day.
In 2019, several individual countries have announced specific initiatives to fight climate change, such as the UK which declared a climate emergency and codified a goal of net-zero emissions by 2050. In the United States, individual states have taken the lead in promoting environmentally conscious legislation, with states like Colorado going so far as to require auto manufacturers to make electric vehicles 5% of all sales by 2023.
While some governments drag their feet, multinational corporations are stepping up to the plate for environmental causes and accelerating carbon neutrality timelines. In just one example of many companies making public pledges on the topic, Jeff Bezos announced a "Climate Pledge" in September 2019, which commits Amazon to 80% of its energy use coming from renewable sources by 2024, and zero emissions by 2030. In February of 2020, Bezos committed $10 billion to fight climate change.
Individuals are also doing their part. Greta Thunberg captured world headlines last summer when she publicly shamed world leaders for their failure to act on climate change. People around the world are out in record numbers raising awareness about climate change and our need to invest in alternative energy sources, reduce waste, and protect our planet.
Investing in The Green Technology and Sustainability Market
This growing pressure from governments, corporations, and consumers alike to take climate action is opening real possibilities for the green technology and sustainability market. This global market is forecasted to grow at 27.1% CAGR over the next 4 years to $24.9 billion. (3) Innovation goes well beyond just energy and really touches every industry from transportation and logistics, consumer and retail, technology, and banking and capital markets.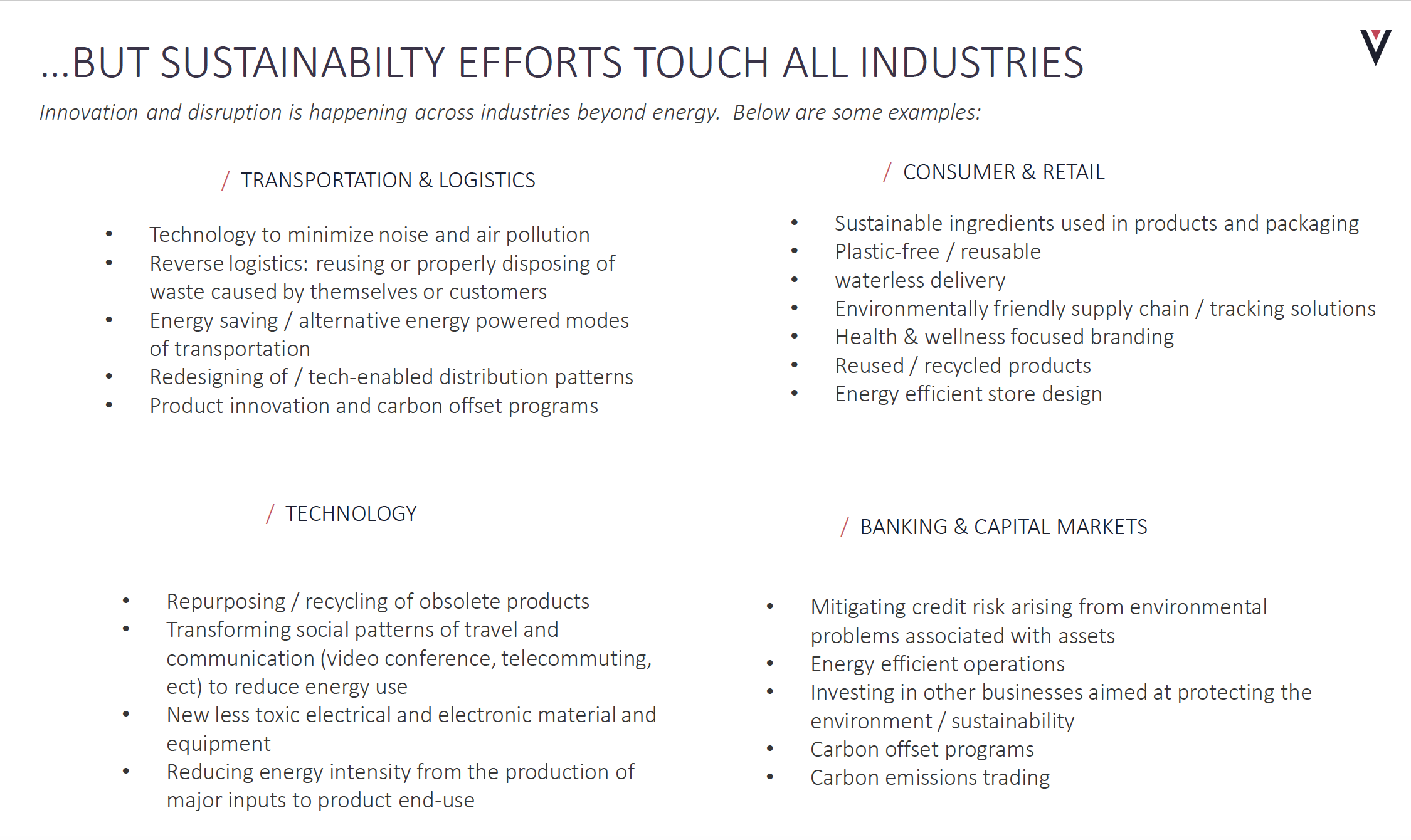 Consumers want more sustainable products and are using their spending power to effect the change they want to see in the world. 48% of consumers would definitely or probably change their consumption habits to reduce their impact on the environment. Millennials are driving this, with 83% of millennials aged 21 to 34 saying it is extremely or very important that companies implement programs to improve the environment. Perhaps most interestingly, 90% of millennials are willing to pay more for products that contain environmentally friendly or sustainable ingredients. (4)
Areas of Opportunity
Companies in a variety of industries are leaning into sustainability messaging, products, and services to capture this environmentally-conscious demographic. Many of these companies are not just growing rapidly, but have market-leading valuations in their industries such as Tesla.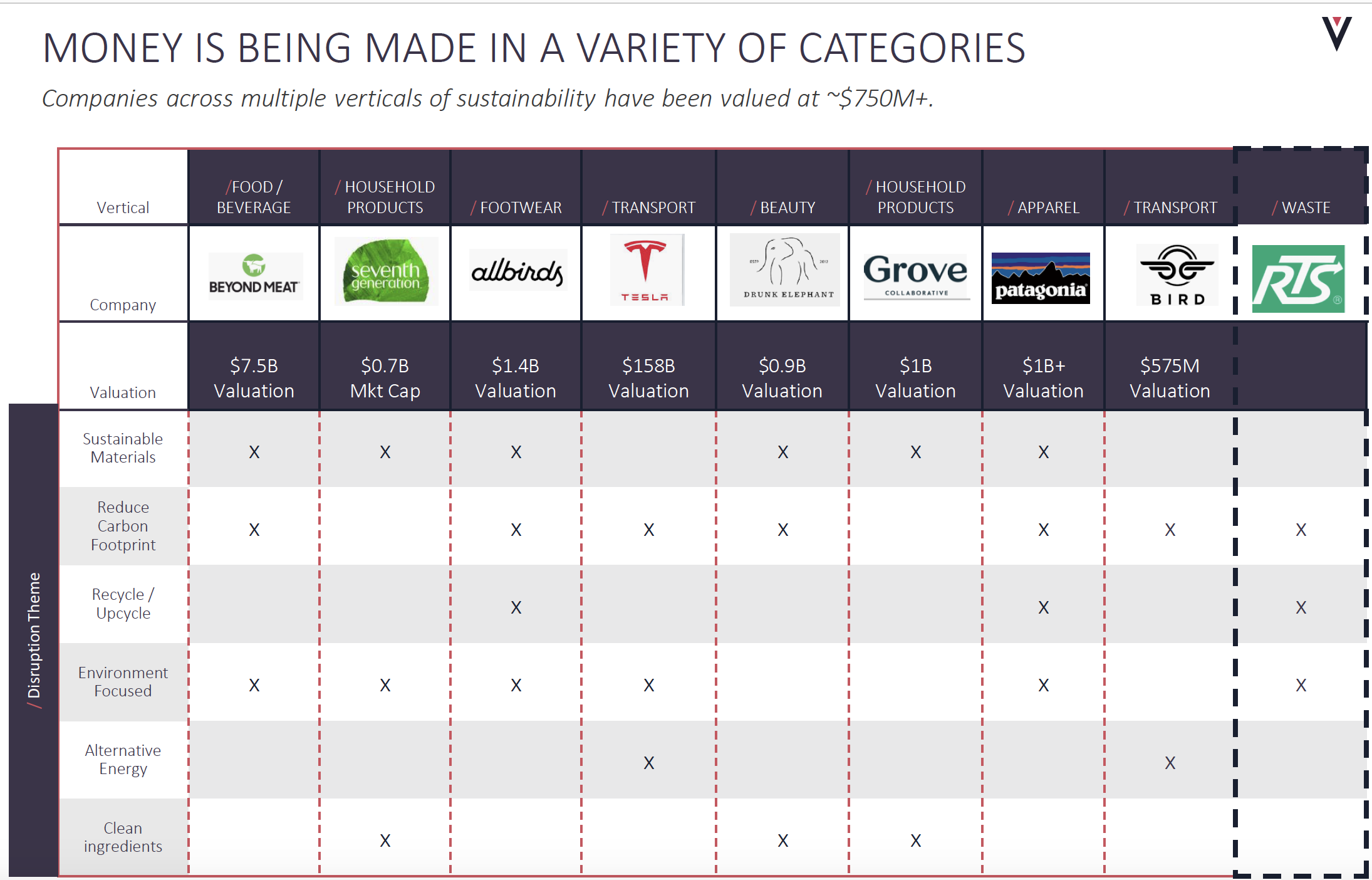 Sustainability-focused CPG is also a huge growing market. It will hit $150 billion by 2021, an increase of $22 billion. (5) This sector is the fastest-growing within all CPG, with sales of products labeled "sustainable" growing 7.2% over a one year period. (6)
The eco-fiber market is another area of growth. There has been a notable rise in the amount of fashion and home brands that are focused on using sustainable fabrics and other materials, such as Everlane and Joybird. Even well-established sustainability brands such as Patagonia have seen solid growth over the last several years.
Perhaps most impressively, the electric vehicle market has ballooned in the last five years. Tesla's market capitalization of $84.6 billion on January 6, 2020, dwarfed Detroit's "Big Three" of GM, Ford, and Fiat Chrysler Automobiles. By 2040, electric vehicles are expected to account for almost half of all global vehicle sales. (8)
A Green Future 
The future of the planet will depend on the action of governments, corporations, and individuals, but as a consensus is developing around this issue, the multitude of industries that are embracing sustainability are becoming increasingly attractive categories for entrepreneurs and investors alike. Consumers are starting to put their dollars where their mouths are, and companies that create environmentally conscious value will not only become increasingly profitable, they will be making the world a better place. Volition Capital is excited to find and support the next generation of environmentally conscious startups to support this effort.
CBS News Poll – September 2019

Loren McDonald / EVAdoption.com

Cision PR Newswire: Green Technology & Sustainability Market

Nielsen, "Was 2018 the Year of the Influential Sustainable Consumer," 2018

Nielsen, "Was 2018 the Year of the Influential Sustainable Consumer," 2018

Nielsen Product Insider

Cover image: Photo by Photo Boards on Unsplash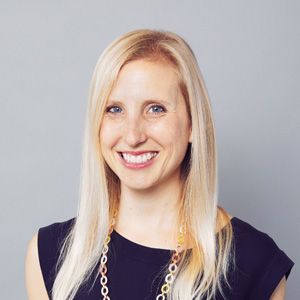 Susie joined Volition Capital in 2018 to help lead the Internet and Consumer Team and bring expertise specifically to CPG investing. She previously worked at Yellow Wood Partners, a consumer-focused private equity firm that focuses on investments in CPG. She began her career at BAML as an equity derivative trader.
Susie holds a BSBA from Georgetown University in Finance and Accounting.
Sign up for our mailing list to get Volition Viewpoints in your inbox:
[hubspot type=form portal=7228887 id=7c89f4bd-066c-4200-bdd2-9f25db71380c]