The real estate industry has not historically been known for its speed and agility. From complex zoning laws that hinder new building projects to archaic property management workflows that keep leaky faucets from being fixed for weeks, unnecessary headaches and lethargy were common up and down the value chain of both residential and commercial real estate.
A Growing Wave of Technology Adoption
For most of the past decade, however, a growing wave of technological adoption and funding has begun to grease the industry's rickety wheels and drive it toward a more tech-first future. According to PitchBook, a financial database, venture capital deal velocity and capital deployed grew relatively consistently from 2014, reaching an all-time high in 2019. This all came to a screeching halt when Covid-19 hit at the beginning of 2020. VC investments made into real-estate technology more than halved from 2019 levels as the priorities of employees, employers, tenants, landlords, and real estate developers changed overnight. 
A record wave of proptech funding in 2021 has helped to turn the tide. According to PitchBook, real estate technology startups have raised more than $19.4B worldwide in 2021 as of November 30th, which means that 2021 will break the 2019 record of $18.1B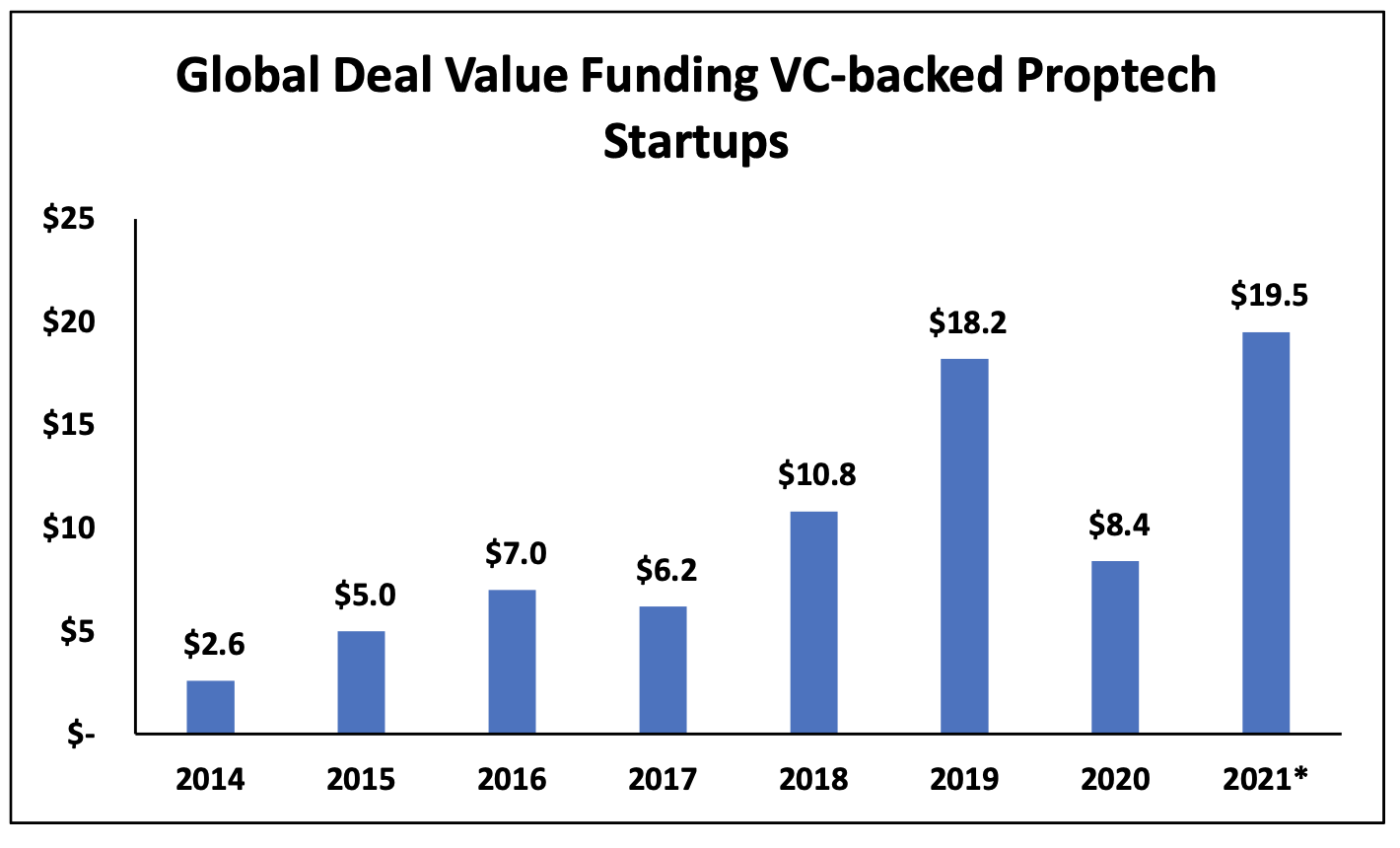 From our vantage point, this activity is being driven by a few long-term trends that will leave an indelible impact on the real estate world. The first is the dramatic evolution of the commercial real estate industry. This space has traditionally evolved more slowly than the residential space partly because commercial tenants were locked into minimum 3-5 year deals. This allowed building owners and operators to treat tenants and workers as assets rather than consumers. The pandemic, however, opened Pandora's box of tenants' workspace flexibility demands. Commercial vacancies reached all-time highs in Q3 of 2020[1] as organizations moved their entire operations to a remote setup. Tenants now exercise greater leverage over their landlords than ever before. Commercial operators must differentiate themselves and their offerings by enhancing in-office experiences and embracing office flexibility and they turned to technology to achieve this. 
One deal highlighting this trend is VTS' recent agreement to acquire Lane Technologies, a tenant experience app that aims to simplify office workers' daily lives from booking meeting rooms to ordering food, for $200 million. As companies search for creative ways to lure workers back to the office, many are investing in proptech solutions like Lane that can help increase employee satisfaction and ease concerns about returning to work (VTS Co-Founder/CEO Nick Romito put it best when he told the Wall Street Journal that employers "need real incentives to compete with the couch.")[2]
Other categories of CRE tech are delivering operators and tenants alike a newfound abundance of data-driven insights and actions. Companies like Acuity Brands and Enlightened (owned by Siemens) leverage the Internet of Things (IoT) to optimize building management systems that control things like temperature, light, and power. So not only are office spaces becoming increasingly flexible, but they're becoming smarter, too.
This isn't to say that the residential real estate market has remained stagnant. In fact, as employers and employees moved out of cities and into their suburbs in search of more space and quiet, activity in the residential space has drastically increased as well. The residential real estate market has helped spur on proptech's 2021 boom. In August, Divvy Homes, whose rent-to-own model seeks to make homeownership more accessible, raised $200 million at a $2 billion valuation, just six months after its previous round of $110 million at a $490M post-money valuation, according to PitchBook. Divvy's funding and growth follows a homebuying boom in the U.S. spurred by low mortgage interest rates since the start of the pandemic. Existing home sales rose 0.8% in October to a seasonally adjusted annual rate of 6.34 million, down from 6.73 million in October 2020 but still well above pre-pandemic levels.
Divvy is among a growing list of unicorns and public tech companies seeking to disrupt residential real estate. Online brokerages and marketplaces like OpenDoor, Redfin, Compass and Zillow have democratized access to real estate data while introducing new tools aimed at increasing the speed of transactions. Meanwhile, companies like Compass (which IPO'd in April 2021) and Place, which raised $100 million at a $1B post-money valuation in November, are changing the traditional homebuying process by giving agents more operating leverage, transparency and agility. As those digital models increase in popularity, the disruptors of residential real estate are leading buyers and agents alike to question the value provided by traditional brokerages, all the while shifting the balance of power toward the consumer.
While real estate was long viewed as unfavorable to innovation, commercial and residential real estate alike are being disrupted by proptech and its emphasis on providing a consumer-like experience. In the same way that all of us have learned to live with greater resilience, agility, and flexibility, so too do real estate operators and owners. While this trend is one that was heavily accelerated by COVID and hit record highs in 2021, we believe that they show no sign of slowing down soon as we collectively establish a new normal. 
[1] https://www.statista.com/statistics/1940  54/us-office-vacancy-rate-forecasts-from-2010/

[2] https://www.wsj.com/articles/app-deal-highlights-a-push-to-lure-workers-back-into-offices-11634635802
COMMENTS & DISCUSSION BELOW: