By Zac Goldman
As Warren Buffet once famously said, "predicting rain doesn't count, building arks does." Even as the optimistic rays of recovery start to poke through the clouds, businesses around the world are still all hands on deck as they grapple with the effects of the pandemic. Though B2B software companies might have been on higher ground than many other industries, they too have felt the slowdown, specifically in their sales cycle.
To help gain some clarity into how they are riding out the remainder of lockdown, Volition Capital's State of the B2B Software Market Study surveyed 121 CEOs of B2B software companies to try and better understand the impact of COVID-19 on their business outlook for 2020 and beyond. Though the slowdown to the sales cycle has been pronounced, as our results below highlight, CEOs in this market remain optimistic about their prospects for the future.
A Majority of Companies are Seeing a Moderate Slowdown:
With prospects scrambling to figure out their own continuity plans and the inability to meet with stakeholders face to face, it is no surprise that nearly 70% of CEOs are reporting a slowdown in pipeline activity. With the exception of a few outlier groups, the question really seems to be how much things are slowing down as opposed to whether or not they are slowing. It turns out that there are a few key variables that are strongly correlated to the degree to which businesses are seeing sales processes slow down or, in some cases, potentially accelerate. 
B2B Software Companies with Average Contract Values Less than $1,000 Are the Only Category Seeing Sales Cycle Acceleration During COVID-19: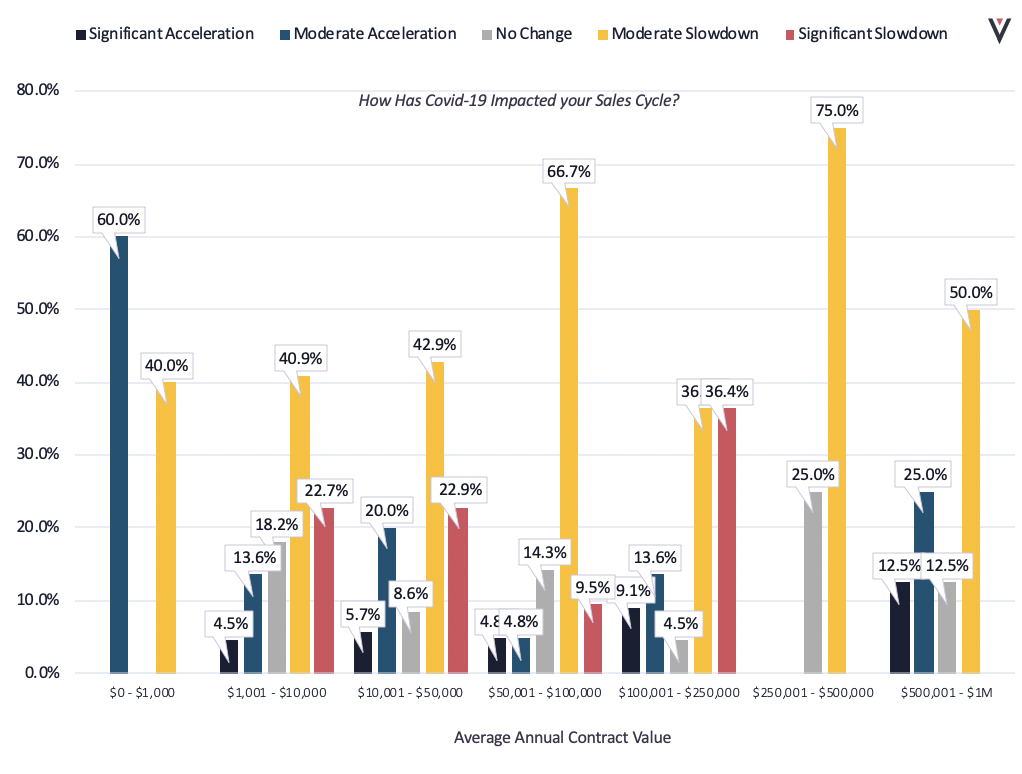 Generally speaking, companies that are selling lower price point offerings are seeing less of a slow down than those selling higher price point offerings. Companies with ACV <$1,000 were the only group that is seeing a net sales cycle acceleration in this environment. The highest percentage of respondents indicating slowdown was reported was by those companies in the ACV ranges of $50K-$100K (76%), $100K-$250K (73%), and $250K-$500K (75%). Most lower price point offerings can be sold on a self-serve basis to customers coming to a company's site organically, putting in a credit card, and becoming a paying customer. Contrast that frictionless sales process with the often multiple in-person meetings and stakeholder buy-in across relevant functional groups and IT that are often required to complete an enterprise software sale and the above graphic starts to make more sense.   
Travel & Leisure, Industrial, Healthcare, and Retail are the Industries That Are Anticipating the Biggest Decline in Sales Growth: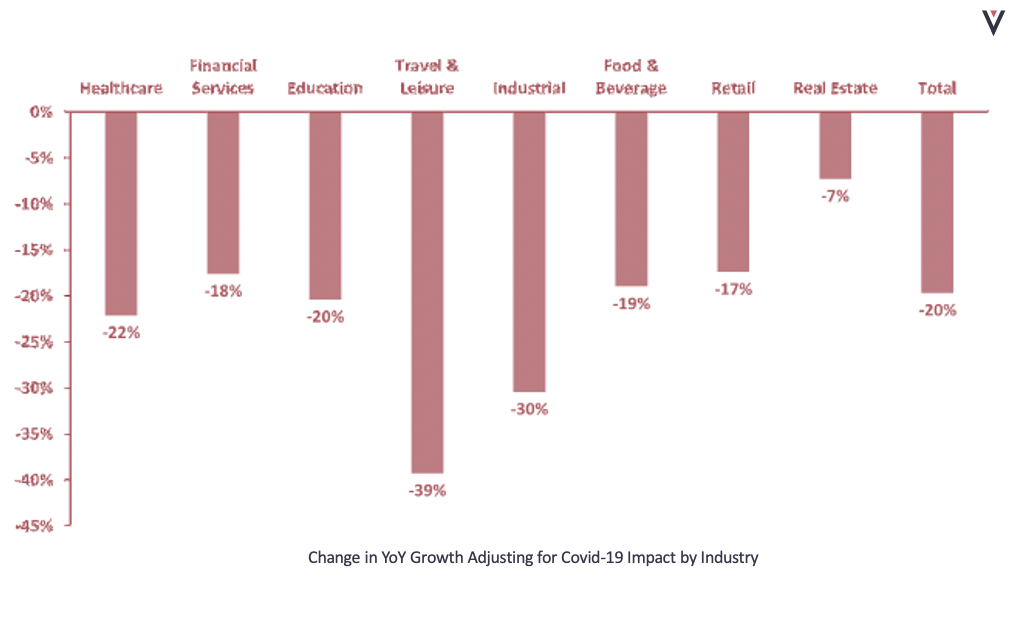 Again, here you can see that most every industry is not immune to the market conditions brought about by COVID-19. CEOs across the board are revising their growth forecasts in most cases by 10-20%. The surprising exception is Real Estate which shows entrepreneurs only revising their projections by 7% on average. Perhaps less surprisingly, tech CEOs within Travel & Leisure are assuming the biggest impact, with entrepreneurs expecting a 39% hit to their existing year-end forecasts. Industrial and Healthcare CEOs followed close behind, expecting to see a 30% decrease and 22% decrease on YE revenue projections respectively.  
So, this is the reality that most CEOs face – their businesses are likely no longer growing as fast as they were before, yet customer needs persist and the race to be the leader in highly competitive markets continues. So how to move forward?
Building the Ark: Balancing Cash Preservation with Growth
For our respondents, one of the highest priorities was managing cash runway, and key to this process is balancing cash preservation with growth. However, despite a slowdown in the sales cycle, many plan to maintain or even increase headcount over the next year, something we will talk about at length in an upcoming blog post on organizational changes for B2B software companies. If your cash cushion is strong enough to withstand declining revenue growth and at the same time increase expenses, then kudos to you for being such a capital-efficient business.
Though for some, it might be time to batten down the hatches, for those businesses that do feel like their balance sheets are strong enough to support them through this uncertain period of time, maybe this poses an opportunity to get more aggressive and invest in growth. I would encourage you to think about the trade-offs between cash-preservation and growth, the potential opportune time to attack your competitive set, and the realities of the private capital markets.
As one of the Founding Partners at Volition Capital, Roger Hurwitz, argues in this TechCrunch article, private B2B software valuations are still holding strong, and this gives B2B software companies the opportunity to control their own destinies by raising capital when they want and with who they want.
See Read the full study here: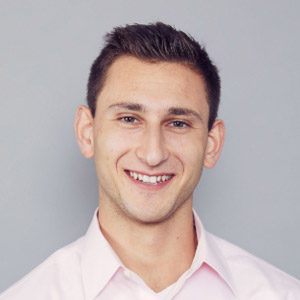 Analyst
Zac joined Volition in 2018 and is responsible for sourcing and providing due diligence on new investment opportunities within growth-stage software and tech-enabled service businesses.
Connect with Zac:
MEET ZAC GOLDMAN