The Office of the Future: Commercial Real Estate Landlords Need Flex-space, But First they Need Software
The pandemic has highlighted the importance of space and employee experience. Pre-pandemic, the focus was on optimizing space performance, how can we assign as many people to as small of a space as possible without losing productivity, where productivity was seen as constant.
Now, in a post-pandemic world, the emphasis is more on how businesses can get employees to be more productive or as productive as they were as well as making sure they have the right amount of office space. Everything is in flux and knowing how people are going to use the office is still uncertain. 
To optimize the employee experience, landlords and businesses need to track how space is being used to make changes/adjustments on the fly and as things change. Since the onset of Covid-19, most of the global workforce has transitioned to hybrid work. As a result of the shift in employee behavior, commercial office tenants such as Fortune 500 companies have been increasingly leaning towards shorter and more flexible lease term options.
Offering flex-space is one angle that landlords have taken in order to appease companies whose employees appear to have a strong desire to maintain a certain level of flexibility in the manner they work as well as where they work in a post-covid environment. However, there is a current need for technology to turn a landlord's hypothetical un-used 17th floor into a flex-space where some offices are rented by SMBs, and hot-desks are available for freelancers and individuals who need a place to work for one week.
What is Flex-space?
Flex-space can be defined as a floor or section of an office building that has multiple tenants often with a shared common area or conference room and short/flexible lease terms. The graphic below shows a flex-space floor where there are certain suites rented by companies as well as shared co-working space all on the same floor. 
The importance of flex-space is widely recognized by the real estate industry as CBRE states "with real estate and workplace choices now in the hands of individual employees, commercial real estate planning becomes increasingly difficult. Flexible office solutions allow for a faster a more efficient matching process between varying employees' need and space."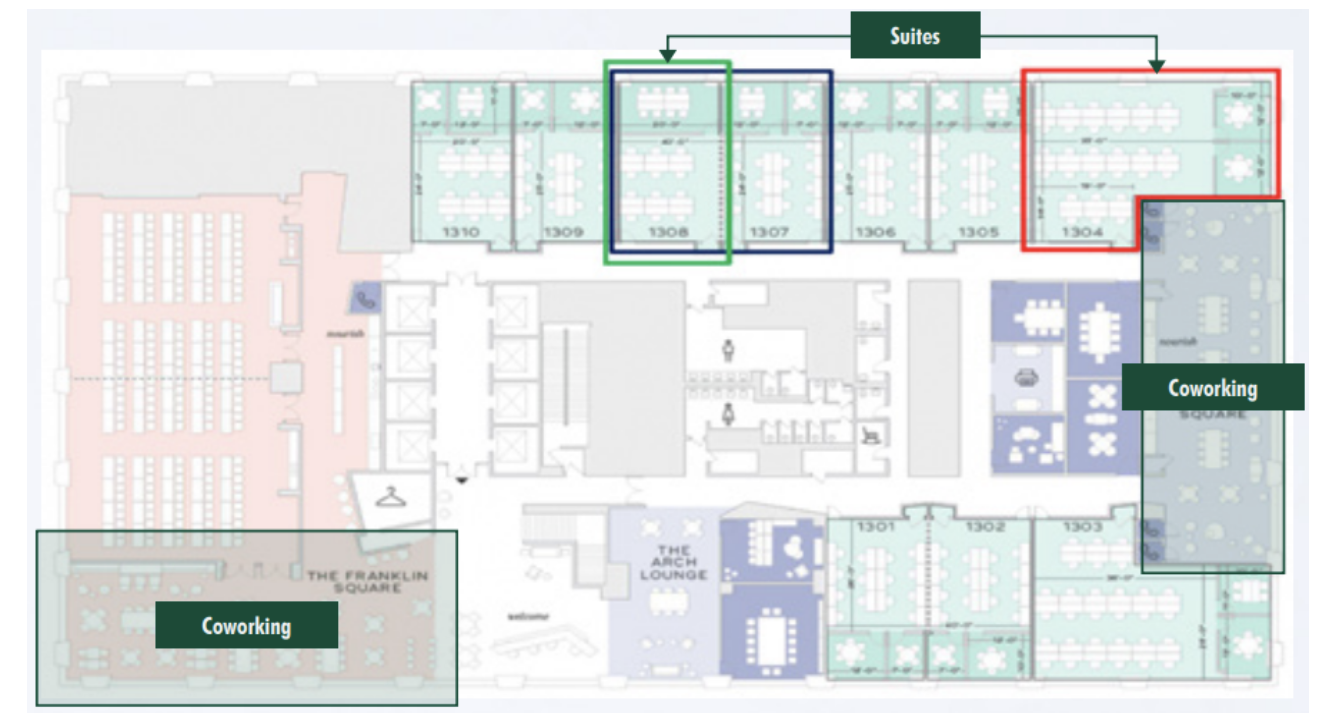 Landlords will Continue to Add Flex-space to Their Offering
JLL's 2021 Global Flex-space Report predicts by 2030, 30% of office space will include some type of flexible space (JLL). As of 2020 31% of the 8.5million sq/ft of flexible office was operated by WeWork (CBRE). However, there is an increasing need for landlords with commercial office buildings to find a solution to the demand for more flexible options.
The solution is flex-space. Landlords are responding to companies like WeWork and Industrious with their own flex offerings which are becoming part of an integrated suite of solutions that landlords are deploying in order to attract new tenants and retain old ones. According to the 2020 Global Occupier Sentiment Survey conducted by CBRE, when asked "what are the most desired building attributes by tenants in the future?", 82% of those surveyed said flexible office space options. (CBRE)
Technology is Needed to Enable Landlords to Offer Flex-space
The vast majority of landlords do not currently have a software solution that enables them to turn a floor of their building into a co-working space or a hot-desk floor. As Landlords transition a percentage of their portfolio to flex-space, they will need a software to manage the instantaneous booking process, payments, and a way to manage inventory and access control at the network/portfolio level.
In order to provide the seamless flexible experience that this offering aims to achieve, a well-thought-out user experience and back-end software platform is a must-have.
According to a Nielsen survey commissioned by CoWorking Resources, below are the most important characteristics that flex-space software solutions need to answer:
Member Experience
Beyond the value for admins, does the solution positively impact members' experience?
Flexibility
Does the software offer the level of customization needed today, but also advanced features that you may need in the future?
Features that are needed today to operationalize the flex-space are: access control, automated billing and payments, ability to display inventory in real-time and allow for users to book spaces.
Integrations
Does the solution integrate with software or hardware you already use or might use in the future?
Pricing
How does pricing scale as the number of locations and members grows?
As flex-space inventory continues to grow across the country, landlords and dedicated co-working space companies will continue to look to technology to provide the most seamless experience to their tenants. Ultimately, flex-space will become an integral part of the office building of the future as it remains a desirable solution for businesses choosing where to run their business from.