Mind the Gap: No Time to Waste Closing the Supply-Demand Disparity for Plastic Alternatives

Solutions to the US's plastic waste crisis are critically needed to mitigate the damage being done to ecosystems and public health. The amount of plastic waste in the US amounts to 285lbs per person every year, exacerbated by the country's outdated and inefficient recycling infrastructure.
Of this incredible volume, only 9% of plastic waste actually gets recycled, with the remainder being burnt, sent to landfill, or left ocean bound.
This disappointing statistic is not only a result of a complicated and at times sparse waste management system, but a general lack of participation from the public.
But, the good news is that the portion of consumers demanding sustainability from their everyday brands is soaring, and to compete for their business, corporations globally are in a race to implement more sustainable materials into their supply chain despite the time and money it demands.
All Hands on Deck: Pressure Mounting from Consumers, Corporations, and Governments
Currently, 500 billion single-use plastic bottles are produced every year, but consumers are increasingly rewarding change by reaching for brands sporting sustainable packaging using recycled and compostable materials.
And 73% of shoppers have stated they are even willing to pay more for this, with 20% saying they'd be okay paying >10% more for the more eco-friendly option.
Meanwhile, the shift towards sustainability is being compounded by government legislation. The EU has mandated that bottles must contain at least 25% recycled plastic by 2025 and 30% by 2030, while the US is considering the Break Free From Plastic Act, a set of policy solutions to reduce plastic production.
Heightening scrutiny has led to over 500 organizations around the globe to commit to the common vision, led by the Ellen MacArthur Foundation, for a circular economy for plastics. To date, hundreds of global leaders in consumer goods have specifically pledged to integrate at least 25% recycled plastics into their supply chain by 2030.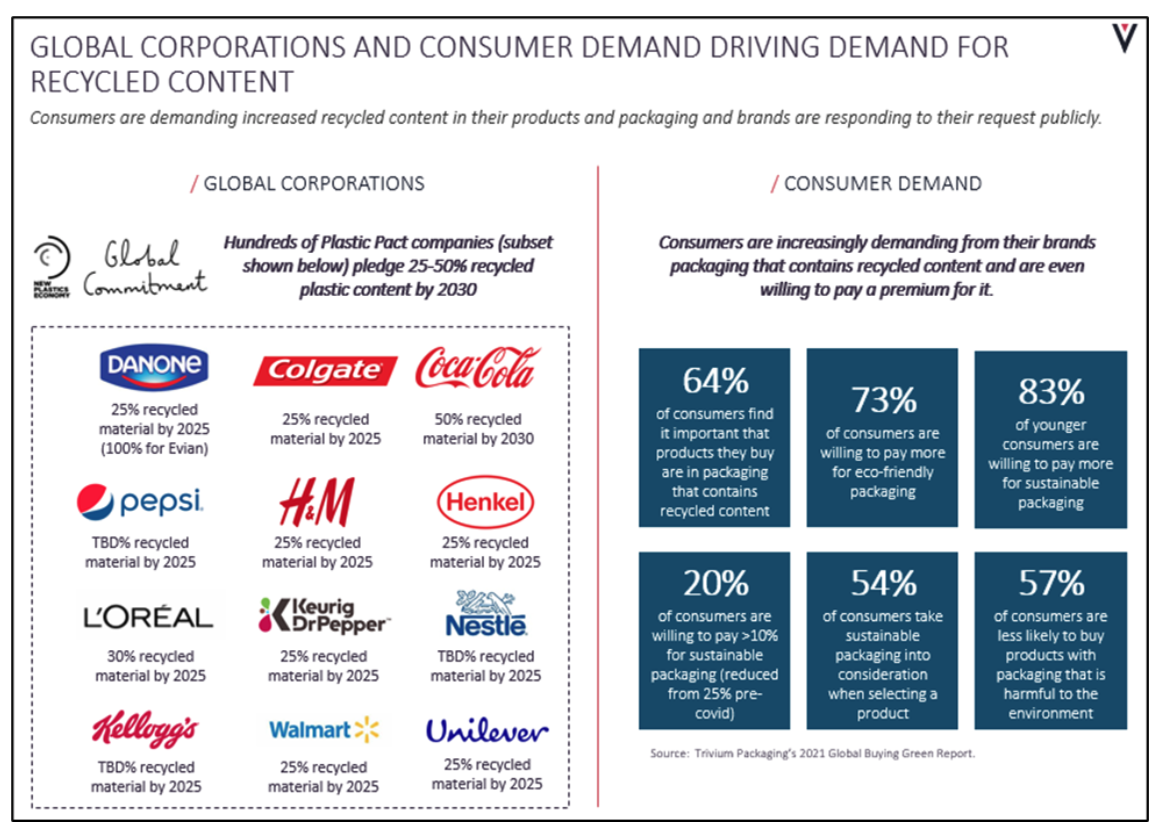 The Inadequacy of Current Recycling Infrastructure
Getting brands to commit to circular materials is where the real challenge, and market opportunity, begins.
As pledges to use recycled and plastic alternative materials skyrockets, the infrastructure required to meet this unprecedented demand simply isn't sufficient. We can look to California's recent legislation for an example of this failure.
The government mandated that bottles must contain at least 15% recycled material by 2022, but a month before the deadline, only 7 out of 69 manufacturers were on track to meet this target.
Businesses of every scale are struggling to find solutions that are not economically sound, with many eco-friendly substitutes costing 30%-200%+ more than virgin plastic, but able to integrate into established supply chains, hold up against varying climates, or predictably deliver on a commercial scale.
Adapt or Be Left Behind – Investing in Future Materials

As investors, we see a rare market dynamic for sustainable materials where demand far outpaces supply, and there is plenty of room for winners in this trillion dollar opportunity.
We're interested in players along the entire supply chain, from raw materials procurement like Plastic Bank, to packaging suppliers like Better Packaging, and those releasing completely new, alternative materials from Loliware to Keanos.
We share this excitement across industries, not just for plastic but building materials and sustainable textiles, which you can read more on here. We'd love to connect with any players making waves in this space – please reach out!