The Network Effect
The network effect is a concept that we hear often when speaking with both B2C and B2B technology companies.
Conceptually, the network effect relies on a framework where the more users are using a product or platform, the stronger the value add becomes for other users, and this virtuous cycle feeds on itself helping accelerate growth.
The Internet is probably one of the most prevalent examples of the network effect at its core. And, it is also responsible for empowering a lot of other network effect-based businesses. Historically, the public markets have seen massive technology companies on the B2C side built – from eBay to Facebook, to Uber most recently.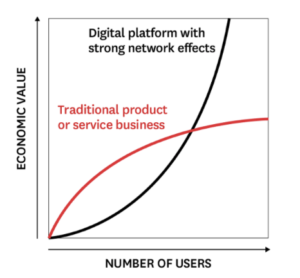 The network effect has many enticing aspects for anyone looking to create a new business or invest. Once the network is large enough, products with a large network effect benefit as the network –
improves ROI for existing customers increasing stickiness,
makes a stronger ROI case for prospects helping shorten sales cycles, and
barriers to entry increase with every new customer added
In short, the value of the product organically increases, helping companies retain their customers and keep acquisition costs low.
However, the network effect is only effective once a large enough network is built – and going about trying to build one can be a very expensive proposition, leading to the chicken and egg problem – just think about how much money Uber, AirBnB, and the like had to invest upfront to build out their networks.
The Emergence of a B2B Network
We've been seeing a select few companies – specifically in supply chain and compliance – that have been able to achieve a model that's optimized to organically build a growing network without having to worry about whether the chicken or the egg needs to come first.
We believe this is the beginning of a wave of business taking advantage of the evolution of enterprise data exchange from intra- enterprise data exchange to inter- enterprise data exchange. With data becoming a key strategic asset for enterprises and the growing comfort by enterprises storing data into the cloud, we believe the next step in the evolution will be enterprises sharing this data amongst each other on a live basis for mutually beneficial cases.
Two Companies in Volition's portfolio, TraceLink and Assent Compliance, are examples of this model in action.
Both companies, which provide supply chain transparency solutions, have managed to scale and build a network of hundreds of thousands of customers without worrying [actively investing in?] about the building of the network itself. While their customers today gain massive ROI from the network of suppliers and customers that have come to adopt their solutions, both companies began with a laser-focus on strong stand-alone software solutions that provide clear ROI to customers regardless of the existence of a network.
With Assent Compliance, for example, its software solutions have a superior data ingestion engine and embedded domain expertise in its algorithms that automatically verify compliance. With the growing customer base and amount of data ingested, the network effect came naturally, strengthening the Company's position in the market and competitive advantage.
In the case of TraceLink, fueled by global regulations enacted to help ensure drug safety, it has a robust suite of software products to help digest, manage, and ensure compliance throughout the pharmaceutical supply chain.
TraceLink's customers use its technology solutions to facilitate the flow of prescription drugs through the supply chain. In order to access the benefits of the network, customers invite business partners to adopt TraceLink, organically setting in motion the virtuous cycle of network building, helping further strengthen the Company's leadership position in the market.
What's Next?
Given the inherent need for the exchange of goods and information, Supply chain continues to be an area of focus as an early adopter candidate of inter-business data exchange solutions. We believe the opportunities for inter-business data exchange are existent in every vertical, however, including areas such as cybersecurity and healthcare, where there is a large need for data exchange but business and regulatory barriers make it difficult to enable this.
As we actively continue to track this technology trend in the market, it will be interesting to see which industry adopts this approach to the network effect next.
Q&A Video
Contact the Author
+1 617 830 2307
than@volitioncapital.com
LinkedIn