This article was co-authored by Sean Cantwell and Roger Hurwitz, Managing Partners at Volition Capital >>
As you might know from reading our blog over the last several months, we've been thinking a lot about low-code software development and the long-term potential it represents. We're excited about this space because the low-code movement is empowering a new generation of citizen developers in companies of all types and sizes.
On Monday, we announced our investment in Creatio, a company that fits our investment focus to a tee. They are united around a single goal – to create a world where everyone can automate business ideas in minutes. Their customers, industry analysts, and channel partners in 110 countries all agree that their low-code BPM and CRM software platform is unlocking virtually limitless flexibility to do just that.
Creatio is a Boston-based company that has been bootstrapped since its founding. We led a $68M funding round with participation from Horizon Capital, and this investment will extend Creatio's leadership position in the low-code platform market.
Here are the trends that excite us about the low-code market and what we've learned about investing in the space during our diligence and work with Creatio.
Low-code is actually a spectrum that includes a wide range of ways to configure applications. Low-code solutions are fundamentally platforms that enable non-technical users to build and configure enterprise-grade applications or make technical users more efficient by automating much of the app-building process.
Forward-thinking businesses are looking towards low-code platforms to enable organizations to effortlessly build apps and processes, close the IT delivery gap, align business-IT units, and accelerate process and app delivery. Despite the name, low-code software is capable of creating very complex systems. 
It has another huge advantage for companies as well; the capability of developing additional apps that can be added to the platform by the employees who use and need them most.
Forward-thinking businesses are looking towards low-code platforms to enable organizations to effortlessly build apps and processes, close the IT delivery gap, align business-IT units, and accelerate process and app delivery.
Low-code platforms circumvent the need for complex coding skills – accountants, marketing managers, sales teams, and anyone else in an organization can create and modify their own tools with easy to use visual interfaces and if-then conditions.
2021 Trends for Low-Code Solutions That Will Drive Sustained Growth
Based on how low-code platforms have grown over the last year, we think there are three major trends driving adoption of these platforms:
Companies want to build applications even more quickly and flexibly in the post COVID-19 environment.

 

There remains a skill shortage for experienced developers and companies need a way to bridge this IT gap.

 

The explosion of cloud-native apps is driving more SaaS platforms to compete on ease of use and intuitive UI.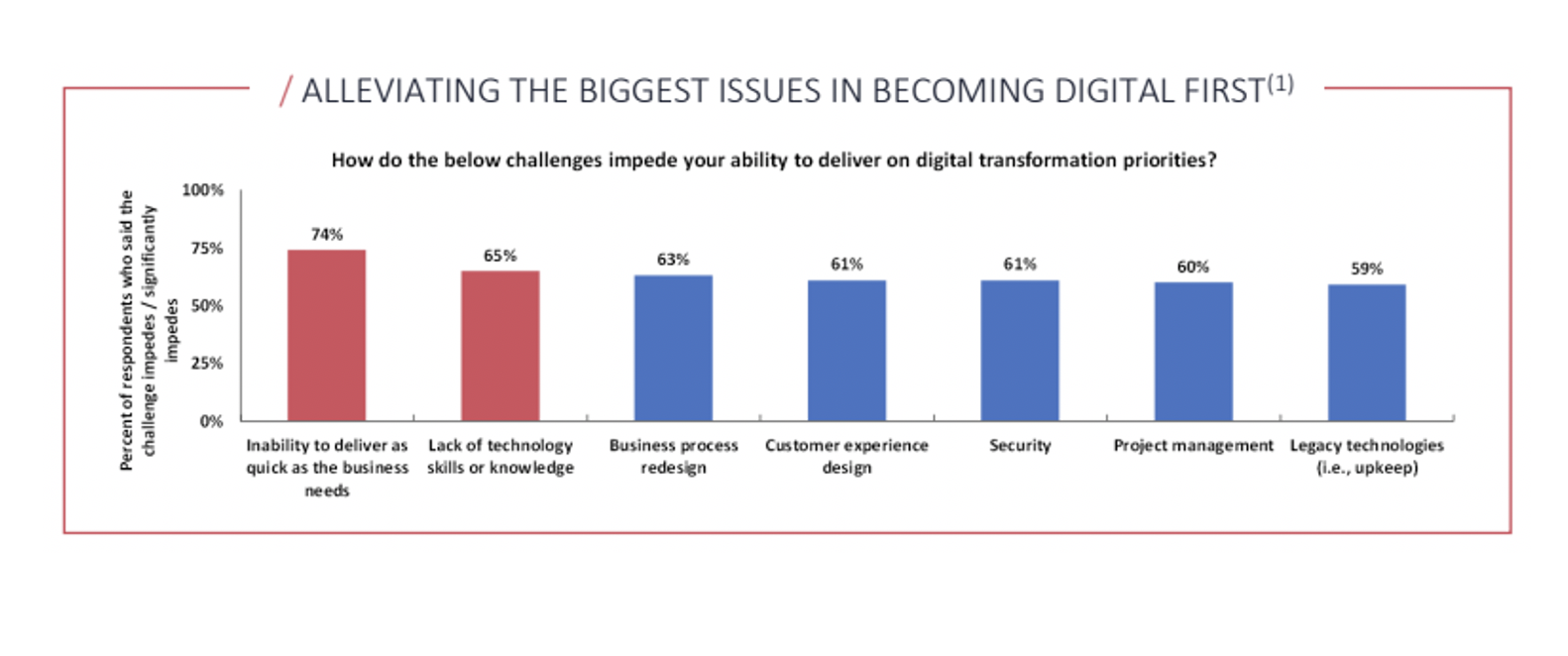 Why We Invested in Creatio and What We've Learned
We've found that the early winners in the low-code space are succeeding because they are focusing on specific functional or vertical use cases. 

Though low-code solutions offer high configurability, they can't be all things to all people. Instead, they need to have a differentiated product with a clear value proposition that speaks to specific use cases.

Creatio is just that and more, inspiring a legion of loyal customers and channel partners. Here are the top three reasons we invested in Creatio:
1. A strong, passionate, and capable leadership team
Creatio's Founder and CEO, Katherine Kostereva, is a remarkable leader who is widely respected within the industry. All you have to do is speak with her for five minutes to find out why.
But she also has the accolades to prove it. She was recently named a Top 25 SaaS Influencer in addition to being named a Top 50 SaaS CEO and a Top 50 Women Leaders in SaaS for three consecutive years each.
Katherine's strategic vision, operational discipline, and compelling leadership style have been the driving forces behind Creatio's success to date. She has attracted a loyal and capable team, many of whom have been with Katherine for over 10 years. We are confident in the team's ability to build upon Creatio's success under Katherine's leadership and establish itself as a category-leading business in CRM and low-code BPM.
2. Differentiated product with clear value proposition
Our reference calls with customers, partners, and industry research analysts confirmed that Creatio has built a uniquely configurable process management and CRM solution powered by a natively integrated low-code platform. In fact, Creatio was named a Leader in the 2020 Gartner Magic Quadrant for CRM Lead Management in addition to numerous other categories over the years.
Customers simply love their solution. Specifically, they articulated that the seamless integration of Creatio's low-code platform, BPM capabilities, and flexible CRM applications are an important competitive differentiation. The strength of this combination is what allows the product to be easily deployed and flexibly configured to streamline processes and deliver quick and meaningful ROI.
Moreover, Creatio's low-code and BPM architecture allows the platform to expand beyond CRM and be leveraged across a wider breadth of use cases. Importantly, Creatio's low-code foundation enables business users without technical expertise to customize workflows to their specific needs, leading to faster time to value and cost savings.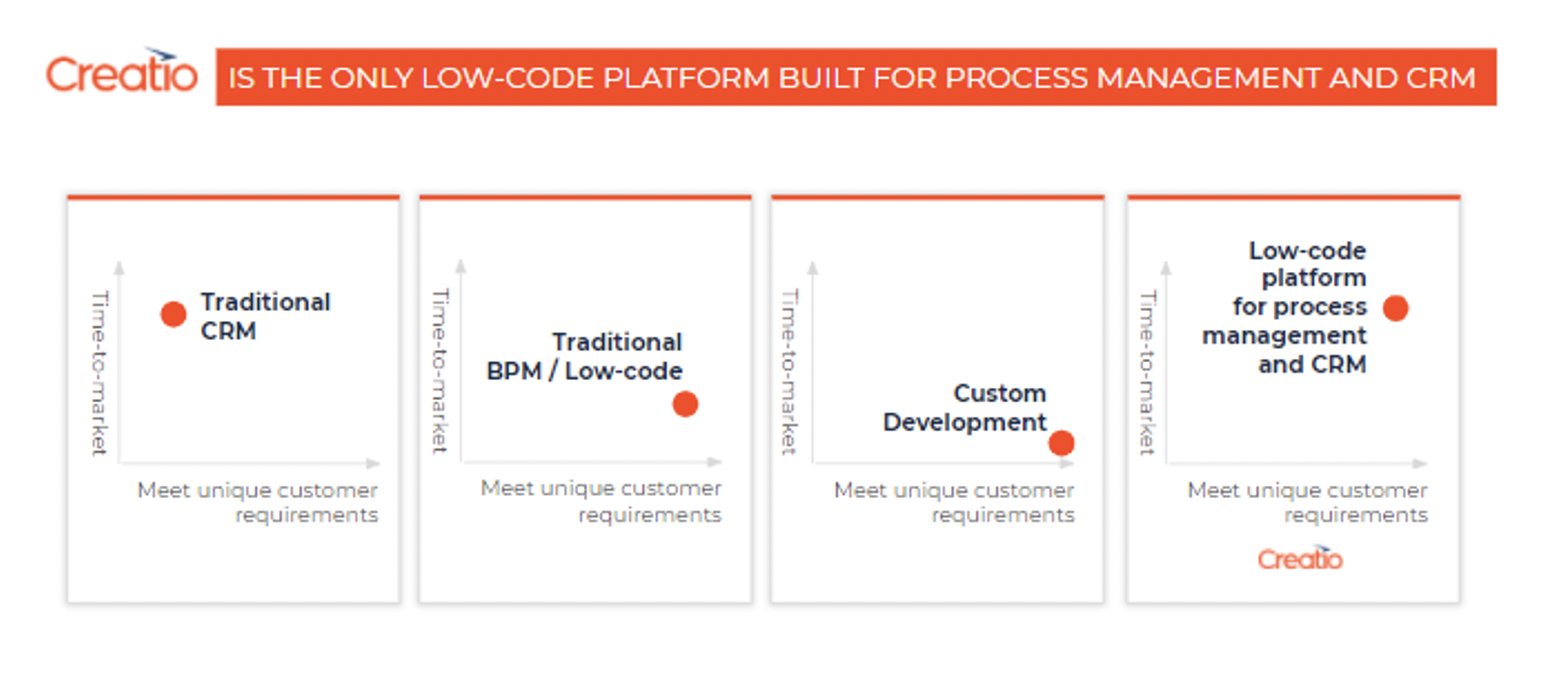 3. Large market opportunity and tailwinds in low-code BPM and CRM
The use of low-code BPM capabilities in custom application development continues to grow as organizations look to be more agile, save on IT costs, and better align business and IT departments.
80% of the software market spend is currently focused on custom, in-house development, which represents a $169B market opportunity. Gartner projects that low-code will power 65% of all application development by 2024, and we believe Creatio is well positioned to capitalize on such tailwinds with its low-code, BPM foundation. Further, the platform's core use case of CRM is already a growing $37B market.
We certainly think Creatio has the team, product, and market opportunity to make great things happen, and we're excited to help fuel their growth with capital, personal support, strategic insight, and network access.

We're all in. Creatio, welcome to the Volition family!

If you're interested in growing with Volition, check out our investment focus and approach.
COMMENTS & DISCUSSION BELOW: