Capital+ Digital Healthcare
We invest in patient-facing digital health businesses and provider-enabling healthcare IT platforms, with particular expertise at the intersection of the patient and provider experience.
Investing in Digital Healthcare
It is our experience that some of the most passionate founders in the Volition portfolio are building in the healthcare industry. Whether motivated by their experiences as a healthcare clinician, by a profound medical event that directly impacted their family, or simply by observing the deep fractures in our current healthcare system, we've found that healthcare entrepreneurs bring a unique sense of purpose and fortitude to their endeavors.
It is our privilege to partner with these founders, and our aim is to match the intensity with which they are effecting change in the industry. Our unique, dual focus on digital health and healthcare IT businesses has refined our viewpoint on the intersection of the patient and the provider experience. We are excited to continue investing in companies across all points of the enterprise-facing vs. patient-facing continuum.
Why We're Getting Involved
The Covid-19 pandemic accelerated many of the core thesis areas that the Volition team had already been pursuing within broader healthcare for many years: increased adoption of telehealth and hybrid care delivery models, heightened focus on enabling access to mental and behavioral health services, mounting healthcare costs leading to a rise in fee-for-performance models, and innovation in clinical platform technologies powering spaces like interoperable electronic health records (EHRs) and remote patient monitoring (RPM) to further break down care silos, to name just a few.
It has been validating to see these themes, which underpinned our investments in companies like Qure4U recognize exponentially increasing traction after Covid-19 forced patients and providers alike to transition to virtually-led models of care. While the pandemic was not a catalyst for our firm's involvement in the healthcare industry – with most of our major holdings pre-dating the start of Covid-19 – our enthusiasm for the space has grown in lockstep with what we view as a foundational shift in perceptions of what truly accessible, convenient, and clinically-forward care looks like today.
We believe that real perspective on the healthcare innovation curve requires a viewpoint on both the patient and the provider experience. At Volition, these cross-functional insights are core to our healthcare team, which encompasses perspectives from the worlds of both digital health and healthcare IT software, allowing us to recognize unique investment opportunities. We believe this is one of the core capabilities that sets apart our approach to underwriting in the healthcare space.
While not exhaustive, we are particularly excited to connect with entrepreneurs and management teams building in the following areas of healthcare: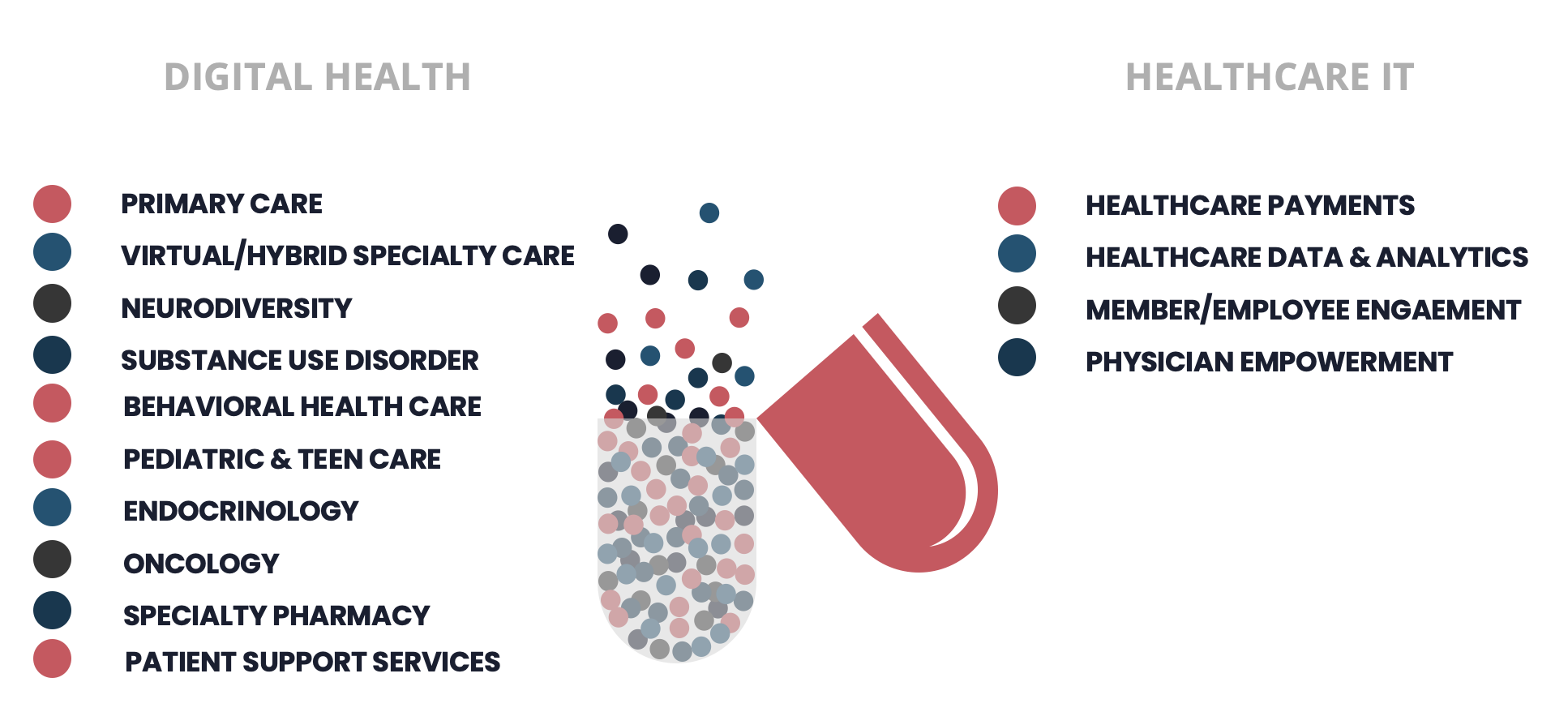 Our current and exited healthcare portfolio reflects our expertise in areas including digital specialty pharmacy, virtual care platforms, direct-to-consumer healthcare, life sciences supply chain, primary care, health system navigation, and patient engagement.
Related Thought Leadership
HELPING FOUNDERS GO AFTER THEIR DREAMS WITHOUT RISKING THEM