In the year 2000, there were roughly 2,000 clinical trials being conducted in the United States. Fast forward to 2019, and that number had exploded to almost 320,000. In general, as the number of registered clinical trials has increased in recent years, so has trial complexity. This complexity mirrors the overall rise in the cost of drug development, which has more than doubled every decade since the 1970s and now sits at around $2.6 billion. 
Increased costs, coupled with a higher percentage of trial failures and an increase in patient-centric trials, have caused a surge in demand for technology adoption in clinical trials. In fact, virtual clinical trials are projected to grow from $4.8 billion in 2018 to $7.6 billion in 2022 with a CAGR of 12.4% according to Beroe Inc. Yet despite this growth, for most patients, finding a clinical trial is still a trying process, with enrollment and participation bringing new challenges.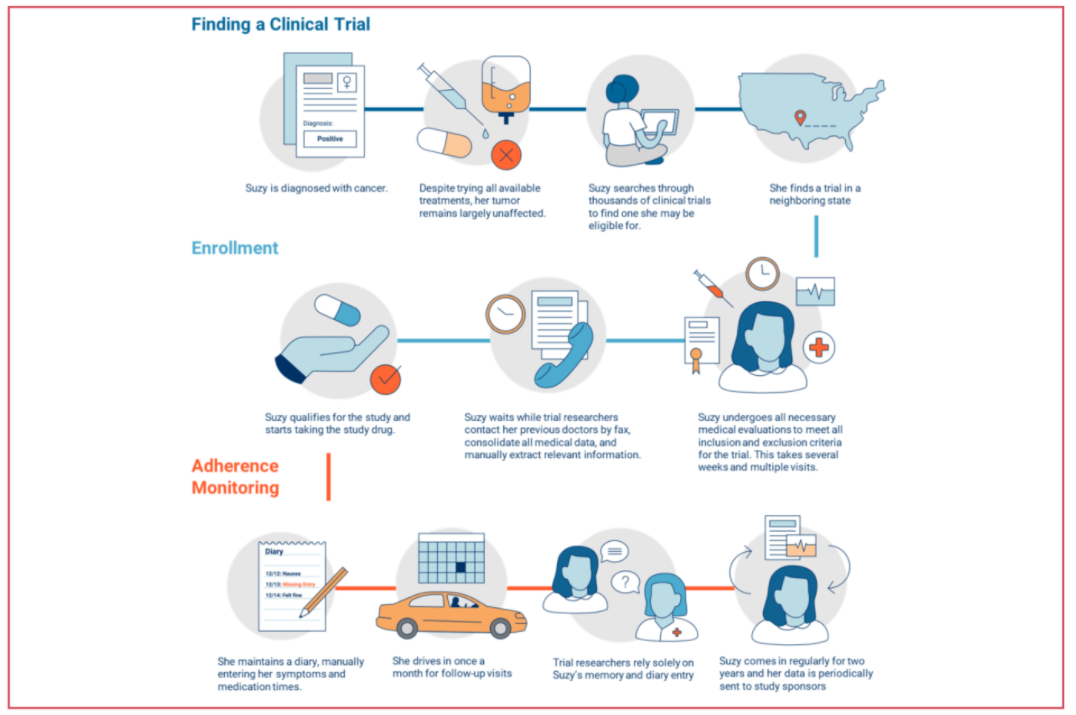 New Paradigms Within Clinical Trials
Four key trends are influencing aspects of trial design, duration, and success:
Personalized Medicine:

Advances in basic science, a rising number of biologics, and a growing understanding of disease bio-processes are enabling the development of orphan drugs targeting new disease pathways and molecular targets. As a result, the types of drugs under development are changing, as well as the strategies they utilize to treat disease. These include shifts from symptomatic therapies, which minimize disease symptoms, to disease-modifying therapies that slow or halt disease progression, and are better enabled by earlier identification of disease, as well as the emergence of next-gen biotherapeutics.

CRO Outsourcing:

As drug development processes have become more complex and regulations become more stringent, pharma has begun outsourcing most non-core activities to clinical research organizations (CROs) while retaining essential R&D in-house. CROs play an integral role in drug development as they enable pharma to lower their internal capacities in manufacturing and R&D, increase productivity, access new capabilities, shift fixed to variable costs, and improve their global reach.

Digitization:

By remotely enabling the capture of drug efficacy and safety data, digital health technologies are expected to improve patient safety, enable virtual trial formats and ease site work burden. Mobile health apps, wearables, and other software tools, are finding novel uses in clinical development. Sensors can directly record biometric measurements in real-time, while apps can track patient-reported outcomes (PROs) or experience measures (PREMS), which can be shared with clinicians. Telemedicine allows clinical assessments to be conducted remotely and reminders to be sent to maintain patient engagement and encourage drug adherence.

COVID-19:

The pandemic has impacted essentially all clinical operations and accelerated the evolution in virtual engagement dynamics between patients, sites, and sponsors. As a result, they are now rapidly adopting virtual trial technologies to keep their studies on track, running more efficiently, and offering added patient convenience. Regulatory agencies such as the FDA and NIH have also issued guidelines related to the conduct of trials during the outbreak of coronavirus, which are in complete support of incorporating virtual services.
Why Clinical Trials Must Transform
Suboptimal patient selection, recruitment, and retention together with difficulties managing and monitoring patients and their data are extending the length of trials and contributing to high trial failure rates. Here are the three largest pain points:
Long and Expensive Trial Process

: The average capital investment for each approved drug is $2.6 billion, and

almost $6 billion

is lost annually due to inefficient trial processes. Drug discovery to regulatory approval can take 12-15 years, leaving sponsors just 5-8 years to market under IP protection. Additionally, the growing availability and variety of data sources has led to an expansion in trial protocols in order to meet regulatory requirements. Around 60% of the U.S. pharma R&D budget is now spent on clinical trials, yet less than 10% of drug candidates that enter Phase I will be FDA-approved.

Patient Recruitment and Enrollment:

Shift in drug development to new modalities is increasing competition for patient recruitment.

$2+ billion is spent annually

on recruitment, accounting for around 32% of overall costs and making it the largest cost driver. The recruitment market is growing at around 16% annually as the result of increasing complexity and regulation. As trials progress, more patients are required, but eligibility and suitability requirements also increase, while frequent clinic visits limits participation. These challenges often create delays to the point that 86% of all trials do not meet enrollment timelines and 30% of Phase III trials fail due to enrollment issues.

Data Interoperability & Compliance:

The Federal gov. spent $28+ billion to digitize electronic health records (EHRs) over the last decade, yet the issue of interoperability still persists as there is no centralized repository or standard format for patient medical data. There are low standards for data sharing across multiple EDC systems and sites, and different hospitals or providers treating the same patient may not use the same software. Meanwhile, 75% of trials still rely on conventional data collection methods. Finally, there's a lack of platforms that enhance interoperability between various electronic data capture systems like EDCs, EHR/EMRs, mHealth, RWD sources, etc.
Conventional Trials v. Virtual Trials
Conventional trials are considerably more prone to these pain points. Recruitment methods are largely done in person at hospitals or via newspapers, whereas virtual trials recruit online via social media. Conventional trials are also locally bound and require many study sites and patient visits. They can be time-consuming, expensive, and they have a high drop-out rate as a result.
Meanwhile, virtual trials have no limits on their available patient population, as they can recruit globally. Using technologies such as electronic questionnaires, electronic consent, videoconferencing & telehealth, microsampling & home-kits for lab testing, mobile devices & wearables to collect remote patient data, and drug delivery, virtual trials are more time-efficient and cost effective, resulting in high patient retention and maximized enrollment. 
Zeroing in on traditional clinical trials and breaking them out by stage reveals specific pain points and areas in which risks can be mitigated.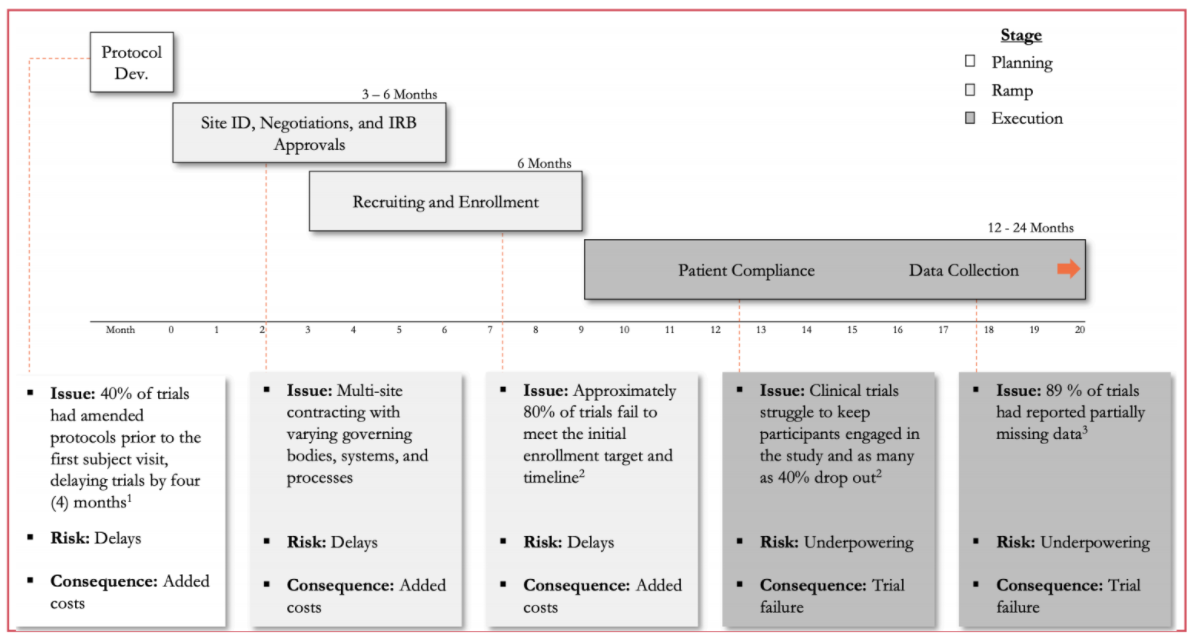 Investing in Virtual Clinical Trials
Leading companies in the industry have conducted various virtual clinical trials and partnered with startups, highlighting the increasing interest and ongoing efforts to reshape the way clinical trials are conducted. In 2011, Pfizer pioneered the first virtual clinical trials. By 2018, Novartis collaborated with Science 37 to launch 10 new virtual clinical trials through 2021. 
Virtual Clinical Trials continue to experience rapid investment growth. Several companies are actively leveraging modern technological breakthroughs to transform the pharmaceutical research landscape, offering a variety of innovative solutions to optimize costs and time spent on clinical trials
In 2019, over $1B has been invested to finance the initiatives of different companies that are realizing the benefits of applying modern technological solutions to clinical research. While investment in virtual clinical trials has grown exponentially over the past decade, it is still relatively nascent and overall fragmented.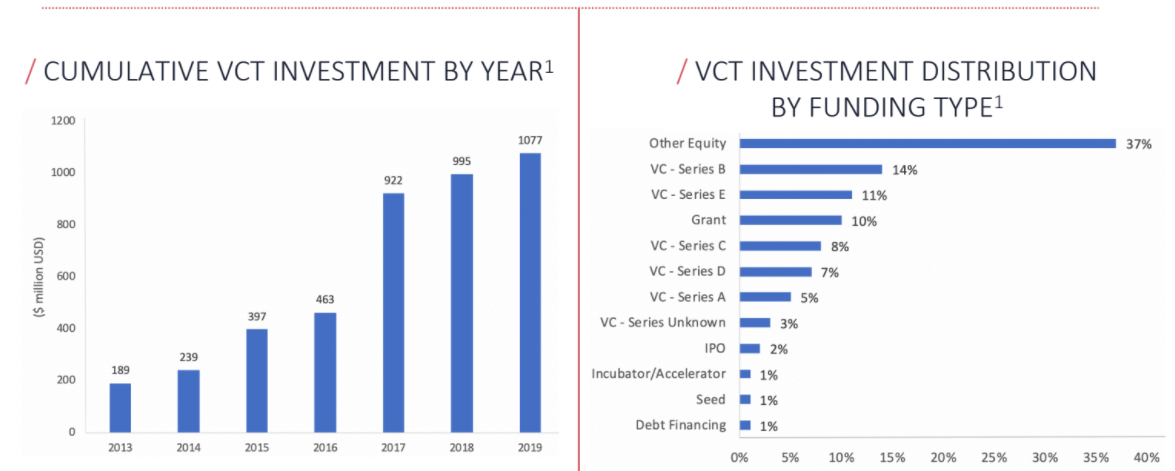 Tracing the Future of Virtual Clinical Trials
With the rise of emerging tech that makes research faster, cheaper, and more accessible and with a forward-looking FDA digital health team, providers are beginning to implement new software tools. AI and Big Data will drive this trend, and most clinical research professionals expect to adopt clinical trial software over the next 5 years.
COVID-19 has highlighted the necessity of virtual clinical trials, but it merely accelerates a trend that was already in progress. With increasingly convenient and remote methods of conducting research, the entire process will become more streamlined and effective, and Volition's experience with other healthcare and life sciences startups such as Medly Pharmacy or TraceLink, give us a unique perspective on the competitive landscape of this industry.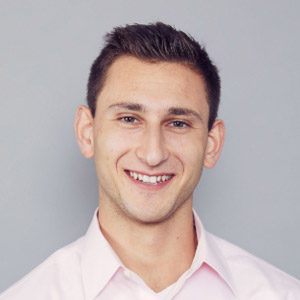 Associate
Zac joined Volition in 2018 and is responsible for sourcing and providing due diligence on new investment opportunities within growth-stage software and tech-enabled service businesses.
Connect with Zac:
MEET ZAC GOLDMAN