Nearly Three Years Later, It's Time to Rethink our Approach to Digital Health Investing
Our initial digital health thesis took a verticalized approach, centered around indiscriminate funding of remote solutions for patients needing long term care. This approach aligned well with the lens of an "Internet Investor": long term care implies strong patient retention and sticky customers generate large lifetime values to dramatically outweigh acquisition costs.
Moreover, large payer-venture funds have recently demonstrated the need to innovate in clinically complex areas traditionally avoided by digital care models. This shift towards value-based care has forced us to rethink our original strategy in hopes of better aligning with the payers to invest in areas where early intervention can really matter, and stabilization or full recovery of patients is possible.
Behavioral Health Solutions are Becoming Increasingly Digital
Throughout the COVID-19 pandemic, patients and providers have leveraged technology to transform the quality and capacity of remote and hybrid care delivery systems. Overall telehealth use has stabilized at 38x greater than before the pandemic hit, ranging between 13-17% of visits across all specialties.¹
 Historically, treatment models for behavioral health segments such as mental health conditions, substance use disorders, autism, eating disorders, and other behavioral health categories have revolved around in-person care.
These conditions are medically complex, often requiring a therapeutic and clinical milieu of specialists to coordinate care models and prevent medical instability of patients. Nevertheless, as the COVID-19 pandemic dramatically accelerated the capacity of remote patient monitoring and real-time care team collaboration solutions, new models of virtual and hybrid care delivery for complex cases are scaling quickly. 
Payers are Covering Digital Behavioral Health Solutions and Payer Venture Funds See the Value in this Approach 
Payers have quickly learned that increasing coverage for digitalized solutions is vital to protecting patients struggling with moderate to severe – but arguably treatable – behavioral health conditions. Digitalized solutions provide patients with greater flexibility of care options, removing barriers to entry for patients and better aligning with the push for a value-based care system throughout the U.S. ²
Simultaneously, actively reimbursing for high-quality care insulates payers from the potential added costs that come with health deterioration when chronic disease management at actionable points is ignored. ³
 Moreover, throughout the last two years, payer venture activity validates payers' beliefs that digital solutions are key to addressing the needs of their most expensive patients. Although 50% of all U.S. healthcare spend comes from the sickest 5% of the population, at least 1/3 of those patients have conditions that can – with proper treatment – be improved or at least kept under control. ⁴
Solutions funded by payer venture funds are directly addressing these types of patients, actively providing modernized care options with high-patient level contribution margins to the patients from which payers can optimize their cost-savings potential.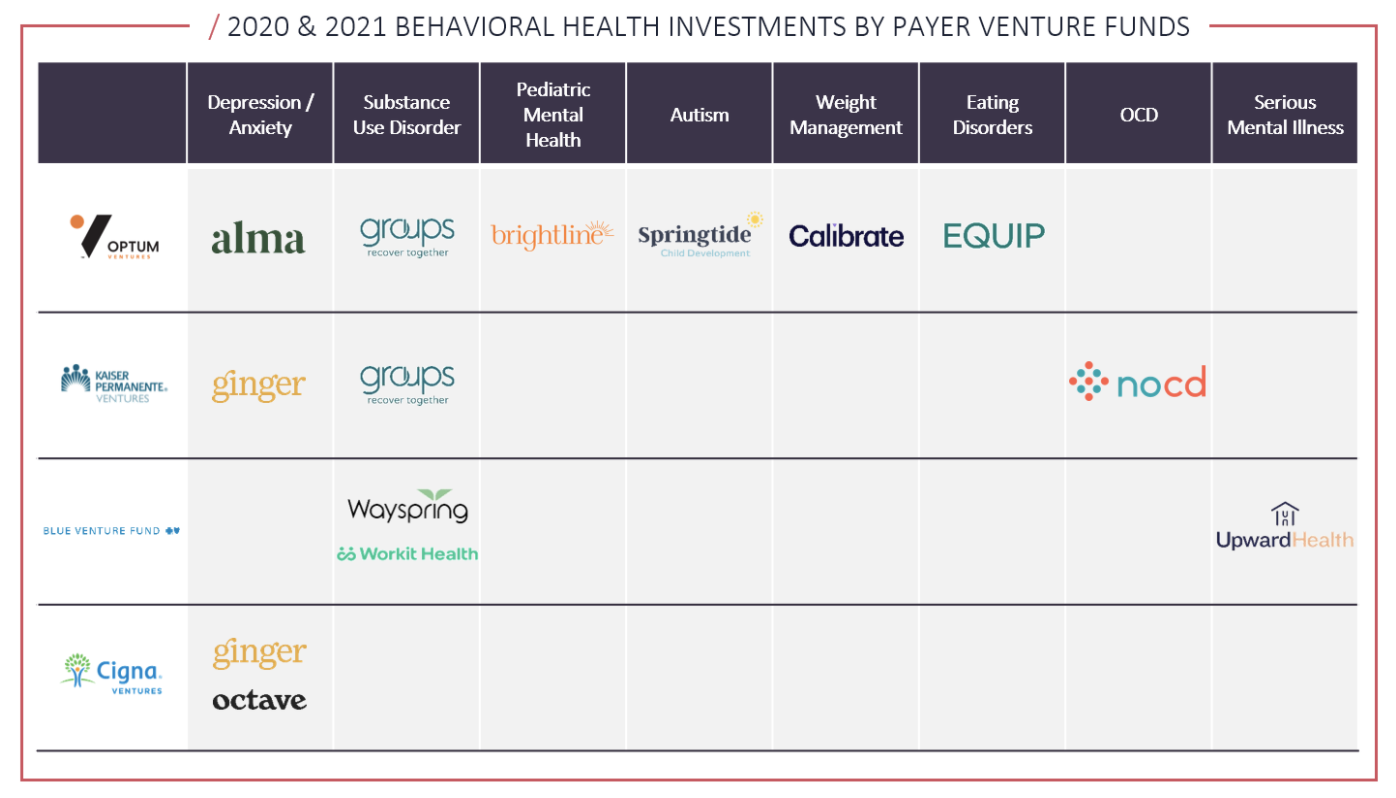 Aligning our Valuation Framework with that of the Payers

Much like the payers, we see the potential for digital behavioral health solutions to generate high patient-level contribution margins, regardless of care duration – an idea once foreign to our internet-investor tendencies. Digital innovation dramatically increases the scale of a company's implied patient census potential, and patients entering the ecosystem generate immense cost-savings potential to payers in the long term.
These types of payer-provider partnerships are mutually beneficial: payers have a means to maximizing the cost-savings potential of some of their most expensive patients, and providers gain access to a large referral network with little fiscal responsibility for customer acquisition. Therefore, we're following the payers as we rethink our valuation framework for digital health investing.