By Austin Goltz
The low interest rate environment continues to drive growth in the ~$10T U.S. mortgage industry. Mortgages are the largest segment of household debt in the United States, yet the process to find, apply, and close on a mortgage remains outdated. With the support of technology, the digital mortgage aims to deliver a superior customer experience by streamlining the mortgage process.
With digital lender, SoFi, contemplating going public via a SPAC in 2021, there is clearly an appetite for digitally-native companies disrupting the traditional lending and mortgage spaces. In fact, SoFi was last valued at $4.8 billion. Here's why we don't think this will be the last big exit in the digital mortgage industry. 
Traditional mortgage lenders are failing 
The traditional mortgage lending process is categorized by rising costs and minimal technology. Mortgage loan production costs, or the price to originate a mortgage, were $7,535 in 2019 compared to $5,001 in early 2012. Nearly 68% of production costs are personnel related. This heavy reliance on humans has stood in the way of technology-driven automation.
A lack of digital adoption has negatively impacted customer satisfaction for both mortgage servicers and mortgage originators. The average net promoter score (NPS) for a mortgage servicer is 16 which is one of the lowest of any industry. This poor customer satisfaction has been pronounced by the pandemic as consumers have been plagued with long wait times and limited answers online.
Mortgage originators have also seen increased criticism due to shortcomings in self-service tools for applications and drawn out processing times. According to J.D. Power, the growth in volume has been positive for primary mortgage originators but it has also "exposed underlying weaknesses in their digital strategies that could create challenges down the road." 
Not surprisingly, Quicken Loans, a company who has been committed to digital adoption, was named #1 for client satisfaction in J.D. Power's survey of mortgage servicers for the seventh consecutive year and #1 for client satisfaction in primary mortgage origination by J.D. Power for the eleventh consecutive year.
Overall, it is apparent a digital first approach delivers an enhanced customer experience. Unfortunately, most of the traditional mortgage players have been slow to adopt the necessary technology to keep up.
Digital mortgages are disrupting the industry
The digital mortgage is transforming multiple attributes within the industry including distribution, pricing, application process, customer service, and revenue model.
Distribution –

Traditional mortgage lenders have been slow to adopt the necessary technology and infrastructure for seamless online purchasing. This has resulted in non-intuitive websites, long customer service queues, and expensive commissions paid to loan officers. The growth in overall internet usage has opened the door for the frictionless online distribution of mortgages, increasing customer satisfaction and driving down costs for the consumer. 
Pricing –

Traditional

mortgage companies are people-intensive and lack technology led automation. Technology can help streamline operations which can result in savings passed down to the customer. Also, digital mortgage brokers can use matching algorithms to help quickly connect consumers with lenders offering the lowest rate. 
Application process –

Many lenders still require consumers to submit hard copies of bank, pay and tax information when going through the application process. Digital mortgage companies can pull a consumer's financial record instantly through third-party data providers leading to reduced fraud and greater convenience. By pulling data in real time, lenders can provide consumers with a verified pre-approval in minutes rather than days. 
Customer Service –

Mortgages are complicated, and consumers will likely come across terms that are new to them ("ARM," "buying points," etc.). Technology

can be used to create seamless customer communications between automated chat and live agents. Digital mortgage customers can also benefit from live application tracking which enables radical transparency from approval to closing.
Revenue Model –

Originators are known to charge an assortment of fees throughout the mortgage purchasing process. Origination fees, application fees, processing fees and underwriting fees can add up and are not always apparent. Emerging digital mortgage companies have been able cut out hidden fees by automating various backend processes. Digital mortgage lenders instead generate revenue solely from selling loans on the secondary market. 
Different consumer distribution models
1. Direct Lenders – Direct lenders in the mortgage industry include both banking institutions and mortgage lenders. 
Banks: Banking institutions like Wells Fargo or JPMorgan Chase offer mortgage loans in addition to other types of financial accounts and loans. Customers with an existing relationship may find comfort borrowing from a bank that they've done business with before. However, banks don't specialize exclusively in mortgages, and they experience the highest levels of regulation. These factors can lead to stricter lending standards, less variety of mortgage products, and longer closing times. 


Mortgage lenders: These lenders specialize in mortgages and are less regulated which allows them to offer more flexible loan options and faster closing times. The mortgage lender business model is also less capital intensive. Mortgage lenders are quick to sell mortgages to mortgage servicers shortly after closing, reducing balance sheet risk and freeing up capital to make additional loans. The first wave of digital mortgage lenders like Rocket Mortgage by Quicken Loans and SoFi worked to streamline the mortgage lending process by bringing it online.

The next wave of mortgage lenders like Better Mortgage continue to innovate on the customer experience through radical transparency, zero commissions, on-demand service and a user-friendly product design. Competitive rates will remain a necessity to win business. Digital mortgage companies can save money by leveraging automation to decrease overhead expenses and these savings can ultimately be passed down to the consumer. Also, by using technology to quickly match borrowers with many investors, digital mortgage lenders can offer customers more competitive rates.
2. Mortgage brokers – Brokers play an important part in the mortgage value chain because they connect customers with rates from many mortgage lenders or banks. Although the brokerage market is highly competitive, digital brokers differentiate from traditional brokers through a fast and easy data driven application process that seamlessly routes loans to many lenders in real time. Strong customer service is also important as digital brokers sometimes own the customer relationship until underwriting.

Technology can help drive down customer service costs through automation while also ensuring better consumer satisfaction by decreasing customer service queues. Unfortunately, brokers do not own the entire customer experience and slow-moving banks and lenders may not be able to keep up with the rapid approval times expected from consumers. Digital mortgage brokers that choose responsive lending partners will help drive the overall service experience. 
3. Mortgage marketplaces:  Mortgage marketplaces, like LendingTree or Bankrate, typically act as price comparison websites for consumers and lead generation for lenders. The positive to these websites is that they allow consumers to compare rates quickly from dozens of lenders after answering a few simple questions.

On the negative side, consumers will likely get bombarded with emails from lenders looking to win their business and the initial rates that were quoted will likely change anyway. It's more difficult to differentiate in this space as mortgage marketplaces own very little of the customer experience beyond the initial price comparison. More successful mortgage marketplaces have done a good job leveraging strong educational content to attract organic traffic.
Looking ahead at digital mortgages
The traditional mortgage lending process is antiquated and results in a poor customer experience. The digital mortgage uses technology to streamline the mortgage process which can lead to faster pre-approvals and better rates for the consumer.
The market is large and ripe for disruption as legacy players have been slow to innovate. Volition has experience investing across technology targeting the mortgage vertical (Loan Logics and Velocify) and D2C investments (Chewy, Arteza, Burst Oral Care, Medly). This gives us a unique perspective on both mortgage technology and acquiring consumers at scale. We are excited to apply this knowledge to help entrepreneurs build the next digital mortgage company.
Sign up for our mailing list to get Volition Viewpoints in your inbox:
[hubspot type=form portal=7228887 id=7c89f4bd-066c-4200-bdd2-9f25db71380c]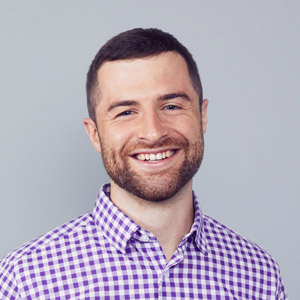 Analyst
Austin joined Volition Capital in 2018 and is responsible for sourcing and evaluating new investment opportunities in transactional Internet and consumer product companies. He's primarily focused on e-commerce, travel, and shipping & logistics.
Connect with Austin: