Good Morning!
Earlier this week, Volition announced that Steve Shaffer has joined the team as an Operating Partner. Steve brings over 20 years of chief executive, finance, and operations experience to Volition, including his former roles as CEO of Insite Software and CRO and CFO of TradeCentric.
In today's edition of the Volition View, we will be featuring a Q&A with Steve highlighting some of his experiences to date and why he's excited to be joining Volition at this stage in his career.
Inside:
Deep Dive: Interview with Steve Shaffer
Market Perspective: Distribution of Cash Raised in Q2 '23
Must-Read Resources: Contrarian Perspective, Generative AI, YouTube Shorts
Portfolio News: Doing Things, Creatio, Messagepoint, hackajob
Portfolio Fun: Super73 x Barbenheimer
Let's Dive In!
Deep Dive
Interview with Steve Shaffer
The interview with Steve Shaffer (pictured) was conducted by Volition Content Associate Alan Soclof
Alan Soclof: Good Morning Steve! Thanks for taking some time to connect. Jumping right into it, why did you decide to choose to join Volition Capital as an Operating Partner? 
Steve Shaffer: Good morning Alan. I am excited to be talking with you as well. First and foremost, I want to start off by saying that I have the utmost respect for Volition. Going back to my days as CEO of Insite Software, Roger and Tomy were incredible partners beyond just providing critical capital to our business. We went through some big changes and major challenges before turning things around, but even in our darkest days, Roger and Tomy were incredibly supportive and aligned with our goals. The opportunity to work closely with them and the rest of the Volition team along with doing what I love, partnering with entrepreneurs and helping them build their companies, is an opportunity I could not be more excited about. 
Also, looking at Volition's portfolio, it is incredible the group of companies and founders they have. The ability to work with these impressive founders across an array of industries is as good as it gets.
I also want to take a moment and acknowledge the entire Volition platform team. Whether it is Chris Fahey, SVP of Talent at Volition, Lindsey Eckerd, VP of Marketing, or our great Senior Advisors and Strategic Advisory Board, this position naturally builds on their successes. 
AS: Why is this role and opportunity exciting to you? 
SS: If you look closely at the picture of me above, you can likely find a gray hair or two on my head. This opportunity helps me put my 20+ years of executive experience to work. Over these past couple of decades, I have helped lead several growth equity-backed software tech companies in a variety of executive positions. The ability to take my collective experiences and lessons from my mentors on how to scale successful businesses and share them with the great founders of today and tomorrow is exactly what I am looking for at this stage of my career.
Also, my whole career I have been in the "doing" mode, directly operating and building businesses. This job will enable me to stay in this mode and come in alongside great leaders and help them with special projects or unique situations where they see fit. 
AS: What would you say is your approach to working with founders?  
SS: When it comes to working with top-tier founders, my approach is far from offering advice from 30,000 feet. I believe in being an active collaborator, ready to roll up my sleeves and dive into the details as needed. As a true business partner, my goal is not only to help determine what needs to be done but also to figure out how we are going to achieve it. Integrating strategic plans with key business processes and measuring results requires input from all key areas of the business, and I emphasize fostering this integration across the organization for successful execution.
Specifically, at the start, I take the time to understand each founder's business and their vision for the future. It is important for me to appreciate the history, critical lessons, and past successes of the company, as well as learn about the greatest challenges and opportunities ahead. Establishing trust with the founders is paramount, which often involves getting to know not only the CEO but also other key executives to gain a comprehensive understanding of their unique and valuable perspectives.
From a strategy and execution perspective, I approach these disciplines with a strong emphasis on data-driven- decision-making. With my background in strategic finance, I am able to help design and connect financial, sales, operational, and other key business data to help gain valuable insights into critical business drivers. Nothing excites me more than a complex, multi-disciplinary project, especially when it is something that will not necessarily make the headlines but is integral to driving real progress and improved processes. It is often these projects that build the essential foundation for sustainable growth. 
AS: Finally, what is a longer-term project that we haven't touched on yet that you are looking to explore outside of directly working with founders? 
SS: One of our goals at Volition is to build centers of excellence and help connect executives from Volition portfolio companies directly with each other across key disciplines like sales, marketing, finance, etc.
As I said earlier, I believe that we have phenomenal founders, executives, and operators. While many of these companies' problems are different, there are many challenges that likely rhyme. We want to connect the VP and C-level leaders to learn best practices from one another and create a real differentiating ecosystem. There is so much brain power at every level of Volition, and I look forward to doing my part in facilitating and creating an even more collaborative environment.
-The Volition Press
MARKET PERSPECTIVE
Distribution of Cash Raised in Q2 '23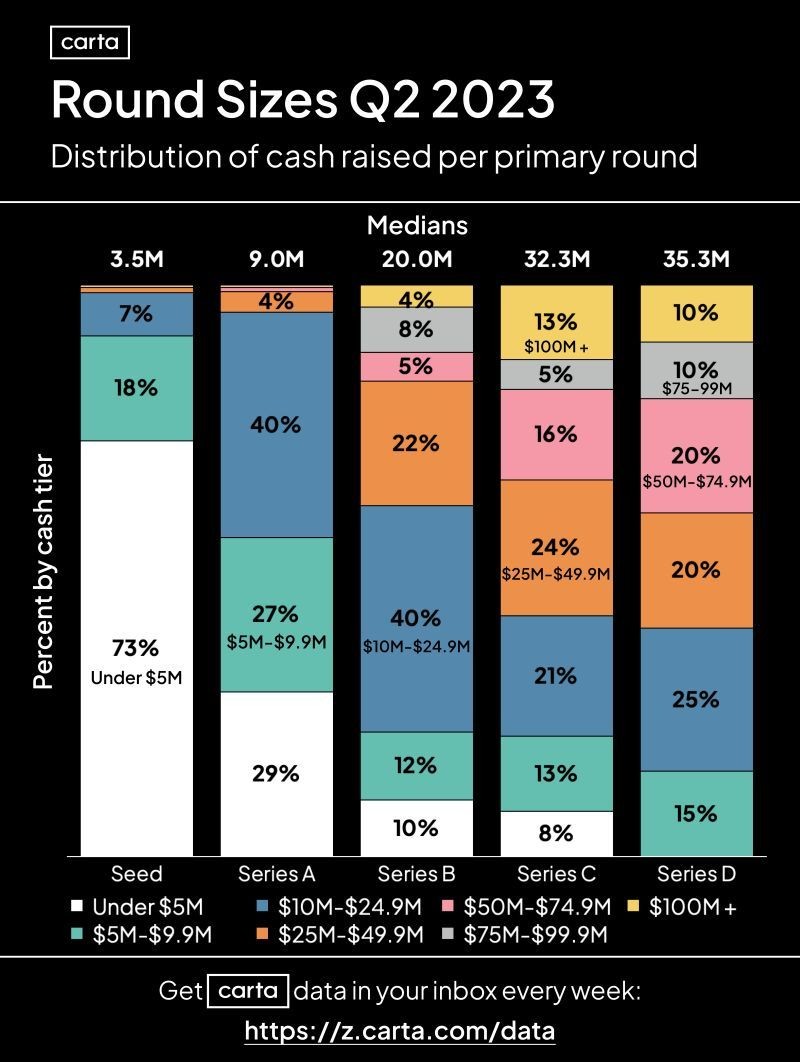 Key Context:
Carta provided an update on the distribution of cash raised per primary round for Q2 2023
Peter Walker, Head of Insights at Carta, shares more color on the chart above here
THREADS, MUST-READS, AND KEY STATS

Contrarian Perspective, Apple & Goldman Sachs, YouTube Shorts
Key Tweets:
Must Reads:
Key Stats:
PORTFOLIO NEWS
Doing Things, Creatio, Messagepoint, hackajob
PORTFOLIO FUN
Super73 x Barbenheimer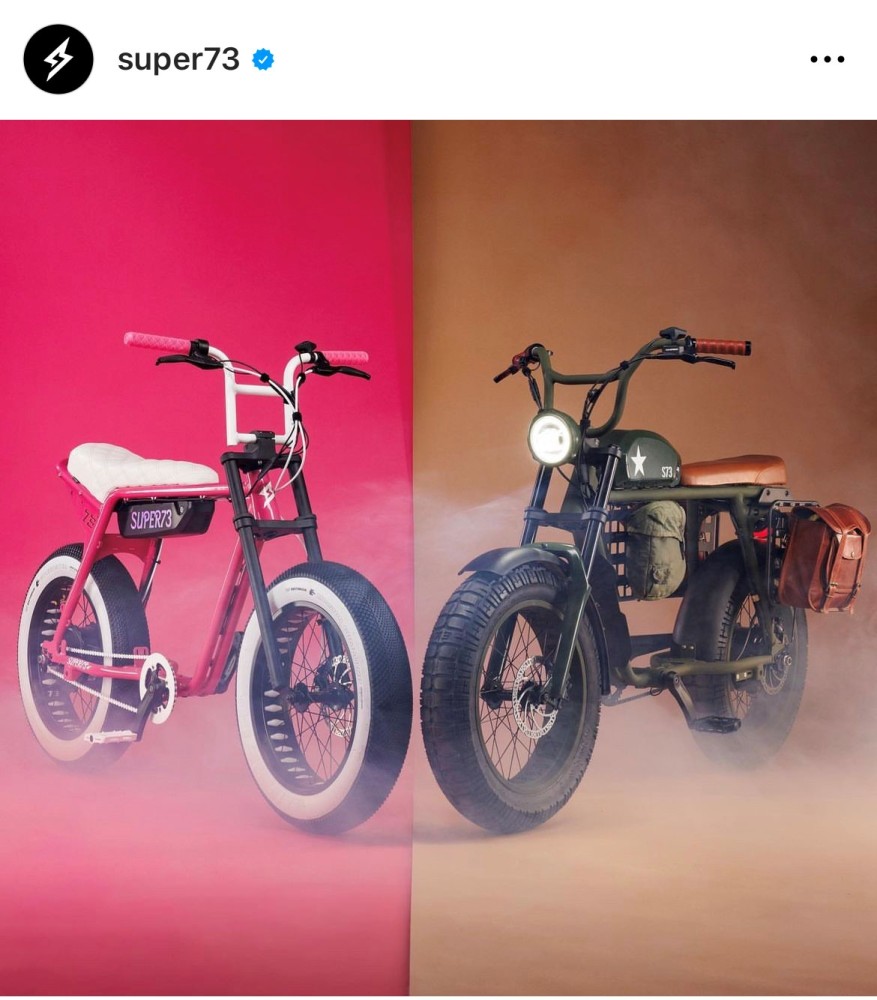 Did you have a chance to see Barbie or Oppenheimer? 
If so, you played a part in creating the weekend box office blowout of a whopping $235.5 million.
Super73 got in on the fun too through creating a couple custom bikes decked out in the Barebenheimer themes.
Thanks for the read! We would love to hear what you think, so feel free to send us an email if you would like to chat.
-The Volition Team