Design, Data, and Drive: Investing in the Circular Economy 
The "circular economy" is one of the hottest phrases in business today. If your company is considered a part of this sought-after club, then you're sure to see an influx of customers and investors alike. 
But as brands globally race to get in the game, experts are emphasizing that to truly be circular, teams must go beyond arranging recycling solutions for post-consumer products and truly redesign traditional manufacturing and operating models to be centered around reuse, repair, refurbishment, and when no other options, disassembly and recycling. 
Data and supply chain traceability solutions will play an important role to maximize reuse of materials, enable supply chain transparency, and track ROI, among other things. 
The diagram below outlines where there are trillions in market opportunity to be unlocked during this transition to the circular economy, and we predict these new practices will spur one the most transformative economic and social changes since the first industrial revolution – and it's already begun.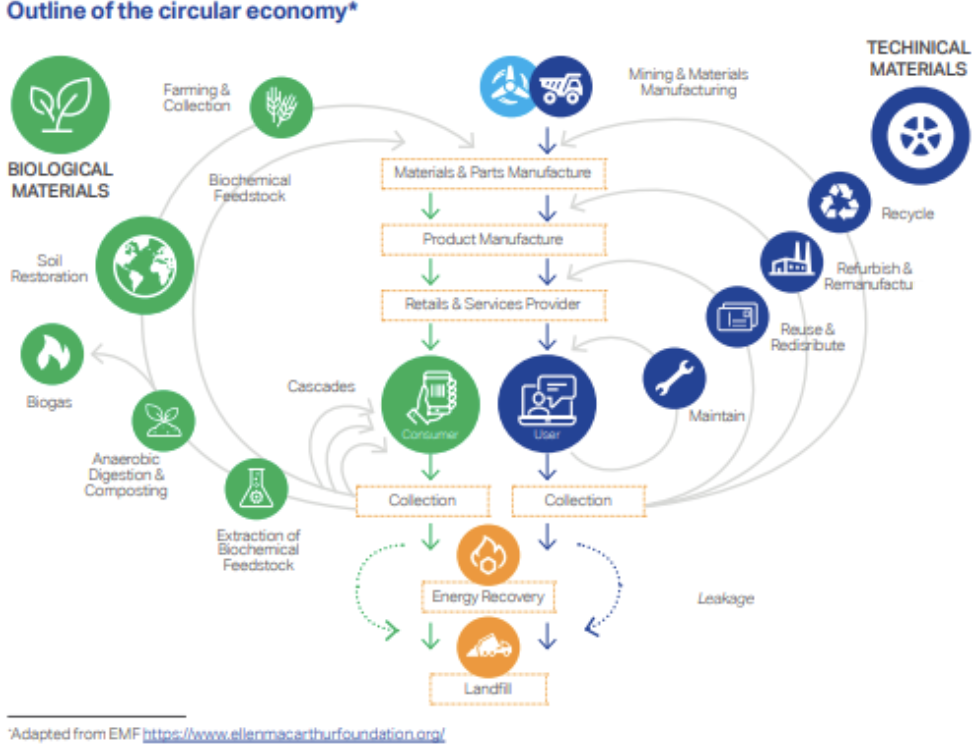 Four growing business models in the circular economy
Recycling



We

all know what

recycling is, but our everyday household recycling only consists of a small percentage of what we waste each year. For example,

by 2030, we will throw away

148 million tonnes

of clothing waste each year, which clothing brands such as

For Days

are working to fight with a closed loop system. You can read more on textiles recycling

here

. 


Rental

From bicycles to luxury fashion, companies are increasingly moving away from purchasing as a default and enabling customers to rent their goods. This shift away from traditional models both reduces unnecessary consumption and waste, and encourages brands to make their products more durable.


Secondhand marketplace

The resale market is booming, outpacing the growth of traditional retail

eleven times over

. Some brands are seizing this opportunity to establish their own resale capabilities, but this comes with its own swath of operational complexities.  In turn, partnering with third parties like

Reflaunt

is an attractive option for businesses from department stores to DTC looking to close the loop, sparking the rapid growth of a whole new services segment. 


Reusable and plastic free packaging

From our water bottles to our ecommerce purchases, we dispose of millions of tons of plastic waste every year and less than 10% of it is recycled. One way to address this issue is by using compostable materials that serve little harm when disposed of properly, such as Pela products. But some companies are truly disrupting our traditional models and teaching new behaviors, such as Zero Grocery and Olive, which rely on their customers to return packaging after use to put back into circulation.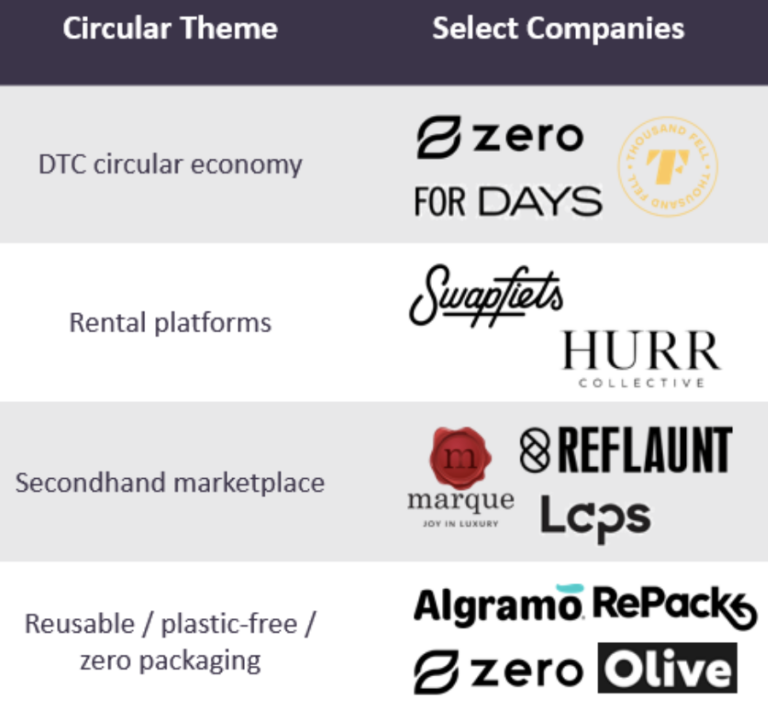 The payoff for participating in the circular economy 
Some companies are even financially incentivizing customers to engage in their circular operations. Footwear players Thousand Fell and Allbirds give their customers store credit for recycling their old shoes, while Madewell gives those who return old jeans money towards buying new ones. Initiatives like these are just some of the ways that brands are building authentic marketing strategies and not only increasing acquisition, but driving loyalty and retention, which has become especially important with marketing costs on the rise. 
The sustainability team here at Volition Capital would love to chat with businesses across the entire circular economy, from raw materials, to supply chain solutions, to e-commerce players, and hope we can help drive us one step closer to closing the loop. Learn more here.