The other week, the Motley Fool described Shopify's stock as the Tesla of E-commerce, which is no small comparison with the elevated importance of E-commerce in the midst of dozens of "shelter-in-place" orders around the country. Of course, with the recent market volatility, stock prices aren't always the best indicators of the fundamental health of a business, but we agree with the article in this respect: both companies are reshaping their industries. As we discussed in a recent blog post about the Next Enabling Platform, we are big believers in the power of enabling platforms to create vibrant, valuable ecosystems of third-party applications: and that's just what Shopify is doing.
In an era where businesses are becoming reliant on enterprise software platforms for day-to-day operations, third-party software vendors are increasingly called upon to help optimize workflows or patch up common pitfalls that users of those underlying platforms may face. As we continue to further our understanding of the platform and the key players in the space, we have found Shopify to possess all of the key ingredients that have made other enabling platforms successful: 
A critical mass of users

An open platform that vendors can easily build upon

A thriving partner program and App Store to drive efficient customer acquisition

Aligned economics within the entire ecosystem to incentivize innovation
With this in mind, here are the three key takeaways that we've had about Shopify and its partner ecosystem:
#1 Shopify is on a mission to build the premier back-office software and services platform for online merchants
As many consumers already know, Shopify is growing like crazy, expanding from 145,000 stores in 2015 to over 1 million stores by Q3 2019. The Company's primary objective is to provide online merchants with all of the back-office tools necessary to get their businesses up and running quickly. Shopify's revenue is primarily a function of the total Gross Merchandise Volume (GMV) that runs through the platform, so above all else, Shopify's aim is to drive as much sales volume as possible through the platform.
As opposed to E-commerce enablement platforms like BigCommerce and Magento (acquired by Adobe), who primarily focus on partnering with mid-sized to enterprise-level merchants, Shopify has been able to dominate the SMB end of the market by offering the easiest platform in the space for merchants to set up and maintain their online stores.
#2 Shopify is making it very easy for third-party software vendors to get off the ground
Shopify's focus on GMV growth ultimately means they want to drive as many eyes and sales as possible to stores on the platform. This dynamic bodes well for the Company's partner ecosystem that it relies on today to build tools and offer services that help merchants not only launch their online stores but also grow them. Although some third-party software vendors focus on back-office functions like fulfillment, most vendors in the Shopify software ecosystem today provide front-office applications that assist with optimizing the customer experience for Shopify merchants.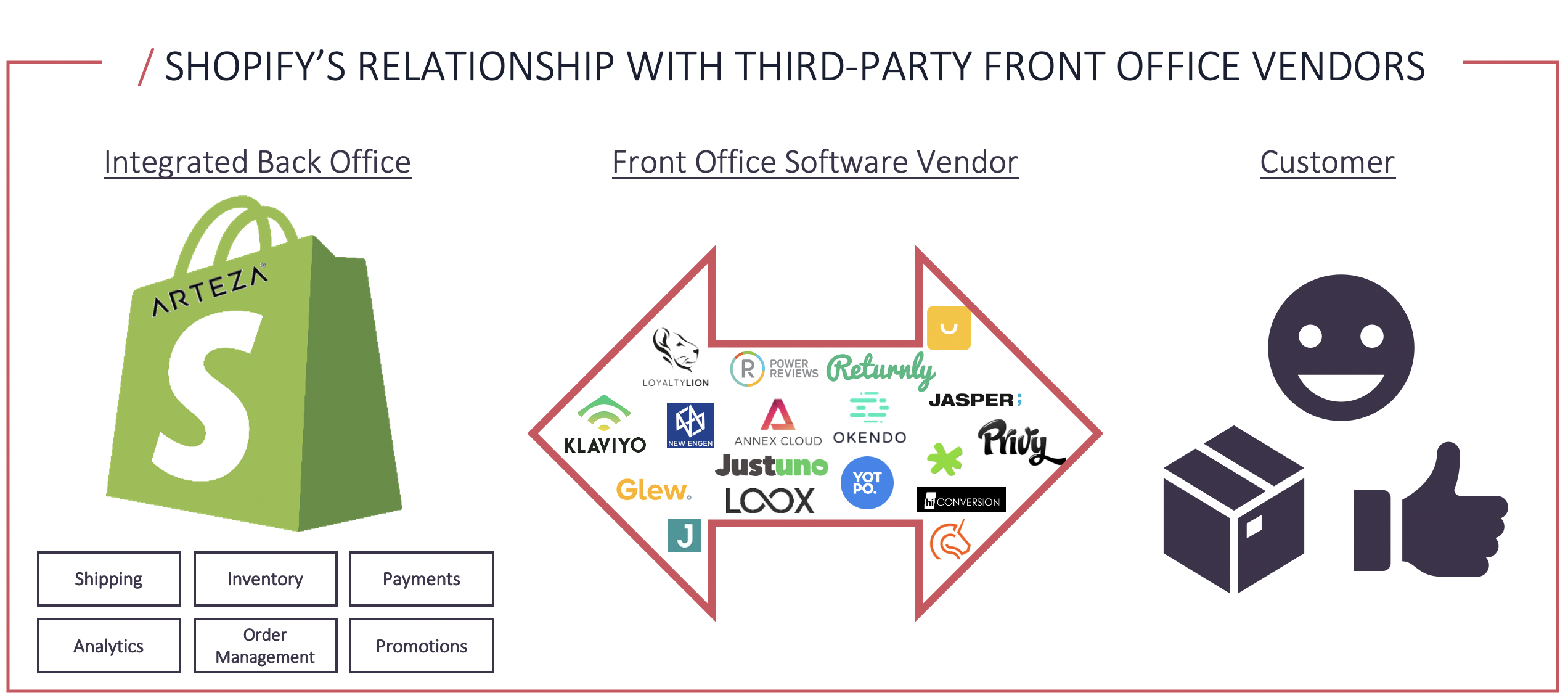 One of the major advantages of going to market within Shopify's App Store is that software vendors can acquire customers in a highly efficient manner. Although vendors who are listed in the App Store are required to pay 20% of sales back to Shopify, businesses whose solutions rank highly within the App Store can invest a relatively low amount of time and money into their outbound sales operations when compared to a traditional SaaS business.
#3 Customer churn and segmentation are consistently the toughest hurdles when building a software business in the Shopify ecosystem
The biggest pain point for third-party software vendors in the Shopify ecosystem is undoubtedly the inherent churn that they experience from merchants using their applications. Since Shopify primarily targets the long tail of the market with customers whose annual GMVs are well below single-digit millions, there is just an inherent degree of "natural" platform-level churn that ecosystem partners must contend with.
These baked in churn dynamics make building a business of significant scale increasingly more challenging for software vendors that are exclusively servicing the long tail of smaller merchants on Shopify. While the platform does enable developers to get up and running quickly, solutions that remain narrowly focused on a single, self-serve use case for the SMB end of the market frequently plateau as they bump up against difficult churn-replacement dynamics. Moreover, there comes a certain point at which acquisition efficiency begins to rapidly decline with incremental marketing spend as companies reach peak status in the App Store. There is only so much additional traffic that can be generated at the top of the funnel.
To date, the best businesses that have leveraged Shopify in order to scale, such as Klaviyo and Yotpo, have successfully navigated these dynamics by 1) broadening their offerings to complementary areas to further upsell and cross-sell their existing install base, 2) moving up-market where customers are stickier with much higher annual contract values (ACVs) and/or 3) entering new platforms like Magento and BigCommerce at the point in which they "max out" the App Store or Shopify Plus Partner channel in order to sustain growth.
Closing thoughts
Capital efficiency is a key pillar of Volition Capital's investment focus. Whether you think Shopify is the Tesla of E-commerce or not, it is enabling third-party software vendors to operate under early market conditions that seem promising for building sizeable businesses in a capital-efficient manner. While there are certainly dynamics around retention, customer acquisition, and multi-platform extensions that founders in this ecosystem will need to figure out in the coming years, the opportunity for third-party applications enabled by the Shopify platform is incredibly compelling.  The ecosystem is young and evolving quickly, and we're excited to see where it goes as the platform continues scaling.