Why did Volition Capital invest in Grove Collaborative? The simple answer is we believe the company has similar ingredients in place as some of our most successful investments. This certainly doesn't guarantee success, but it serves as a promising foundation to build upon. 
Let me step back – some of our best investments had 3 core pillars in place that anchored the investment thesis:
The first pillar is a very large existing market. There should be no speculation about whether the market will materialize. There should be no guessing about the scope of the spend in the market. In good times, the market is on the larger side of huge. In bad times, the market is on the smaller size of huge. It's huge either way – it's a very real and very large market.
The second pillar is just as important – there's a strong secular long-term shift in the spend of that market. We look for shifts that can be expected to continue for many years to come which would result in a meaningful portion of the spend in the market changing hands. That means billions of dollars are flowing in a different direction than before – this shift in spend is what creates the opportunity for emerging companies in that market.  
And lastly, we look for a company that we believe is leading the way in that strong secular shift which is the one we ultimately invest in.
Therefore, the 3 pillars are simple: large existing market, secular shift in spend in that market, invest in who we believe is the leader. 
Some examples from our portfolio Hall-of-Fame:
Chewy: Leading the shift from offline to e-commerce in the ~$75B pet products market

Globaltranz: Leading the shift from telephone to Internet-based brokerage in the ~$50B freight brokerage market

Connatix: Leading the shift from display to video in the ~$200B online advertising market
So, here's what we see when it comes to Grove:  
Large Existing Market: The home personal care market is a large existing market with over $200 billion in spend in the US. This market includes all of your household consumer essential spending in:
Cleaning (e.g. kitchen, bathroom, laundry, etc.)

Home and Pantry (e.g. storage, trash, cooking, paper products)

Personal Care (e.g. bath and body, haircare, skincare)

Health and Wellness (e.g. vitamins, supplements, medicines, etc.).
In short, the spend in this market is established, durable and real and has supported several billion dollar brands over time.  
Secular Shift in Spend: The foundational shift happening in this market is from conventional to sustainable products including the specific shift from single-use plastics to zero plastic. This secular shift is being driven from all levels – from a regulatory perspective at state and local governments and bottoms-up as consumers change their spending patterns in search of more environmentally friendly options. We have also talked with several executives at CPG conglomerates who have made it clear that more sustainable products and packaging is a top initiative in the industry. We believe that this shift will continue for years to come – which means billions of dollars in this market have the potential to shift to more sustainable brands.
Invest in the Leader: Grove Collaborative has been leading the way in sustainable household essentials for over a decade. When I first met Grove's co-founder Stu Landesberg in 2016 – Grove was the first-mover and early leader in sustainable home essentials, and now in 2023, they are the beneficiaries of having worked on this problem for over a decade. According to internal analysis of zero plastic companies, Grove has #1 market share in the zero-waste home segment in terms of sales, awareness, and impressively community size with over 1 million active customers in their DTC platform. Most importantly, they have a culture of innovation with their community that has allowed them to launch hundreds of SKUs to continue to lead going forward. 
Having the 3 pillars in place sets the stage for a great opportunity, but by no means does it guarantee any success. The key question then is how do you execute against that opportunity?
Execution Philosophy: Capital Efficiency and Profitable Growth
Over the years since I've known Stu and watched Grove develop as a company, I've admired their execution on many different dimensions except for one in particular – the company was not efficient enough with its capital. To be fair, a lot of the most promising companies of the last decade all were able to raise capital easily and that led to inefficient use of that capital which is inconsistent with Volition's philosophy.
Times have changed and so has Grove's posture towards capital efficiency. We align with the company's focus on profitable growth and the many initiatives the company has pursued to achieve this goal. We see in the underlying results of the company that they have taken meaningful steps in the right direction to demonstrate operating leverage across the business including:
Net Revenue per Order:

Increased from $42 in 2019 to $65 in Q2 2023

Gross Margin:

Improved from 36% in 2019 to 52% YTD in 2023

Grove Brands:

Increased from 37% of revenue in 2019 to 47% YTD in 2023

Fulfillment Costs:

Fulfillment as a % of net revenue improved from 39% of revenue in 2019 to 23% in Q2 2023

Contribution Margin:

Expanded from -4% of net revenue in 2019 to 29% in Q2 2023

Marketing Efficiency:

Advertising as a % of revenue has declined from 33% in 2019 to 7% in Q2 2023, and marketing efficiency has grown 60% YoY in Q2 2023

Opex / SG&A:

Adjusted SG&A + Product Development spend has declined from $25M of spend in Q1 2022 to $17M in Q2 2023

Adj. EBITDA:

Adjusted EBITDA margin improved to -3.9% in the most recent quarter and they expect to reach profitability in 2024
While there is still more to be done across all of these dimensions and others to foster sustained profitable growth, it is noteworthy that this investment coincides with the company's first ever operating cash flow positive quarter. These are all signs that the steps they are taking to be more capital efficient are having an impact and the company is moving in the right direction. 
Realistic and Impactful Growth Levers
With the shift towards sustainable household essentials providing tailwinds for Grove and with their focus on capital efficiency and profitability properly prioritized, the question then is are there realistic and impactful growth levers that are tried and true rather than speculative in nature? We believe there are.   
The first is physical retail. Grove's retail store presence has grown over 100% YoY as they are now in over 5,000 retail store locations across leading retailers like Target, Meijer, Kroger, and CVS. The physical retail channel is early but holds strong potential for the future. 
The second is Amazon. Grove just entered Amazon as a channel in Q1 2023 and is scaling well. Not surprisingly, our experience with several other brands on Amazon is that expanding into the largest online store in the world can be a growth enabler for years to come which we believe is a high probability for Grove.
The third is product category expansion. Grove has recently expanded into the health and wellness category which is inclusive of vitamins, supplements, functional food and beverage, etc. Our experience with this category is consistent with Grove's experience that it is a higher spend, higher margin, and very stable and recurring category which we think has great promise for Grove.
Finally, there is a long term opportunity for Grove to extend beyond their current brand to be the first scaled sustainable consumer products platform. The ten largest CPG companies command approximately $1 trillion in market cap. All of them are platforms that own multiple brands which leverage shared infrastructure. Additionally, they are all wedded to single use plastic and other conventional formats. There is a higher level opportunity for Grove to build the next evolution of that platform, potentially through M&A, as consumer preferences shift over the years to come.
There are several other growth levers including new product innovation, expansion of services to Grove's VIP members, exploring new customer acquisition channels and further strengthening the ties within Grove's expansive community that we believe can also drive growth for Grove in the future.
If the opportunity is right, the operating philosophy is right, and the growth levers are there – but you're not delighting the customer, then the first three may not matter. The absolute commitment to delighting the customer must be present for a business to have outsized success. While Grove is executing on many dimensions here, I'd highlight a couple that give us confidence.
First, Grove has what we call a "category comprehensive" offering. The most successful consumer companies are both efficient with their SKUs while still offering customers a category comprehensive SKU experience in their respective verticals: Chewy (pet products), Wayfair (furniture), GameStop (gaming), Arteza (arts and crafts), etc. With approximately 3,000 SKUs available on its D2C site, Grove is a complete experience for consumers in home essentials, which we believe is key for driving customer delight. The company is saying – you don't need to shop anywhere else for home essentials which is a commitment to convenience for customers. 
Secondly, Grove is doubling down on its commitment to cater to its VIP members. With the recent launch of VIP Hub and the continued layering of benefits and services to VIP members, the value being delivered to Grove's most loyal customers continues to grow meaningfully. This is helping to foster a heavily engaged and expansive community of passionate customers around the brand which may very well be Grove's strongest asset.  
These and other initiatives have translated into stable, sizable, and long-term revenue cohorts  – which simply means that customers are expected to come back and shop with Grove consistently for many years.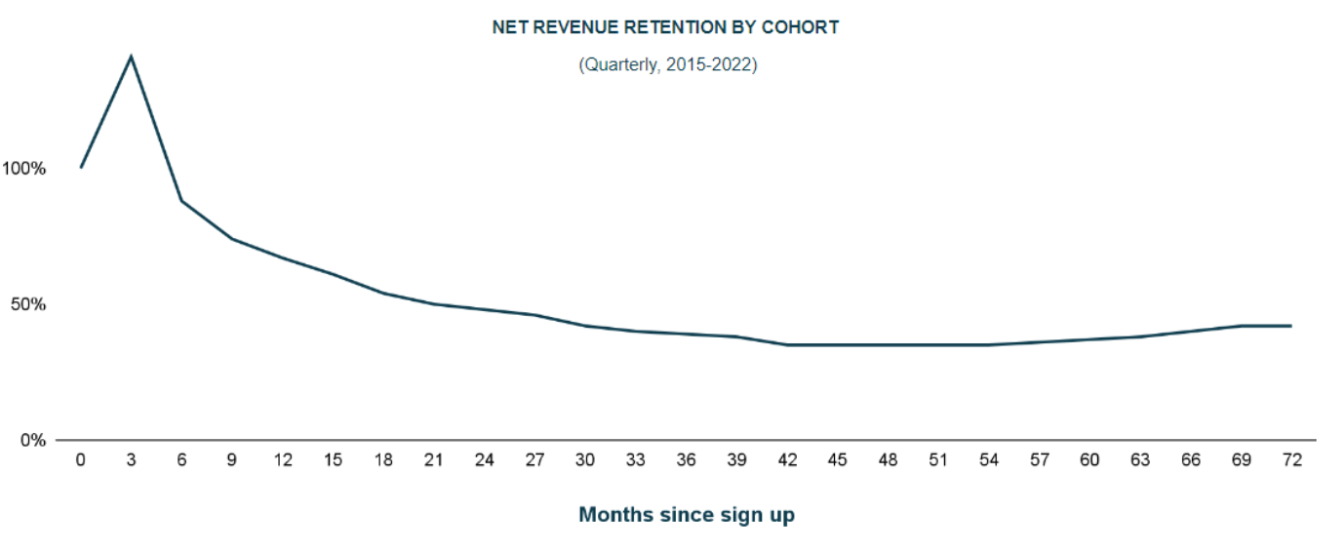 The long-term stability of these cohorts points to a delighted customer where Grove has become part of the fabric of their lives year-in and year-out. In our view, this is very strong retention and can serve as the foundational layer for building a valuable and impactful company. 
Lastly, but most importantly, you need to trust the people running the ship. I've long admired Stu Landesberg as a leader. He embodies the vision, mission, and drive behind Grove's place and leadership in this market. I am genuinely excited to have the opportunity to work with Stu in his new role as Executive Chair to help fulfill Grove's mission.
We are also impressed with the operational strength and consumer experience within Grove's Board of Directors. We are aligned with the strategic priorities of this board and have been impressed with the company's resulting execution. I am also very privileged to be joining Grove's board.
And of course, we welcome Jeff Yurcisin as Grove's new CEO. Jeff is a proven leader in scaling consumer and e-commerce businesses. He embodies the love of the mission, the dedication to the customer, and the operational excellence that we had hoped to find in Grove's next leader. We are lucky to have someone of his caliber at the helm of the company.
We believe with high conviction that there will be billion dollar sustainable brands built in CPG in the future. While there are never any guarantees, Grove has been leading the way in sustainable home essentials for the past decade, and we believe they are in a strong position to lead the way going forward into the future as well.  
We are honored that Grove decided to partner with all of us at Volition on this exciting journey. The company didn't need our capital, but they valued and desired our partnership which is a vote of confidence we take very seriously. It is our intent to deliver to the Grove team and to all of its shareholders the very best that Volition has to offer as a partner. 
–Larry
DISCLAIMER
The views and opinions expressed herein are solely those of the author and do not reflect the views or opinions of Grove Collaborative or its affiliates. The author does not guarantee the accuracy or completeness of the information provided in this document. You should not treat any opinion expressed herein as a specific inducement to make a particular investment or follow a particular strategy, but only as an expression of the author's opinion. All information provided is for informational purposes only, and shall not be relied upon as personal financial advice. Any reference to a specific investment strategy is only to assist in learning, and shall NEVER be relied upon when making future investment decisions. Except where otherwise indicated, the information provided herein is based on matters, opinions and views as they exist as of the date of preparation and not as of any future date, and the author undertakes no obligation to correct, update or revise the information in this document or to otherwise provide any additional materials.
The author and the author's affiliates may currently have long or short positions in the securities of certain of the companies mentioned herein, or may have such a position in the future (and therefore may profit from fluctuations in the trading price of the securities). To the extent such persons do have such positions, there is no guarantee that such persons will maintain such positions.
Investments in securities involve the risk of loss. Past performance is not indicative of future results. Neither the author, Volition Capital, Grove Collaborative nor any of their respective affiliates guarantees any specific outcome or profit. You should be aware of the real risk of loss in following any strategy or investment discussed herein.
Neither the author nor any of its affiliates accepts any liability whatsoever for any direct or consequential loss howsoever arising, directly or indirectly, from any use of the information contained herein. In addition, nothing presented herein shall constitute an offer to sell or the solicitation of any offer to buy any security.