We invest in a range of software and tech-enabled services businesses that streamline go-to-market (GTM) organizations' customer interactions, administrative workflows, and data analysis processes through world-class offerings.
Why We're Getting Invovled
Modern technology is fundamentally revolutionizing how sales & marketing teams function in both their internal and customer-facing capacities. Indeed, given the meteoric rise of vendors across many sub-categories over the last decade, go-to-market teams now have an unprecedented opportunity to adopt software that can 1) streamline record-keeping; 2) enable greater engagement with customers or prospects; 3) provide data-driven actionable insights to guide future decision-making.
Given our recent investments in Creatio (low-code CRM & BPM SaaS) and OneDay (video sales enablement SaaS for the residential real estate industry), we have a deep appreciation for the significance of these trends and are believers in the long-term staying power of modern vendors as we are witnessing firsthand the profound ROI they generate for customers. As such, we are deeply focused on continuing to partner with leaders of next-generation GTM technology businesses to help them capitalize on the market opportunity ahead.
While GTM technology has long been an area of focus for Volition, we believe that the category is currently at a pivotal inflection point and that it will see accelerated growth moving forward. This thesis is grounded in a few rationales.
Although the transition to online transactions – both in the B2B and B2C sectors – well preceded COVID, the pandemic supercharged the existing trend as go-to-market teams have been forced to digitize their selling processes to compete in an online-only environment. Even as opportunities for in-person selling return, we believe there has been a durable change in the behavior of buyers and sellers which has normalized digital channels as the primary avenue to complete transactions. As a result, it is becoming an increasing imperative for selling organizations to adopt software to remain competitive in a digital world.
Simultaneously, the number of GTM use cases that software addresses has greatly expanded, and perhaps more importantly, modern vendors have demonstrated strong results in making these processes more efficient. In turn, procurement executives are seeing their technology budgets expand as organizations come to realize that applications outside of just CRM can make meaningful contributions to both topline growth and cost savings.
When viewed in tandem, these factors serve as a robust foundation for a hastened pace of GTM tech adoption.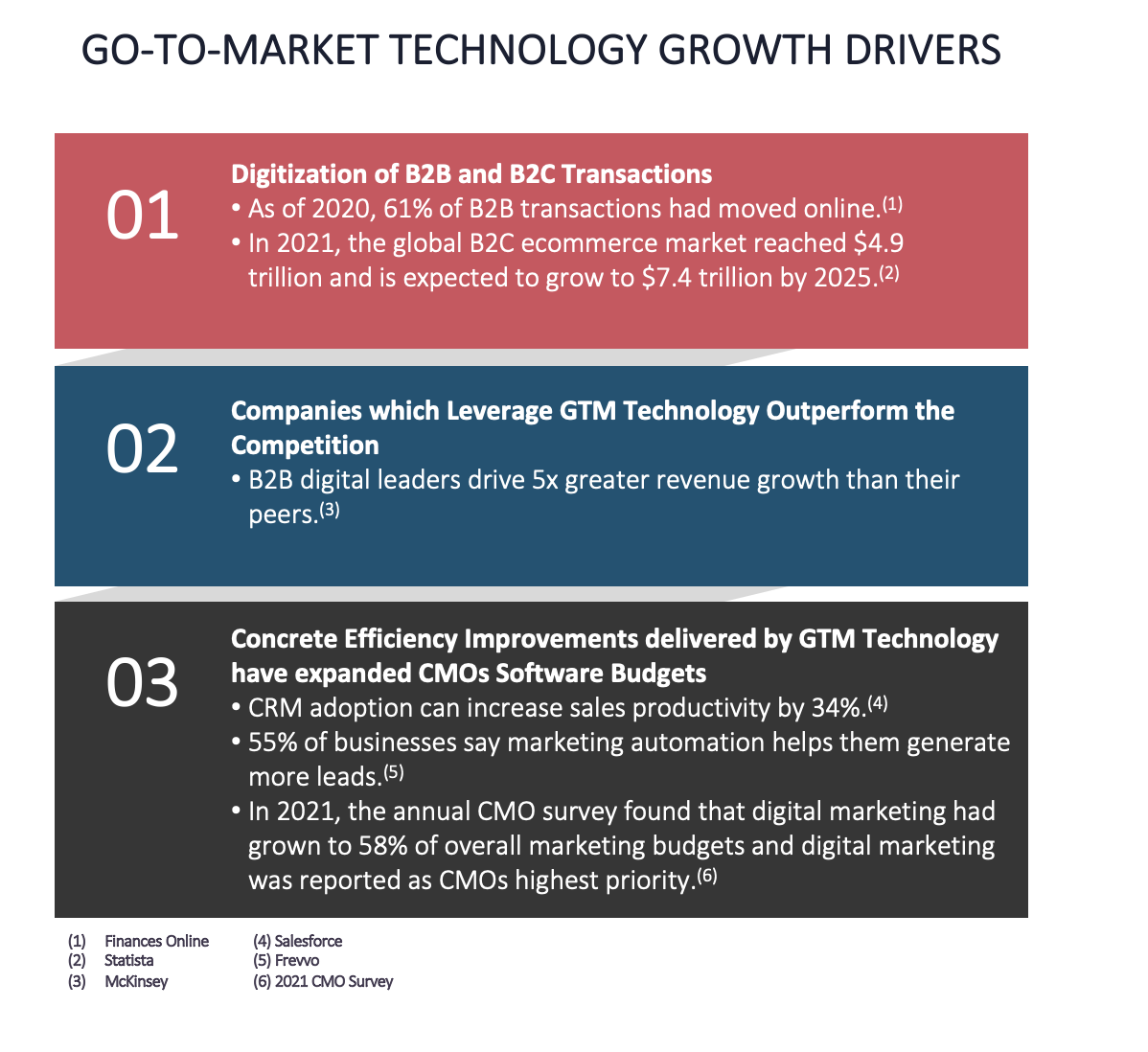 Some of our areas of focus are listed below, but we are excited to meet founders tackling all aspects of the go-to-market ecosystem.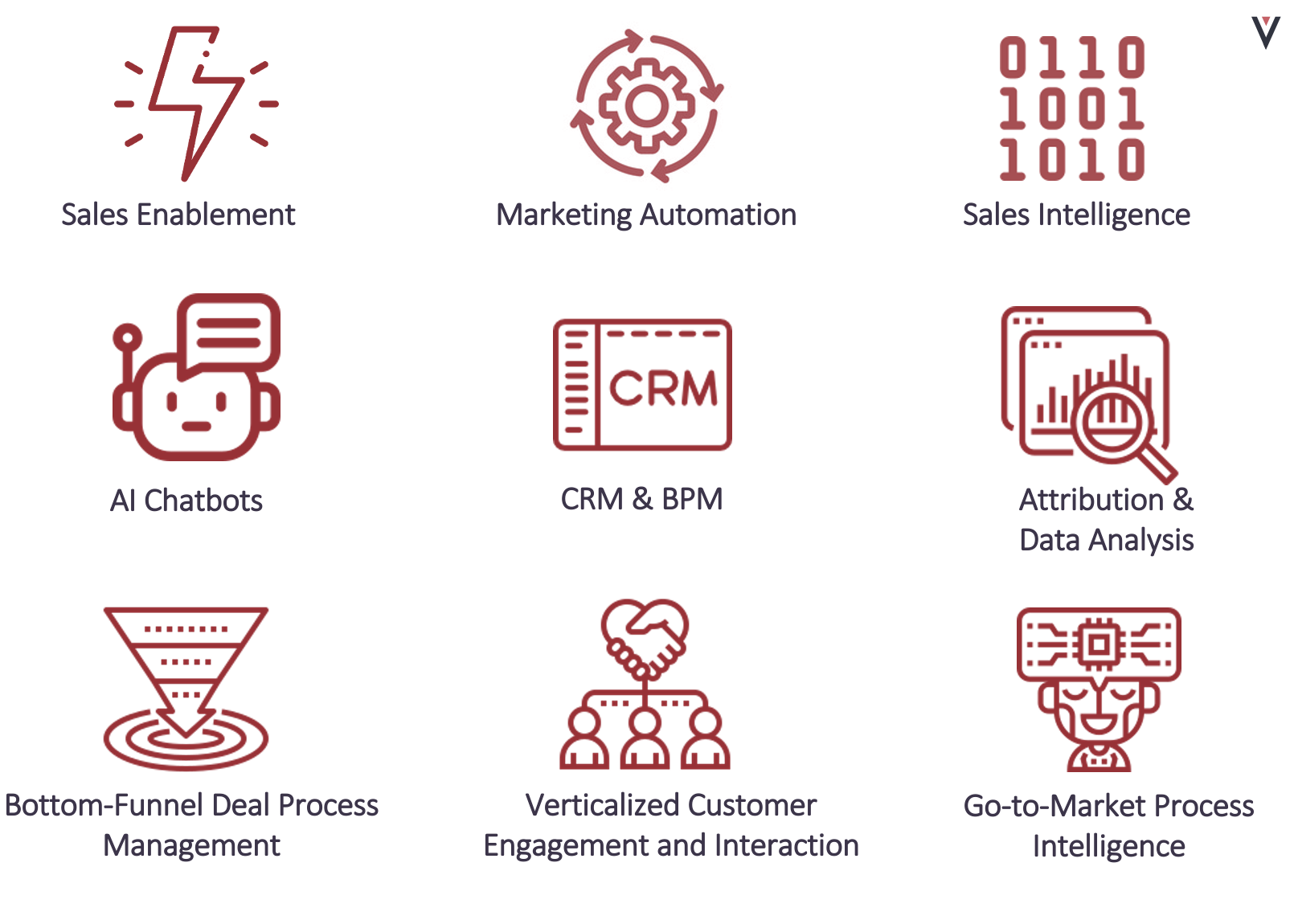 Volition brings a unique perspective to GTM technology companies given our experience scaling multiple businesses to $50 million+ in revenue. Moreover, our experience in multiple sub-verticals gives us a comprehensive understanding of the space and how software can address the variety of pain points customers face. Moreover, the pattern recognition we have compiled over the last 10+ enables us to serve as a valuable sounding board to entrepreneurs as they think through different strategic initiatives.
HELPING FOUNDERS GO AFTER THEIR DREAMS WITHOUT RISKING THEM
EXPLORE WHAT IT'S LIKE TO GROW WITH US.