Volition Capital invests in HR technology companies and platforms that actively advance the way companies manage their employees. The way in which companies are recruiting and engaging their employees has and will change drastically. At Volition, we believe that people are at the center of an organization's success and are excited to partner with founders that have a strong vision for the future of workplace technology.
Why We're Getting Invovled
Advancements in technology, along with the shift towards remote/hybrid work, have revolutionized every aspect of the employee experience. As a result, companies need to maintain employee culture, connectivity, and productivity without relying on a shared, in-person workspace. Companies are re-evaluating and investing in every step of the employee experience, including recruiting, onboarding, training, communications, and productivity management. At the same time, companies are increasingly leveraging back-office software to manage functions such as background checks, payroll, and benefits. Companies need to answer big questions on how to efficiently manage their workforce and are turning to technology to do so.
As HR technology grows in relevance and urgency, we believe that HR technology companies that balance both breadth and depth in their offerings are poised for long-term success, and Volition can serve as a strong value-add partner as teams scale the next phase of their growth. As the future of work continues to evolve post-Covid, Volition Capital will seek to identify and support the HR tech providers that are positioned to lead this next phase in remote and hybrid work.
Some of our areas of focus are listed below, but we are excited to meet founders tackling all aspects of the HR technology ecosystem.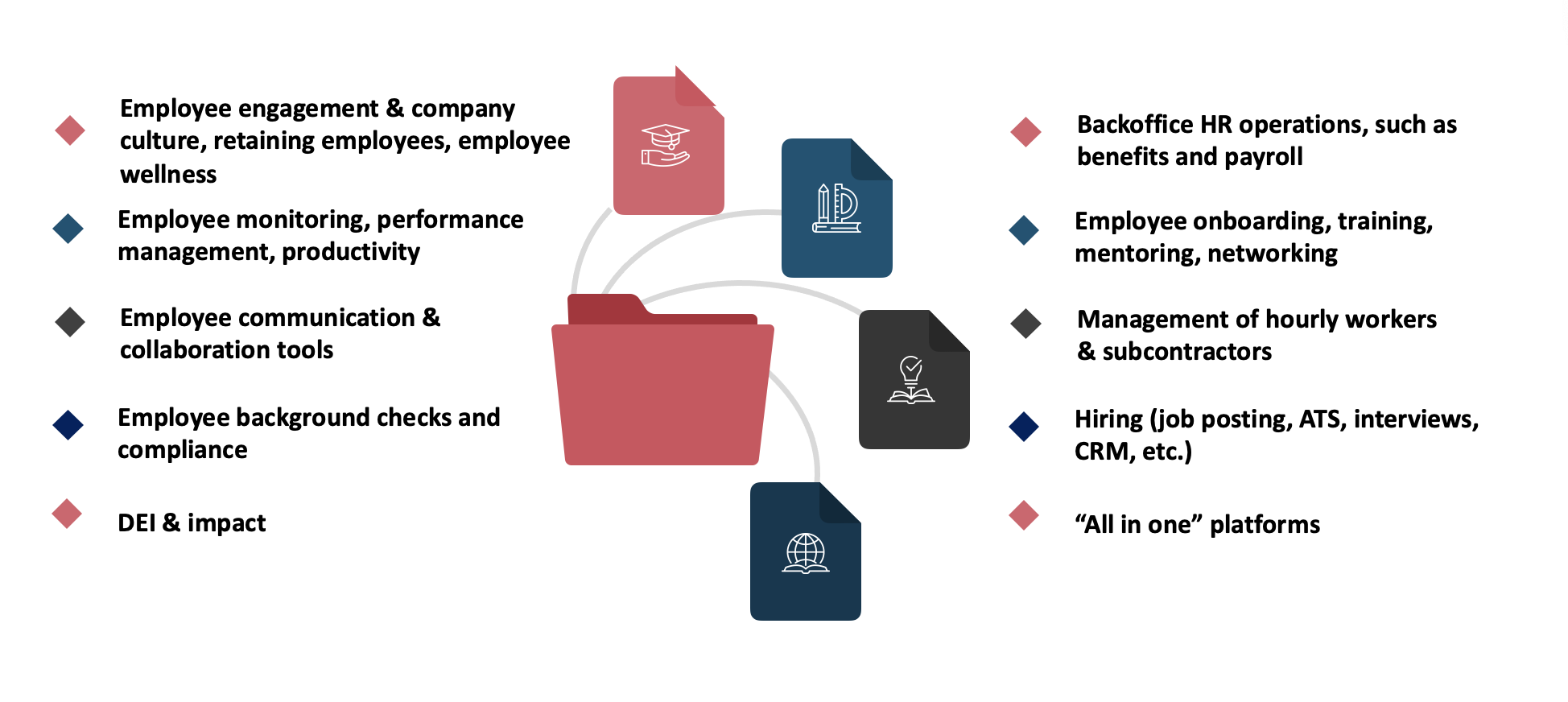 Volition's portfolio experience in HR technology solves a wide variety of employee engagement and recruitment pain points, which gives us a unique perspective on the space as value-add investors. With all our portfolio companies, regardless of industry, we believe that human capital is one of the most important resources and levers for success. We are excited to take our expertise in scaling software businesses and partner with founders that are leading advancements in workplace technology.
HELPING FOUNDERS GO AFTER THEIR DREAMS WITHOUT RISKING THEM
EXPLORE WHAT IT'S LIKE TO GROW WITH US.