The Movement of Physical Things: The Internet has and will continue to change how all physical things are being moved.
This is true across almost every category. In ride-hailing, we've seen the growing dominance of Uber and Lyft. DoorDash and Grubhub have likewise fundamentally changed food delivery. Even in waste management, disruptors such as Recycle Track Systems (RTS) are beginning to establish themselves as real players. All of these industries are seeing tech-enabled or internet-enabled disruptors who are upending the traditional offline, legacy players. Multiple underlying secular trends have enabled technology transformation for the movement of physical things and bringing legacy offline processes online. Due to an increase in smartphone adoption, the development of the gig economy, the advent of mapping technologies / APIs, and the rise of predictive analytics and machine learning, physical movement disruptors can offer streamlined services directly to their users.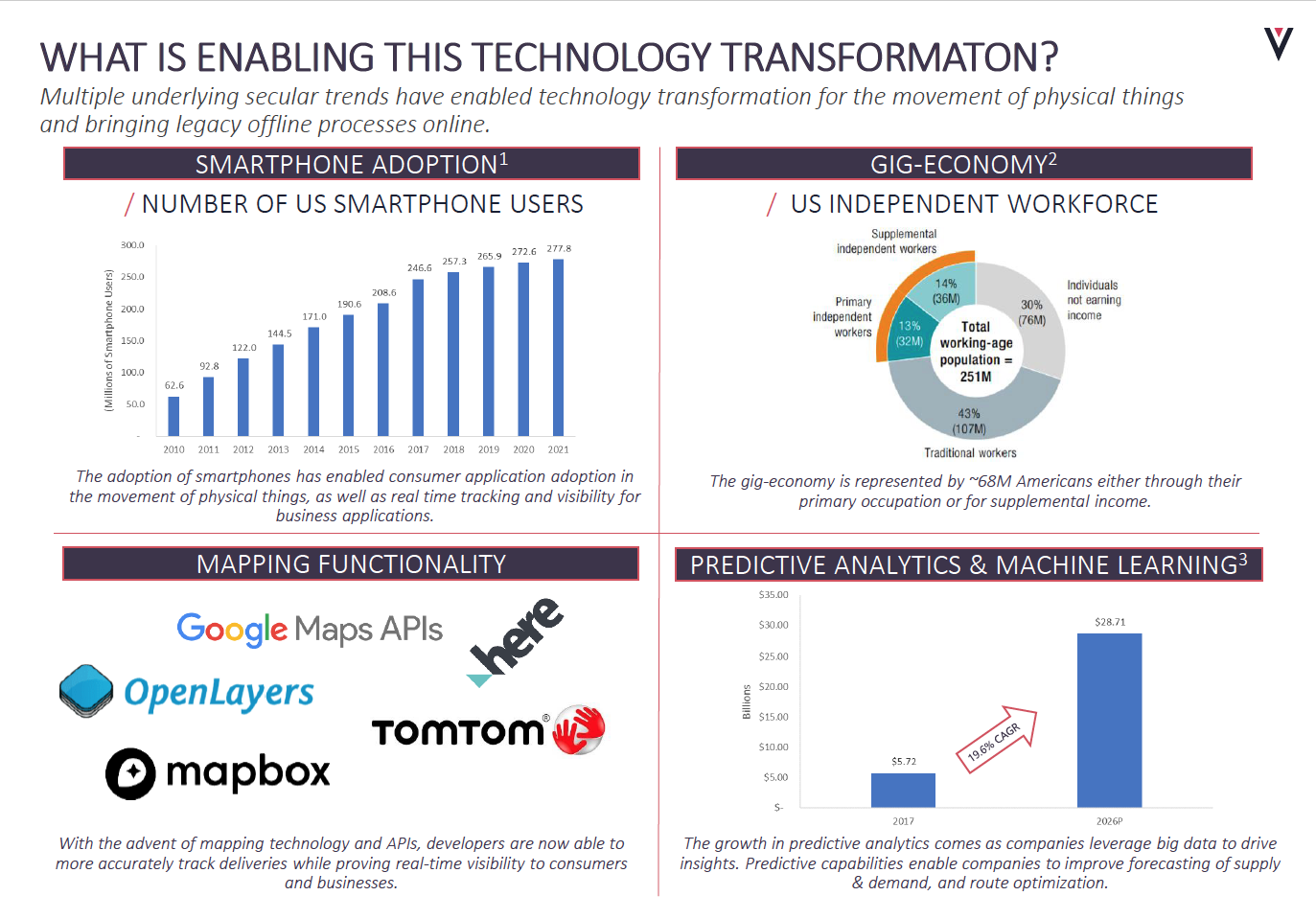 Movement of Physical Things: Where's the Opportunity?
Attributes of offline, legacy solutions make numerous vertical markets ripe for technology disruption. A huge area of opportunity is industries in which these players are large and do not feel the pressure to innovate due to their traditional dominance, but there is often a variety of legacy company attributes that allow disruptors to establish themselves. Some of these include
Opaque pricing
Poor service levels
Complex movement and regulation
Fragmented markets
Lack of supply chain visibility
Due to the proliferation of opportunity, multiple vertical markets across the movement of physical things have startups valued at ~$1B+. These companies are quickly outpacing legacy providers. For instance, online food delivery is driving most of the growth in the food delivery market and is projected to reach 73% of the total food delivery market share by 2022. (4) The transformation of industries is happening quickly. In just three years after launch, the combination of Uber and Lyft surpassed the number of NYC taxi dispatches, which have nearly cut in half from their peak in 2013. (5)
There are four primary business models that are disrupting the movement of physical goods through technology adoption: Marketplaces, Gig-drivers, Tech-Enabled Service, and New Form. Online marketplaces allow for greater price transparency and remove many manual processes that were handled through pen and paper. Gig-drivers leverage the gig-economy and have created multiple valuable startups across categories to allow businesses to cost-efficiently deliver on-demand to customers.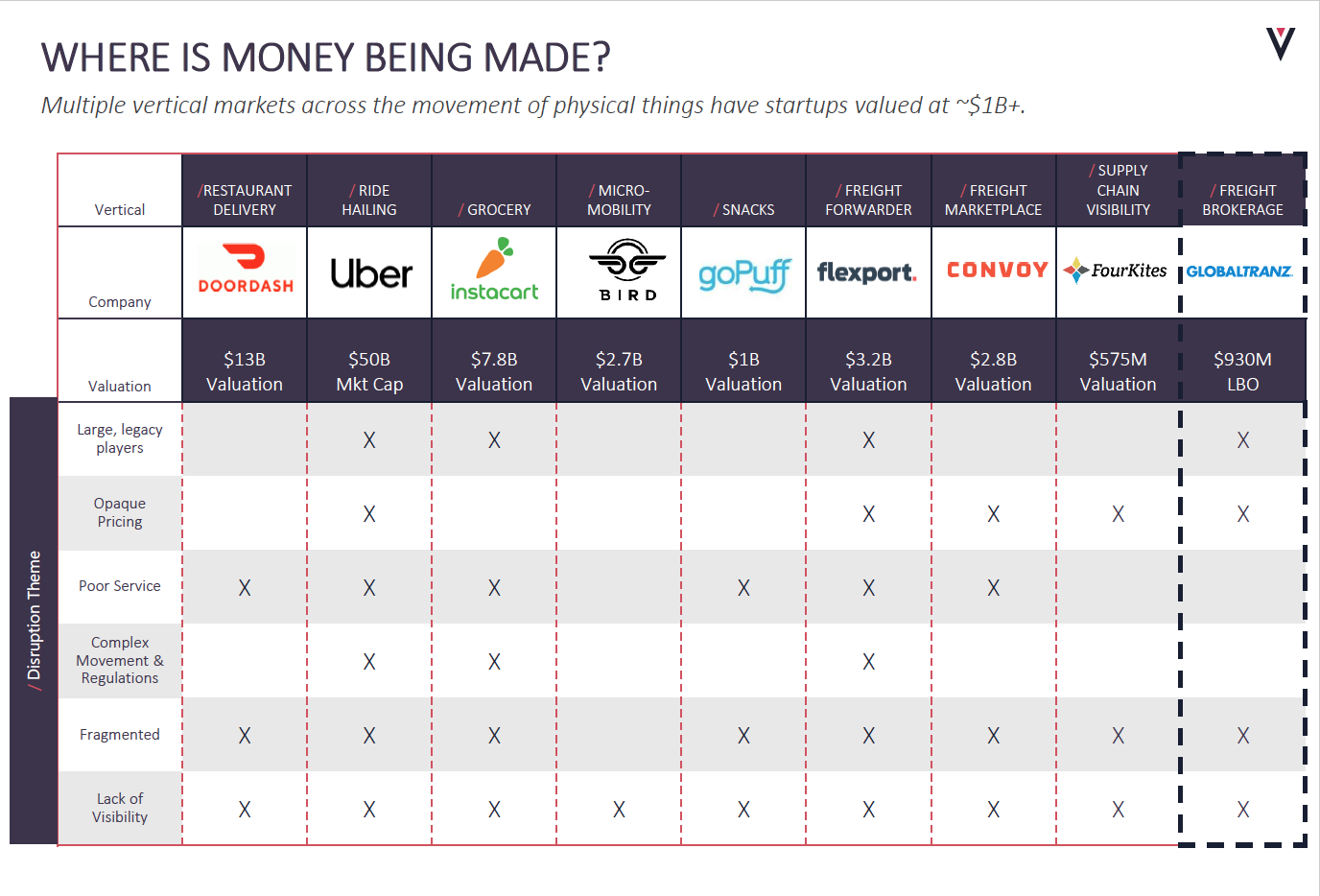 Tech-Enabled Service provides a layer of technology that can add enough value around visibility and transparency to disrupt legacy, offline markets. Finally, one of the rarest forms of technology disruption in the movement of physical things are entirely new form categories such as micro-mobility companies like Lime that can result in rapid revenue growth through first-mover advantage.
What Are Areas of Concern?
Though each of these business models have merit, there are some areas of concern that make some more challenging for future investment. The gig-economy of drivers are subject to an increasingly dynamic regulatory environment in addition to high driver churn. Many states are adding new regulations that will negatively impact companies leveraging the gig-economy. For example, California has passed a bill that will classify many gig-workers as full-time employees, that may be adopted by other states. Furthermore, the companies that leverage the gig-economy are all competing for the same drivers through signup incentive programs. This is causing high driver churn, with Uber reporting ~3% driver retention from time of signup to still driving after the first year. (6) B2C business models will similarly have challenges due to companies with large, pre-existing user bases. Uber has capitalized on their 50M+ US ride-hailing users and infrastructure to expand into multiple other categories including food delivery, micro-mobility, health care, buses, and more. It may prove costly for new players to acquire the necessary user base to compete.
Movement of Physical Things: Tracing the Future
There are still many vertical categories that have yet to be disrupted by technology in the movement of physical things. Given concerns with the gig-economy and costs associated with B2C models, we believe there is a strong case for B2B marketplace and tech-enabled service models in verticals that have attractive CAGRs. Volition's existing portfolio experience and knowledge allow us to work closely with companies in this sector while being a value-added partner. As early investors in Recycle Track Systems (RTS), our thesis was predominantly derived from low tech competitors having little to no service orientation. Our thesis was similar in GlobalTranz, that brought transparency in pricing through moving an offline freight brokerage process online for LTL shipments. Furthermore, Tracelink is providing visibility and transparency to the opaque pharmaceutical supply chain. We are excited to bring a similar philosophy to other verticals within the larger movement of physical things market.
CONTACT THE AUTHORS
Citations:
eMarketer

Free Agent Nation: The Future of Working for Yourself

Prescriptive and Predictive Analytics Global Market Outlook (2017 – 2026)

Cowen and Company

ToddWSchneider

The Information