By Jim Ferry
The Internet has and will continue to change how money is exchanged. 
This is especially true in the social distancing and quarantined environment we find ourselves in today. With most workers in the U.S. on lockdown, the physical movement of money is virtually at a standstill, accelerating a trend that was already on the rise. With eCommerce platforms like Amazon ramping up hiring by as many as 100,000 employees to handle the uptick in online shopping, companies that are disrupting currency transfer should expect a similar boost.
Here's Volition Capital's take on what this means and where the opportunities lie in the future:
How Things Are Moving
In the same way that the Internet has changed how all physical things are being moved, it is also changing how consumers and businesses exchange money. This is true across almost every category. Venmo and Splitwise have fundamentally altered the way that consumers split payments with friends. ClickPay has simplified the cumbersome process of paying rent, eliminating checks for consumers and resulting in better cash collection for property owners. Afterpay and Affirm have enabled consumers to utilize interest-free or low-interest installment payments to purchase products that otherwise may have been outside their monthly budget. Prosper offers personal loans that traditional banks may have denied.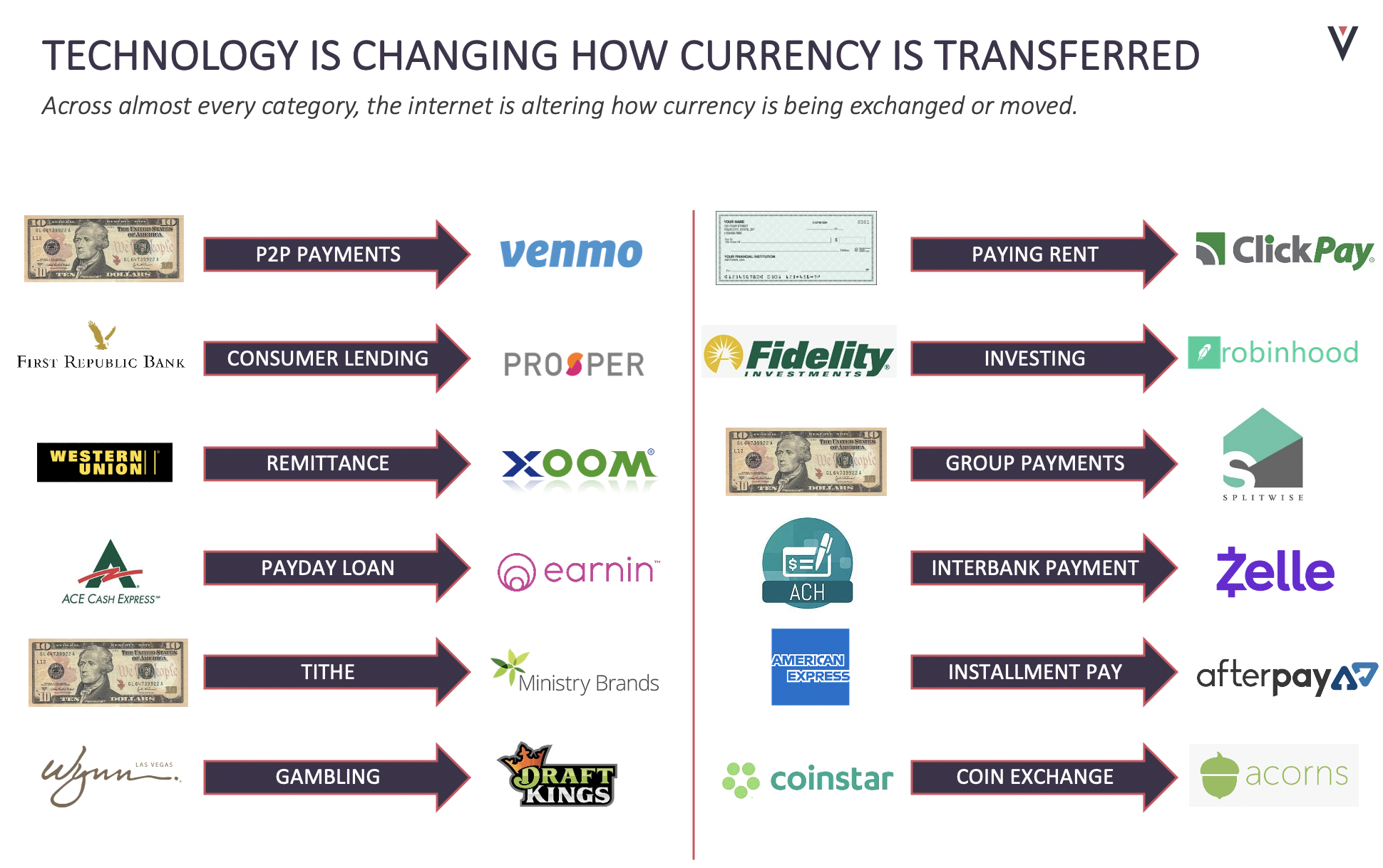 Multiple underlying secular trends have enabled this technology transformation for the movement of money for both consumers and businesses. A combination of smartphone adoption, open banking APIs and standards, increasing use of digital payments, and security advancement have all contributed to this secular shift.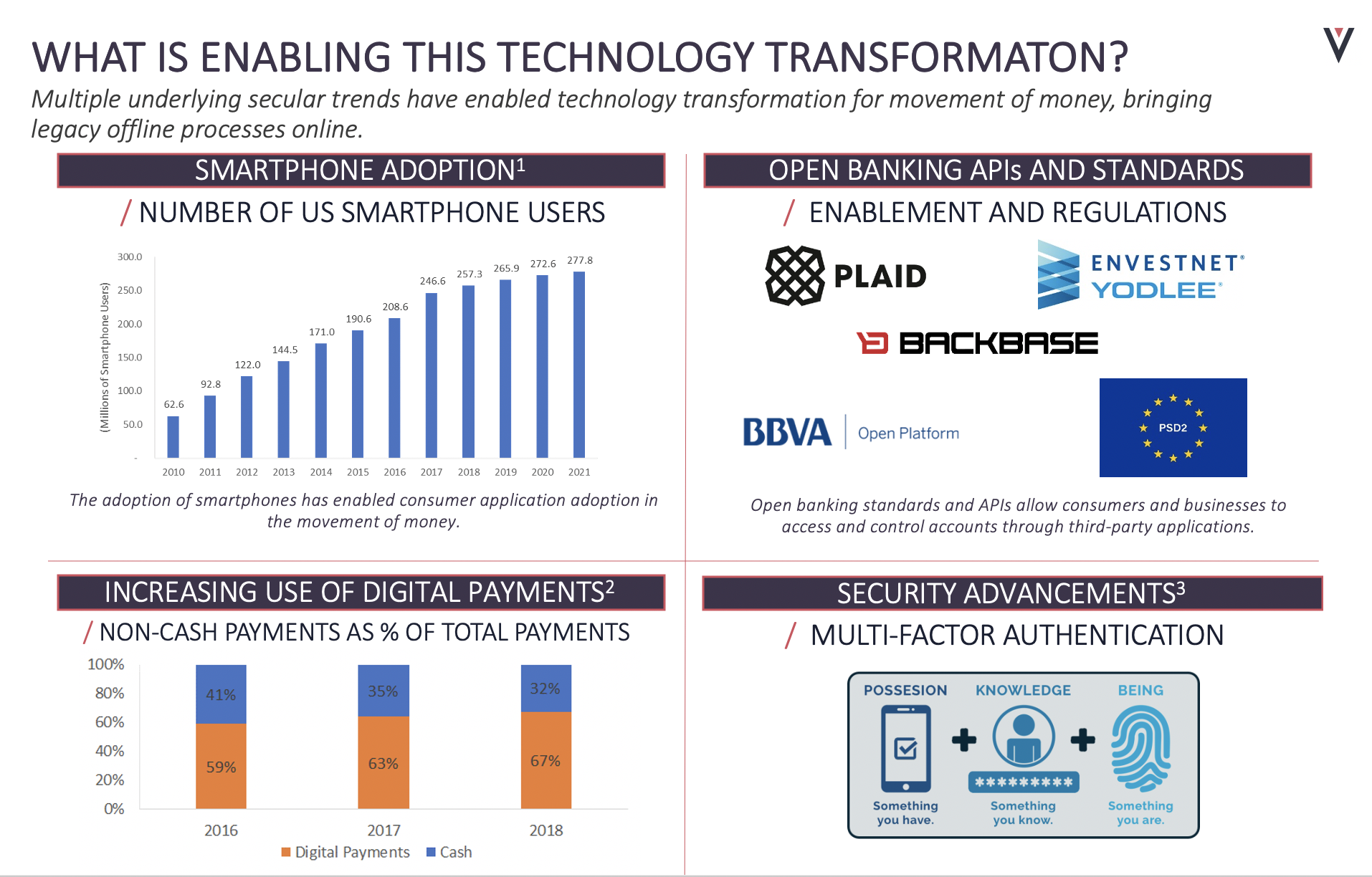 Where's the Opportunity?
As with the movement of physical things, there are attributes of offline, legacy solutions that make numerous vertical markets ripe for technology disruption in the movement of money.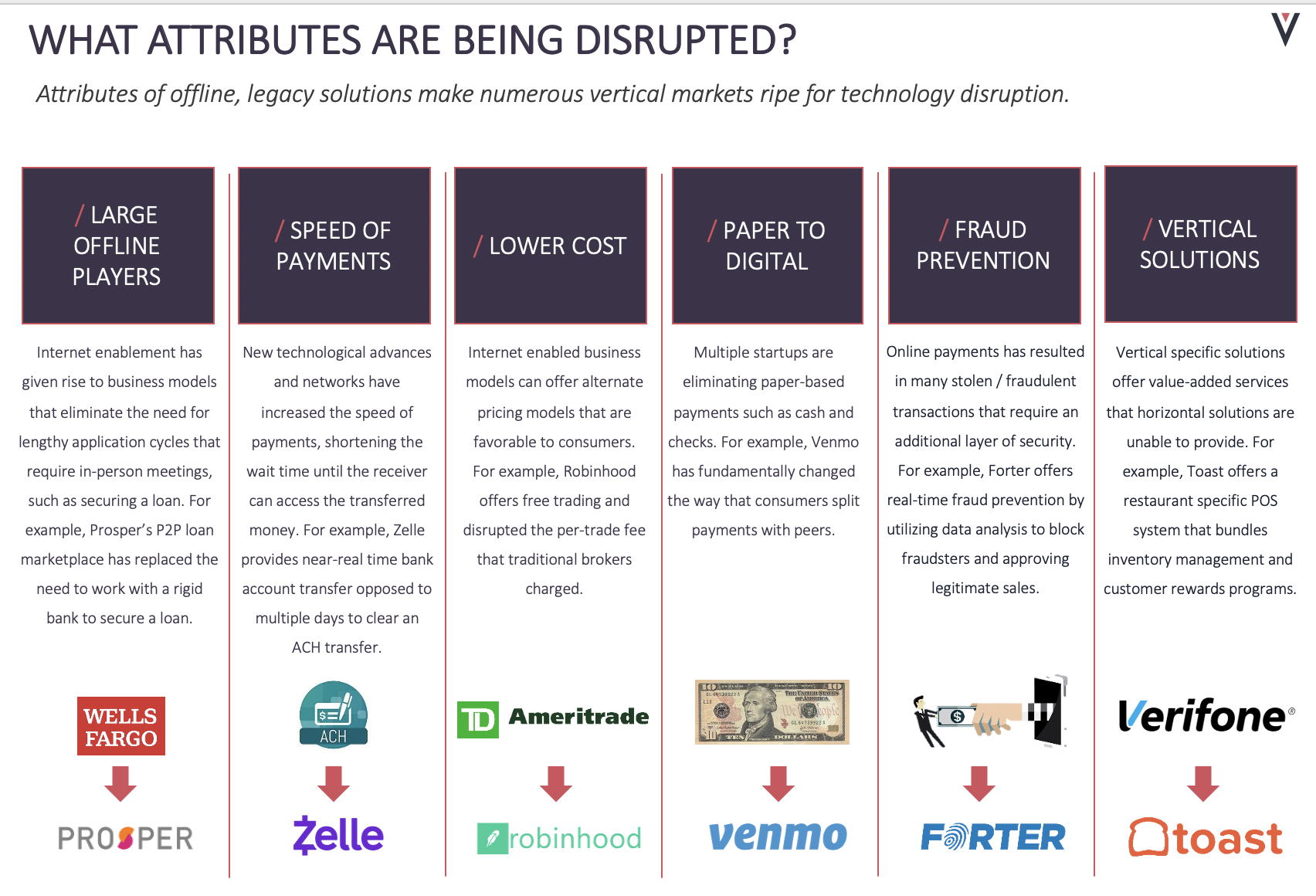 All these attributes individually provide enough incremental value for technology disruption. At Volition, we are interested in companies that fit at least one of these attributes given that the more attributes a startup has, the more value provided to the end-user.
These companies can scale rapidly as their business model is built on taking a small percentage of the total volume of currency that flows through their platform. For B2B solutions, landing a few clients can lead to massive volume, while some of the most successful B2C companies like Venmo see rapid exponential customer adoption. 
Tracing the Future
There are still numerous opportunities to disrupt the movement of money such as how we pay a bill at restaurants, layaway, cashier / guaranteed checks, and refinancing, among others. Volition has experience in this sector through investments in Xoom (a PayPal Service), a remittance provider for consumers that capitalized on a lower-cost alternative to traditional banks.
Our investment in Prosper was the first peer-to-peer lending marketplace in the US to help consumers secure small personal loans. We also provide a unique perspective to B2C models around customer acquisition strategies at scale given our consumer portfolio experience including Chewy.com (NYSE: CHWY). We are excited to apply this knowledge to help entrepreneurs build internet-enabled solutions to disrupt the attributes in the movement of money. 
Because of our experience and the numerous areas of opportunity, we believe we are in the early innings of technology disruption in how businesses and consumers make and collect payments. Eventually, the unique situation with coronavirus will pass and the economy will recover, but the physical transfer of money may never be the same.
CITATIONS:
(1)eMarketer
(2)The Federal Reserve
(3)Microsoft
Connect with the Authors