Ad tech is going through a tectonic shift because of regulatory and privacy changes, the rise of CTV, and consumer behavioral changes, creating an opportunity for startups.
Digital advertisers have been on a test-and-learn odyssey the past few years as they've adapted to emergent technology, shifts in consumer behavior, and impending changes to third-party data tracking. Despite these challenges, the ad tech market is booming – overall deal volume went up 82% from 2020-2021, and digital advertisers are projected to spend $240 billion this year alone.
While there has been lots of money flowing into the vertical over the past couple of years, we have always held the contrarian view based on a commitment to understanding the complexities and history of the sector. The prevailing notion today is that the walled gardens of Google, Facebook, and Amazon will dominate the ad tech future, but there is an imbalance of time spent by consumers on the open web and the percentage of digital ad spend outside of the walled gardens. This creates an opportunity and we're interested in digging deeper to unlock opportunities others might be overlooking.

Why We're Getting Involved
For digital marketers, the strategy has always been to find creative new ways to reach people where they are consuming content. And right now, people are consuming video – lots of video. By 2023, nearly 3.5 billion users will watch streaming or downloaded video at least once per month on any device.
Video is versatile, effective, and offers digital marketers a dynamic, less intrusive method of communicating with their audiences, with higher engagement rates. In the ad tech sector, we see video-creating opportunities in three distinct areas: (1) CTV advertising, (2) digital online, and (3) social media.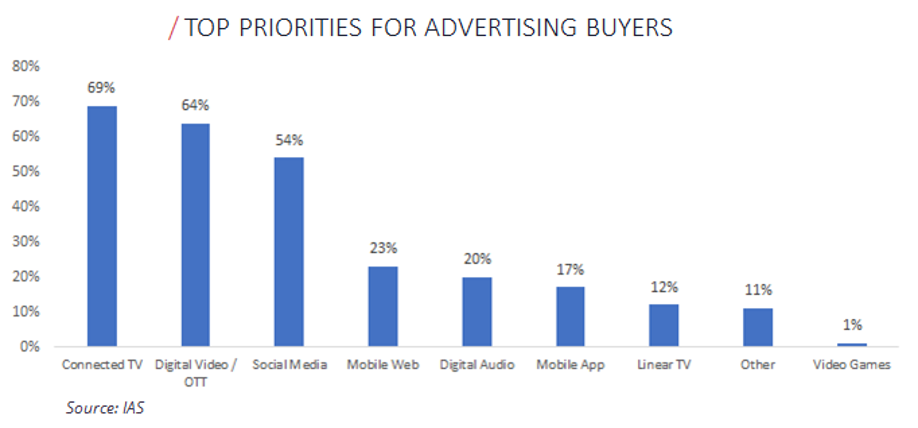 Ad tech is a complex and nuanced ecosystem. We've been studying and following the ad tech industry closely for years to understand the successes of many startups and avoid the pitfalls of others. This is an industry that evolves faster than any other sector where we have invested. These changes are brought on by a multitude of factors such as regulations, new platforms or ad formats, changes from the walled gardens, and more. These nuances require an investor that deeply understands the intricacies of the ad tech ecosystem to adapt to a fluid market.
We have a multi-pronged viewpoint on the ad tech sector from our investments in ad tech, media, and ecommerce. This view allows us to identify unique challenges facing multiple constituents and look for solutions in the market. We are most excited about how video and changing consumer behavior is shaping the future of digital marketing. Although we are also spending time evaluating how privacy updates will impact targeting and the opportunities developing from shifting agency ad budgets.
When investors were shying away from ad tech companies in 2015, Volition Capital was actively looking for investment opportunities in this sector. We have always felt that advertisers are looking to diversify campaigns to limit their dependency on the walled gardens, which creates an opportunity for ad tech startups such as Visual IQ (acquired by Nielsen), where we helped track attribution beyond last-click to optimize campaigns, Connatix that helped comScore 100 publishers add more video content to their websites and increase monetization, and most recently Doing Things Media, capitalizing on the growth of social platforms as a native online publisher. These partnerships coupled with our ecommerce and DTC portfolio give us a unique perspective on the ad tech market. We are excited to take our expertise in scaling businesses to $1 billion+ in revenue, and partner with founders that are leading the solutions to solve ad tech's challenges.  
Related Thought Leadership
HELPING FOUNDERS GO AFTER THEIR DREAMS WITHOUT RISKING THEM